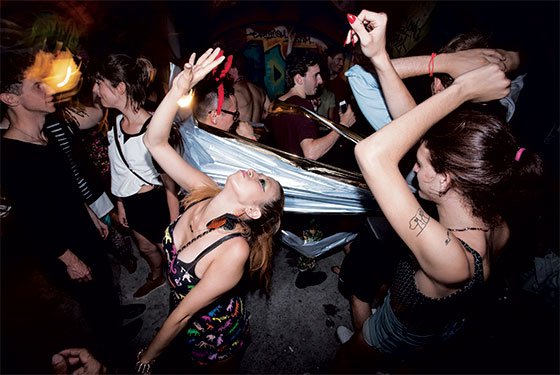 For many New Yorkers, heading out for a night of hip-popping, head-thumping, all-out dancing is too often outweighed by the prospect of hour-long lines and cruel doormen. But the nightlife-scape is shifting. In the past year, a slew of less model-and-bottle-oriented hot spots have emerged, many of them passing over West Chelsea for (where else) Brooklyn—opening in Williamsburg garages and Bushwick warehouses. And unlike the sleepy loungesand cocktail bars that sprouted in the mid-aughts—no doubt a reaction to the city aggressively enforcing its cabaret laws—these clubs are all about getting down. (And yes, a few still cater to those who get a kick out of $800 liters of Skyy vodka.) Here, a tour through thirteen new dance parties and clubs; a night-by-night guide to still-buzzing standbys; and ten options for brushing up on your old moves (no matter what era they're from). As for new moves: Just try to resist busting out the Cooking Dance next Saturday night.
Hip-Hop Party:
Get Live! at Lil Charlie's
19 Kenmare St., nr. Bowery; 212-966-3428
Come Tuesday nights, the basement below swanky Nolita restaurant Ken & Cook, Lil Charlie's, is the site of Get Live!, a wild weekly party courtesy of host Artan Gjoni (former general manager of Mercer Kitchen and Norwood) that caters to Harlem's rap troop A$AP Mob and Tumblr-trending models dressed to the nines. A sparkling disco ball looms above the crowd as patrons sip on spiced-rum cocktails ($12) and dance to hit-heavy sets by D.J.'s like Eli Escobar and Stretch Armstrong. Missy Elliott was spotted there on a recent night with her entourage in tow.
Roving Warehouse:
Shade
Locations vary; brcdbr.com
For those in search of the kind of night that starts with uninhibited rump-shaking in a sweaty scrum and ends with a bleary-eyed, 6 a.m. stumble home through the industrial wilds of Bushwick, Shade, a party series from nightlife impresarios Ladyfag and Seva Granik, will not disappoint. Launched in April, the (roughly) bimonthly bash is held in a variety of North Brooklyn warehouses—though it recently took over the mall inside the South Street Seaport to throw Alexander Wang's after-party during Fashion Week. A rotating selection of D.J.'s, like DFA's Gavin Russom, spin a booming mix of electronic, hip-hop, and house.
Bushwick Disco:
Bossa Nova Civic Club
1271 Myrtle Ave., nr. Hart St., Bushwick; 718-443-1271
Since John Barclay opened Bossa Nova Civic Club at the end of 2012, the Brasília-meets-Bushwick discothèque in the shadow of the elevated M tracks continues to draw throngs looking to dance all night. Two of BNCC's most popular monthly nights are Confused House and Industry of Machines; the first (which takes place roughly every second Friday of the month), a dance party hosted by D.J.'s Steve Summers, Terreke, and Bookworms, sees the three producers spinning lo-fi, tropicália-tinged house, while the latter (the next is October 24) features a rotation of producers performing live sets on vintage drum machines and synths. On other nights, you can expect a more low-key vibe, but be on the lookout for one-offs from visiting D.J.'s hailing from Berlin to Buenos Aires.
Egalitarian Meatpacking Club:
Hilo
26 Ninth Ave., nr. 13th St.; 212-837-4700
Unlike its meatpacking brethren, Hilo takes a democratic approach to going out: There's no velvet rope and no cover, and dancing (as opposed to just sitting around and looking pretty) is the main event here. Located in a former vault below Ninth Avenue, the intimate club, currently open Fridays and Saturdays, offers revelers a mix of techno, Top 40, and hip-hop; D.J. Rumor (who spins at Knicks home games) mans the decks on Friday nights, and on Saturdays it's Kasey Berry (a regular at Beauty and Essex).
Dive With D.J.'s:
Tutu's
25 Bogart St., nr. Varet St., Bushwick; 718-456-7898
With its hodgepodge flea-market décor and menu of kale salads and cheese plates, Tutu's seems to cater as much to Bushwick's more mature residents ready to pack it in at midnight as it does to twentysomethings whose nights are just getting started. Upstairs, couples chat over $9 maple old-fashioneds and strawberry-basil lemonades. Downstairs, an inflatable parrot welcomes you to the unfinished basement, where a rotating cast of D.J.'s and parties offer everything from deep house to Fleetwood Mac. Five-dollar lagers served in plastic cups add to the house-party vibe.
Euro Hangout:
TBA Brooklyn
395 Wythe Ave., at S. 6th St., Williamsburg; no phone
EDM-heads flock to this 1,500-square-foot converted garage for a chance to brush shoulders with the roster of world-class underground D.J.'s who set up shop here. Club vets Gio Gulez and Mehmet Erkaya helped openthis sparse space as a permanent alternative to the pop-up dance parties they'd been hosting at various warehouses for the past seven years (hence the name). Come on Friday and Saturday to see imported D.J.'s (like the U.K.'s Fun D'Void and Spain's Pig & Dan), or stop in on a weekday to see New York–based acts, along with the neighborhood regulars (many foreign-born) who've made this spot their local.
L.E.S. Megaclub:
Finale
199 Bowery, nr. Rivington St.; 212-980-3011
If one needed more proof that the Lower East Side has become the meatpacking district's younger cousin, look no further than Finale, a superclub courtesy of the team behind Tenjune and the General. Enter by descending into the subterranean, blue-velvet-draped den, where you can sip $24 Long Island iced teas, gawk at aerialists dashing across the ceiling, and dance to the hip-hop, pop, and R&B from D.J. Reach, who gets the crowd going wild Thursday through Sunday, and to a rotating cast of D.J.'s (Enrique Iglesias and John Legend among them) at Finale's new Tuesday Baby Tuesday party. And wild the crowd definitely does get: Bowery residents recently took the club to court for noise violations.
Williamsburg 2.0 Bar:
Over the Eight
594 Union Ave., nr. Richardson St., Williamsburg; no phone
Following a brief incarnation as a restaurant, the space formerly home to early-aughts hookup dive Royal Oak has returned to its party roots as Over the Eight. Now that it's flanked by luxury condos, reviving an old classic has meant spiffing things up a bit—with, among other things, weekend brunch and an impressive cocktail list. But not everything's changed. The back room hosts a hodgepodge of parties like Thursday's Synth After Work nights from 6 to 10 p.m. and such livelier Saturday-night lineups as Various Artists, which features an array of guest D.J.'s like MC Kitty Pryde. It's Your Pick, a "sexy limbo soirée," also held on Saturdays, gets partygoers to go as low as they can go to jams like Mariah Carey 's "Fantasy" for a free bottle of Champagne.
Old-Fashioned Dance Party:
Friday Nights at Battery Harris
64 Frost St., nr. Lorimer St., Williamsburg; 718-384-8900
This otherwise beachy bar with a large outdoor area feels more like a Bourbon Street hootenanny on Friday nights when scrappy brass band the Lucky Chops take the stage. The group gets the dance party started themselves, bopping through the crowd, performing "This Little Light of Mine" and "Glory, Glory Hallelujah" for swaying twentysomethings and couples showing off ballroom moves. Dress lightly: With two ceiling fans providing the only air—consider it a bit of swampy authenticity—you'll work up a sweat.
Late-Night Spectacle:
Catwalk at Marquee
289 Tenth Ave., nr. 26th St.; 646-473-0202
After undergoing a renovation in late 2012, Marquee seems to be enjoying an unexpected second wind thanks in large measure to Catwalk, a Thursday-night gay party hosted by Susanne Bartsch and Michael Fragoso that launched in February. Bartsch, the legendary nightlife maven, and Fragoso, who previously hosted Le Baron's popular (now defunct) Les Garçons, do not skimp on spectacle. While the crowd that turns up when the party starts at 11 p.m. skews heavily toward Chelsea-boy Adonis types, around 12:30 a.m., the scene turns into the Bartsch-o-ramas of yore: Extravagantly attired nouveau club kids and glittery drag queens dance to pulsating house music, while go-go boys gyrate and performance artists twirl in their midst.
DIY Den:
Dizzyland at the Spectrum
59 Montrose Ave., nr. Lorimer St., Bushwick; no phone
Tucked away on the ground floor of a walk-up apartment building, DIY queer-oriented space the Spectrum is small, but its monthly Dizzyland party offers just as many gender-bending nightlife crawlers strutting their stuff as its more established counterparts in the city (and with some crossover—the space's owner, Gage of the Boone, co-hosts Catwalk at Marquee). Since last summer, one Saturday a month, the party's cartoonish creator Trey LaTrash has been drawing performance-art-minded clubbers who keep the pop-fueled, anything-goes dance floor (and its stripper pole) active well past sunrise, with occasional interruptions for voguing battles.
Club Within a Club:
The Panther Room @ Output
74 Wythe Ave., nr. N. 12th St., Williamsburg; 718-302-5815
Unlike Output's cavernous main venue, the newly opened Panther Room and its rooftop Canopy Bar feel both intimate and inviting, like a lounge that happens to have three levels and a booming sound system. You've got several choices once you arrive: get sucked into the limb-loosening vortex that is its main dance floor, scope out the scene from the mezzanine area, or escape to the AstroTurf-lined roof deck that often hosts parties of its own. Whatever kind of night you're looking for, you'll be able to groove to such respected D.J.'s as Kyle Hall and Autobrennt or local crews like Ghe20 G0th1k and Let's Play House.
Sceney Basement:
The Stardust Lounge at Maison 0
98 Kenmare St., nr. Mott St.; 212-274-9898
Those with fond memories of the Kenmare's dance cave can check them at the door of Matt Abramcyk, Serge Becker, and designer Jason Volenec's more colorful and kitschy twist on a Japanese karaoke lounge. While karaoke is the pervasive theme at this buzzy new basement bar below Tadashi Ono's izakaya, D.J.'s take over on the busier nights to ensure that there are some reliable songs to move to—no offense to your rendition of Divinyls' "I Touch Myself." The space, flanked by private karaoke rooms, is an homage to cheesy rock, with pink lights and faded record sleeves on the wall.
By Alex Chapman, Robin Hilmantel, Alyson Kreuger, John Ortved, Andrew Parks, Abby Schreiber, Rebecca Smeyne, and Elizabeth Thompson