Miho Kosuda
310 E. 44th St., nr. Second Ave., Ste. B.; 212-922-9122.
Extras: $25 delivery, $10.47 tax.
A simple bouquet of seven fuchsia peonies was lush and bright, contrasting nicely with the deep green of the leaves. The design was ultraminimal, the blooms so loosely arrayed they could have been plucked from a community garden. Three days later, they were still going strong.
Flowers by Philip
1141 Madison Ave., at 85th St.; 212-535-1388.
Extras: $10 delivery, $9.21 tax.
An explosion of lilacs and peonies scented enough to perfume a large office. The smartly underdesigned arrangement showcased the spectacular blooms, but the fishbowl-style vase revealed a tangle of stems and dirty water.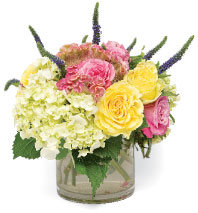 Root Stock & Quade
297 Seventh Ave., nr. 8th St., Park Slope 718-788-8355.
Extras: $30 delivery, $10.89 tax.
A short, full arrangement with lots of variety (hydrangea, cockscomb, roses, and purple veronica). Yet the roses looked a bit peaked upon arrival, and uneven stems distracted from the composition.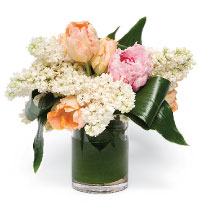 Surroundings Flowers & Events
1351 Amsterdam Ave., nr. 125th St.; 212-580-8982.
Extras: $18 delivery, $9.88 tax.
The lilacs, peonies, tulips, and lemon leaves looked healthy after three days. But the arrangement was a tad disjointed. Those flowers: So pastel! Those leaves: So dark!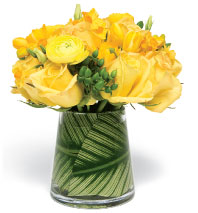 Belle Fleur
134 Fifth Ave., nr. 18th St.; 212-254-8703. Extras: $20 delivery, $10.05 tax.
The mass of miniature daffodils, roses, ranunculus, freesia, and hypericum berries was by far the most intricate of the arrangements. On the small side, but the design was meticulous; sadly, the daffodils wilted after one day.