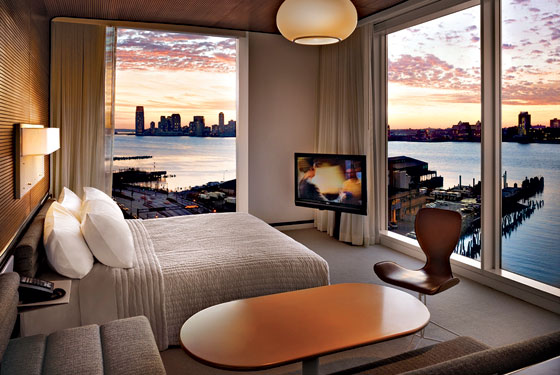 Some buildings are coy about showing what holds them up. The Standard Hotel flaunts its musculature—its naked concrete piers ripple like a bodybuilder's legs, heaving the glass-walled structure 60 feet in the air. Those shapely supports hit the ground in a sensitive part of Manhattan, a knot of cobblestones and weathered brick that still release an occasional smell of butchered meat. It's not a tough area anymore, but it is pleasingly rough to the touch. So is the Standard's concrete, textured with the grain of wooden planks. That's how a big new building can fit neatly in a historic neighborhood—not by donning antique-y cornices, but by interpreting the spirit of a place.
Designed by Todd Schliemann of Polshek Partnership Architects for André Balazs, the Standard doesn't apologize for its stature. At 265 feet tall, it's hardly a monster, but it does present a raised fist to the low-slung meatpacking district. Get close-up, though, and the building nearly disappears. At street level, a bar and a future beer garden occupy a one-story shed costumed like an old warehouse in recycled brick. Like the rest of the neighborhood, this structure offers a carefully stylized illusion of old-time grittiness. But the flourish of make-believe is a feint, a distraction from the building in the sky.
Up there, the Colossus of the Hudson bestrides the High Line, squeezing the old iron railway between its concrete knees. Schliemann and Balazs deserve gratitude for avoiding the obvious horrors—a thick modern slab or a needle tower, say—and for putting up such confident and considered architecture. The long form bends at the center, like a guest book propped open to reveal the names inside. (The best vantage point from which to read this volume will be the High Line, a voyeur's paradise.) Once inside, the reason for the angles becomes clear: to organize the panorama. Some toilets face the towers of midtown, some showers offer Hudson River views, and the outer walls of sheerest glass turn monkish cells into aeries. Below, the streets and the High Line answer the hotel's zig with their zags.
Not many guests, I imagine, will find their way to the fire stair that drops out of the building's underbelly. But if Cézanne were a contemporary New Yorker, he might set up an easel here. The hotel's taut lines and hard surfaces frame the cubist cityscape: warehouse roofs and criss-crossing streets in the middle distance, the vertical brushstroke of the Empire State Building beyond. What a fine way to arrive in Manhattan, descending on foot through the open air.