He's so busy with commercial ventures (like designing ads for Camel cigarettes, for example) that he only lays ink on the weekends, but it's still worth the three-month wait for Scott Campbell. His knowledge of what he calls "antique ornamentation and specialized typography"—as well as old-school classics like swallows, anchors, sailing ships—is exhaustive, which is why his Williamsburg studio, Saved Tattoo, pulls in clients like Marc Jacobs, Josh Hartnett, Heath Ledger, and Helena Christensen. The price is steep ($1,000 for the first hour, $200 each hour thereafter), but it's worth the investment to brandish one of Campbell's works on your skin forever (3 Hope St., nr. Roebling St., Williamsburg, Brooklyn; 718-486-0850).

And introducing four other needle geniuses: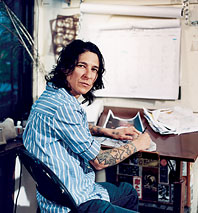 STEPHANIE TAMEZ
New York Adorned, 47 Second Ave., nr. 3rd St.; 212-473-0007
Specialty: Typography.
Tamez spent several years doing graphic-design work before realizing that her skills could translate to skin. "Because I didn't have a traditional tattoo background, I'd say to clients, 'Let's play with some fonts,' " says the 44-year-old, who has worked at New York Adorned since she moved to the city in 2001. Lettering allows clients to achieve a more spartan, elegant design. "Right now, I really like mixing and matching typeface styles," she says. "It's fun to figure out how many fonts to explore in one piece." Tamez prefers clients with realistic goals, though. "When people want the whole Our Father prayer on their shoulder blade, I'm like, 'I can do it, but it's not going to look good over time. You're not going to be able to read it.' " She's not yet a marquee name—hence the relatively short wait for an appointment—but that's just a matter of time.
Wait list: Four months.
Price range: $200 to $400 per hour.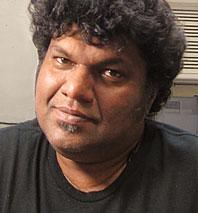 ANIL GUPTA
Inkline Studios, 513 E. 5th St., nr. Ave. A; 212-614-0094
Specialty: Realistic, portraiture.
Gupta is the Zen-calm master of precise reproduction. His East Village shop is stocked with art and photo books that he uses to create his tattoos: Xerox-perfect portraits, elaborate Celtic knotwork, biomechanical nightmares, tribal-inspired abstract pieces, replicas of Dalí and Da Vinci. Since he moved here from India in 1991, he has tattooed celebrities including Christian Slater, John McEnroe, and Rosie O'Donnell. The 44-year-old's big breakthrough came fourteen years ago, when he inked a perfect postage-stamp-size copy of the cover of the Grateful Dead's 1974 Skeletons From the Closet. Gupta suggests that clients think abstractly rather than literally about their designs. "If you lost your dog, you don't need to get a portrait of your dog," he says. "Maybe your dog reminds you of a cloud because he was fluffy. Then you can ask for a running, fluffy cloud on your arm."
Wait list: Six months.
Price range: Starts at $450.
PAUL BOOTH
Last Rites Tattoo Theatre, 511 W. 33rd St., nr. Tenth Ave., third fl.; 212-529-0666
Specialty: Horror, gothic, realistic, grayscale.
Booth is the go-to artist for rock and roll, and his goth work can be seen on members of Sepultura, Slayer, Pantera, and Slipknot, among other bands. Metalheads both professional and amateur go to his Chelsea shop for his detail-laden, demonic pieces, rendered freehand in a black-ink wash known as grayscale. The 40-year-old New Jersey native got his first tattoo (the name of his daughter, Tabitha) when he was 19, and started apprenticing at a Jersey parlor shortly thereafter. Don't ask Booth to tattoo your face—"I don't want to be the guy that gets a phone call in a year of some guy crying, going, 'Why did you let me do this?'"—and take good care of his handiwork. "No matter how good the artist is, if you don't do your best to heal it, it's crap. It's all about Lubriderm, washing it gently every day, and keeping it out of the sun."
Wait list: Two years.
Price range: Starts at $300 per hour.
MIKE RUBENDALL
King's Avenue Tattoo, 844 Broadway, nr. N. Nassau Ave., N. Massapequa, N.Y.; 516-799-5464
Specialty: Japanese, horror, neo-traditional.
It's worth the schlep to Nassau County to get inked by Rubendall, who used to work at Adorned but now has his own shop (which will be featured in the season premiere of Tattoo Wars, a reality show on the Learning Channel this fall). Some of his best pieces combine traditional Japanese motifs—koi fish, cherry blossoms—with the kinds of ghouls, demons, and gore you'll find in Booth's portfolio. But Rubendall favors the Eastern aesthetic, he says, because "it's open and bold and colorful, and you can see it from across the street. It'll look good forever." He researches the images and aesthetic principles intensely. "If you're doing a sleeve, you wouldn't mix cherry blossoms and chrysanthemums. If you're going to do it, you should do it correctly, and with respect for the culture."
Wait list: One year.
Price range: $125 to $200 per hour. Expect a full back to take at least 30 hours.