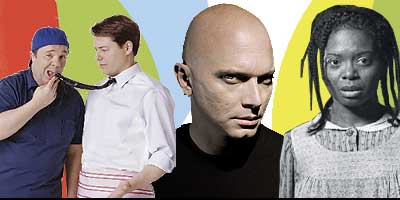 Sweeney Todd
Reluctant musical-theater star Michael Cerveris headlines this fall's only Broadway musical revival, John Doyle's reinvention of Sweeney Todd.
• November 3.
Elaine Stritch at The Café Carlyle
The one word this club act suggests is current. Current, current, current!
• September 13 through October 29.
Fran's Bed
Mia Farrow plays a woman trapped in a coma.
• September 25 through October 9.
The Color Purple
When LaChanze, a twenty-year Broadway veteran, heard about a musical adaptation of The Color Purple, she knew immediately that she wanted to play Celie.
• December 1.
The Odd Couple
The new Nathan Lane-Matthew Broderick revival tries something newer: casting a Felix in both parts.
• October 27.
A Soldier's Play
Taye Diggs helps revive a classic showcase for black theater.
• September 20 to November 13.
The Ruby Sunrise
When Oskar Eustis read Rinne Groff's play The Ruby Sunrise he "threw it down on the floor and said, 'I'm doing this show!'" he recalls. Eustis's first directing project since taking over the Public Theater is a mix of cool intellect and warm storytelling— just the sort of hybrid he aims to promote during the theater's 50th anniversary season. "One function of this place I hope will be revived is that we're the mother ship of the Lower East Side."
• November 1.
—Jeremy McCarter

Byrne This
Luck of the Irish-theater fan: The Dublin-trained Gabriel Byrne will be laying on the brogue as a forlorn Irish-American gentleman in Eugene O'Neill's A Touch of the Poet, directed by Doubt's Doug Hughes.
• November 11.






The Best of the Rest
Broadway
A Naked Girl on the Appian Way
Playwright Richard Greenberg (Take Me Out) probes the fallout for a couple when their kids return from a year abroad. Doug Hughes directs.
• October 6.
Absurd Person Singular
Alan Ayckbourn's seventies kitchen farce is revived with Mireille Enos and Sam Robards.
• October 18.
Latinologues
An ethnic spin on The Vagina Monologues. Cheech Marin directs.
• October 23.
Shining City
A Dublin man reports seeing the ghost of his wife; spiritual struggles and colorful brogue ensue.
• November 10.
The Woman in White Behold!
Andrew Lloyd Webber returns, dusting off a Victorian thriller by Wilkie Collins.
• November 17.
Seascape
Absurdist Albee revival has Frederick Weller and Elizabeth Marvel playing giant, witty lizards.
• November 21.
Chita Rivera: The Dancer's Life
A cast of ten helps the unsinkable star churn out her greatest hits, with a book by Terrence McNally and new songs written by Lynn Ahrens and Stephen Flaherty.
• December 11.
Off Broadway
Dr. Sex
Dr. Alfred Kinsey's wacky life story resurfaces in a rollicking musical.
• September 20.
A Woman of Will
When a writer is hired to do the lyrics for a Broadway-bound Merchant of Venice, she consults the Bard's female characters for guidance. They sing a lot.
• October 2.
See What I Wanna See
Idina Menzel heads to the Public to star in Michael John LaChiusa's musical compendium of New York stories.
• October 11.
Third
Dianne Wiest is a professor in trouble in Wendy Wasserstein's feminine take on the academic drama.
• October 24.
The Winter's Tale
Brit Edward Hall, who also directed Broadway's recent A Streetcar Named Desire, goes old-school for Shakespeare's sinister romance—with an all-male cast.
• November 2.
The Trip to Bountiful
The Signature Theatre Company puts on Horton Foote's story of an old woman who flees her overprotective family, Social Security check in hand, to visit her childhood hometown.
• November 2005.
Miss Witherspoon
Playwright Christopher Durang traces the Hindu cycle of rebirth through the soul of a dead atheist.
• December 1.
What are you looking forward to this fall? Ask A TKTS guy
Lawrence Paone, assistant head treasurer and ticket seller
Taste: I skew toward comedy, like Billy Crystal's 700 Sundays. I'm not big on the political.
Looking forward to: The revival of Sweeney Todd. I kind of take both sides of the issue with Sondheim. People either swear by him or at him.
Wish list: I'd like to see Christopher Guest in Laughing Wild, by Christopher Durang. Des McAnuff would direct—he did Billy Crystal's show and Dracula, the Musical, which, unfortunately, was not a hit. And I'd show it at the very intimate Booth Theatre.