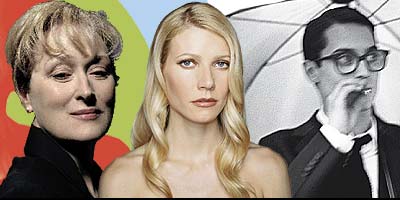 Proof
Gwyneth Paltrow gives a devastating—and devastated—performance as the grieving daughter of a brilliant man.
• opens September 16 (PG-13).
Everything is Illuminated
The artist formerly known as Frodo stars in a stylish literary adaptation.
• opens September 16 (PG-13).
New York Film Festival
The 43rd New York Film Festival kicks off with the very New Yorky Good Night, and Good Luck. a biopic of newsman Edward R. Murrow.
• September 23 through October 9.
Prime
Meryl Streep on the Upper West Side, Uma, and her one trip to the couch.
• opens October 28 (PG-13).
Serenity
Serenity's not a slam-dunk because—d'ohh!—I forgot to put Dakota Fanning in it!
• opens September 30 (PG-13).
Capote
Philip Seymour Hoffman explores Truman Capote's unsettling gifts.
• opens September 30 (R).
Hollywood East
New York plays the starring role in a bumper crop of fall films.

Three Jakes
It's a make-or-break fall for puppy-eyed Jake Gyllenhaal, who has three shots at glory playing three very different kinds of men: a Gulf War Marine (Jarhead), a sensitive math grad student (Proof), and a gay cowboy (Brokeback Mountain).








The Best of the Rest
Lord of War
In Andrew Niccol's satirical drama, a boy from Brighton Beach (Nicolas Cage) makes good—by selling tanks to genocidal maniacs.
• Lions Gate, September 16.
Thumbsucker
In this adaptation of Walter Kirn's coming-of-age novel, New York actor Lou Pucci delivers a sharp breakout performance as a Ritalin-popping teen.
• Sony Pictures Classics, September 16.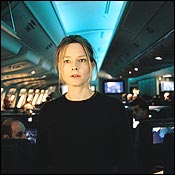 Flightplan
We're at 30,000 feet. Do you know where your child is? Jodie Foster plays a mother whose daughter goes missing on a jet.
• Touchstone, September 23.
A History of Violence
David Cronenberg's back with a mythic fable about a nice guy (Viggo Mortensen) caught in a very violent situation.
• New Line, September 23.
Into The Fire
Michael Phelan's indie about an unstable lieutenant in the NYPD Harbor Unit.
• Slow Hand Releasing, September 23.
Oliver Twist
An accused child molester directing a kids' film? Well, it made sense to Roman Polanski.
• Columbia TriStar, September 23.
Forty Shades of Blue
This Sundance award winner stars Rip Torn as a marvelously wasted Memphis blues producer.
• First Look, September 28.
The Squid and the Whale
Wes Anderson crony Noah Baumbach directs Jeff Daniels and Laura Linney in a film about a dysfunctional Park Slope family.
• Samuel Goldwyn Films, October 5.
In Her Shoes
Cameron Diaz and Toni Collette play sisters in a chick-lit adaptation by Curtis Hanson. Collette plays the sis with big feet.
• Fox, October 7.

Elizabethtown
Cutie Orlando Bloom looks to redeem himself after Kingdom of Heaven, opposite Kirsten Dunst in Cameron Crowe's romance.
• Paramount, October 14.
North Country
Charlize Theron goes digging for Oscars in a drama about a miner who wins the country's first sexual-harassment class-action suit.
• Warner Bros., October 14.
Where the Truth Lies
Atom Egoyan's stylized romp stars Colin Firth and Kevin Bacon (Continued on page 62)(Continued from page 60) as two fifties showbiz stars implicated in a crime.
• ThinkFilm, October 14.
Kiss Kiss, Bang Bang
Don't call it a comeback: A rehabbed Robert Downey Jr. plays a New York City thief who becomes a Hollywood actor. Um, okay, call it a comeback.
• Warner Bros., October 21.
Protocols of Zion
Brooklyn native Marc Levin's documentary takes a tour of resurging anti-Semitism, featuring some of Manhattan's worst street preachers.
• ThinkFilm, October 21.
Shopgirl
Steve Martin seduces Claire Danes in an adaptation of his midlife-crisis novella.
• Touchstone Pictures, October 21.
Stay
Marc Forster's film stars Ewan McGregor as a therapist who tries to keep a New York college student (Ryan Gosling) from killing himself. Don't expect NYU to sponsor a screening.
• Fox, October 21.
Paradise Now
The fall's most explosive film: the story of two Palestinian suicide bombers, from their perspective.
• Warner Independent, October 28.
Chicken Little
An animated tale for a paranoid age.
• Walt Disney, November 4.
The Dying Gaul
Another promising stage adaptation: Campbell Scott, Peter Sarsgaard, and Patricia Clarkson star in Craig Lucas's noir about a Hollywood love triangle.
• Strand/Holedigger, November 4.
The Family Stone
A Yuletide comedy with one of the fall's best casts: Claire Danes, Diane Keaton, Rachel McAdams, Luke Wilson, and Sarah Jessica Parker.
• Fox, November 4.
Jarhead
In Sam Mendes's Gulf War film, Peter Sarsgaard, Jake Gyllenhaal, and Jamie Foxx battle each other for Oscars.
• Universal, November 4.
Get Rich or Die Tryin'
50 Cent mythologizes his already exaggerated past. Jim Sheridan directs. Why? We have no idea.
• Paramount, November 9.
Jesus is Magic
A raunchfest, based on Sarah Silverman's Off Broadway show.
• Roadside Attractions, November 11.
Derailed
Logically enough, one of the new Weinstein Company's first films is a thriller about two execs (Clive Owen and Jennifer Aniston) out for revenge.
• Weinstein Co., November 11.
Breakfast on Pluto
Neil Jordan directs an adaptation of Patrick McCabe's crazy-ass novel, starring Cillian Murphy as a cheeky transvestite sweetheart.
• Sony Pictures Classics, November 18.
Harry Potter and the Goblet of Fire
Ralph Fiennes debuts as He-Who-Must-Not-Be-Named.
• Warner Bros., November 18.
Walk the Line
Joaquin Phoenix headlines as Johnny Cash, but Reese Witherspoon as June might steal the show.
• Fox, November 18.
Syriana
Soon to be reviewed by Bill O'Reilly: a CIA film, starring a bloated George Clooney.
• Warner Bros., November 23.
Transamerica
One of the highlights at the Tribeca Film Festival was Felicity Huffman, as an oddball transsexual on a cross-country road trip.
• Weinstein Co., December 2.
Brokeback Mountain
Gay cowboys! Ang Lee casts Jake Gyllenhaal and Heath Ledger as two men who wear chaps with pride.
• Focus, December 9.
The Chronicles of Narnia: The Lion, The Witch, And The Wardrobe
Onward Christian franchises! Andrew Adamson (Shrek) directs a giant investment.
• Walt Disney, December 9.
Memoirs of a Geisha
Rob Marshall (Chicago) recruits a cast of Asian all-stars: Ziyi Zhang, Ken Watanabe, Michelle Yeoh, Gong Li, and others.
• Sony, December 9.
King Kong
The biggest movie of the fall, in every way. Peter Jackson directs Jack Black, Adrien Brody, and Naomi Watts.
• Universal, December 14.
All the King's Men
Sean Penn plays a character based on Louisiana governor Huey Long. Co-stars include Jude Law, whom Penn apparently admires.
• Sony, December 16.
Fun with Dick and Jane
Jim Carrey and Téa Leoni play funny suburban bank robbers. Let the Mr. & Mrs. Smith comparisons begin.
• Sony, December 21.
The Producers
Joining Nathan Lane andMatthew Broderick: Uma, as Ulla!
• Universal, December 21.
Munich
War of the Worlds was just Steven Spielberg's warm-up for his real terrorism film: a drama about the 1972 Olympic terror attack.
• Universal, December 23.
Match Point
Shocking reports from Cannes indicate that Woody Allen may have directed a winner with Scarlett Johansson. We'll see …
• DreamWorks, December 25.
Mrs. Henderson Presents
Stephen Frears directs a backstage comedy starring Judi Dench, Ricky Gervais, and others.
• Weinstein Co., December 25.
The New World
Terrence Malick's colonial epic stars Colin Farrell as John Smith and, unlike Alexander, does not require him to dye his hair blond.
• New Line, December 25.
Rumor Has It
A sorta sequel to The Graduate, in which Jennifer Aniston discovers that her grandmother (Shirley MacLaine) inspired the part of Mrs. Robinson.
• Warner Bros., December 25.
The Libertine
Johnny "Wino Forever" Depp stars as a wine-drenched, seductive gadabout.
• Weinstein Co., December.
What are you looking forward to this fall? Ask a film student
Swati Kapila, Tisch School of the Arts

Taste: A story is good if it could really happen, if it's plausible. My favorite movie is Good Will Hunting.
Looking forward to: Surprisingly, Rent—Chris Columbus is an NYU grad, so I'd like to see how that turned out. And any Matt Damon movie: I have to see it opening night.
Wish list: With unlimited resources, I'd make an epic. I'd team up with Indian historians and filmmakers. Two legendary stories come to mind—the Ramayana, which is a classical Indian story, and a longer, less cohesive story, the Mahabharata.