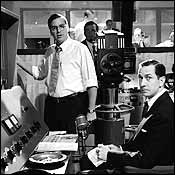 The 43rd New York Film Festival kicks off with the very New Yorky Good Night, and Good Luck, a biopic of newsman Edward R. Murrow—and then expands to take in the whole world. Highlights range from the Czech Republic's Something Like Happiness to South Korea's Sympathy for Lady Vengeance, but you'll spend your time arguing about the Palestinian suicide-bomber drama Paradise Now and Lars von Trier's latest provocation, Manderlay.
New York Film Festival
Presented by the Film Society of Lincoln Center
September 23 through October 9.