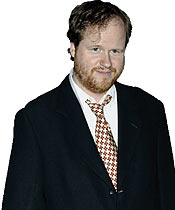 Rejoice: Joss Whedon is back. The man who gave us Buffy will launch Serenity, the big-screen version of his short-lived, super-clever 2002 outer-space-Western series Firefly. "John Wayne movies were my initial inspiration," says Whedon. "But I think of this one as more of a platoon movie: a gang of nine characters to quickly introduce to moviegoers who never had a chance to meet them. Then I plunge them into a lot of danger and get as many of them out as fast as I can. Add wisecracks. Roll credits." Asked if he can turn a flop TV show into a movie hit, he laughs: "Well, sure, but Serenity's not a slam-dunk because—d'ohh!—I forgot to put Dakota Fanning in it! I would go back to TV, but only with enough power, so that I wouldn't have my heart torn out of me again."
Serenity
Written and directed by Joss Whedon
Universal Pictures
opens September 30 (PG-13).