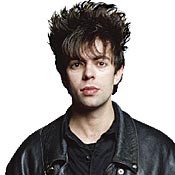 This fall, the rock heroes of yesteryear are more ubiquitous than ever. To accessorize their world tour, the Rolling Stones have a new CD; though it's not embarrassing, $400 ticketholders will surely riot if forced to endure more than one track. More ambitious is the album by Paul McCartney, who recruited Radiohead producer Nigel Godrich to provide an earthy counterpoint to his syrupy-sweet melodic instincts. Similarly, Neil Diamond allied himself with Rick Rubin, the hip-hop visionary who masterminded Johnny Cash's exquisite final work; Rubin had Diamond sing and play guitar at the same time, something the troubadour hadn't done in years. Neil Young plays it safer on his new record, adding peppy horns to acoustic rock songs that recall his classic Harvest work. Finally, for younger old folks, the fashionably glum Echo and the Bunnymen hope to capitalize on eighties nostalgia with a CD that finds them sounding surprisingly chipper.
Rolling Stones, A Bigger Bang. Virgin; September 6.
Paul McCartney, Chaos and Creation in the Backyard. Capitol Records; September 13.
Neil Diamond, Neil Diamond. Columbia Records; November 8.
Neil Young, Prairie Wind. Reprise Records; September 21.
Echo and the Bunnymen, Siberia. Cooking Vinyl; September 20.