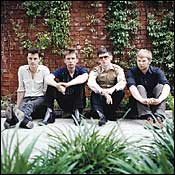 Do You Want To," the first single from the new Franz Ferdinand album, pulls off the improbable: It matches the fierce, infectious blast of "Take Me Out," their hit from 2004 that had the rock crowd shaking their booties. God bless these Glasgow art-schoolers for giving us another fix so fast—and for coming to New York to record it so we can claim them as our own. There is no great stylistic departure here. Like their first one, the record brims with big rock riffs and nimble dance rhythms, building songs from skillful borrowing of Bowie, Zeppelin, and Roxy Music. But overall the songs are both more powerful and finely detailed, with an added dose of gentle balladry; listen to the gentle "Eleanor Put Your Boots On" and marvel at the band's expanding range and their potential to get even better. Just when you've worn out Kanye West on your iPod, Franz Ferdinand arrives in October to see you through to Thanksgiving.
You Could Have It So Much Better
Epic; October 4.
Performing at the Theater at Madison Square Garden October 16 and 17.