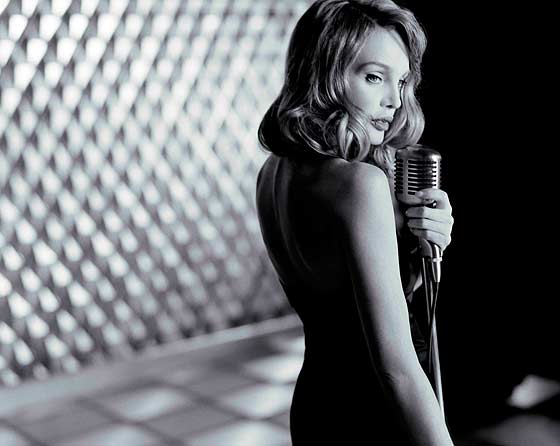 september
1. Appreciate Mutual Appreciation, which opens today—another deceptively sleepy slacker opus from Andrew Bujalski, the auteur behind Funny Ha Ha.
2. Celebrate Labor Day weekend with a bang (literally) as Temporary Residence Records throws a tenth-anniversary bash, bringing indie instrumental band Explosions in the Sky, along with Eluvium and Lazarus, to the Bowery Ballroom.
3. Head to Jones Beach for a lazy Sunday of sunning yourself at a concert from improbable-comeback-diva extraordinaire Mariah Carey.
4. In College, a nerd wants to be a jock so he can woo a pretty coed. A lost Patrick Dempsey film? No—part of the must-see Buster Keaton series playing at Film Forum.
5. Happy 25th birthday, Beyoncé! (Actually, it was yesterday.) Happy album release, Beyoncé! (That's today—her latest, appropriately titled B'Day.)
6. Encore! Encore! Blind Tuscan tenor Andrea Bocelli performs at the New York Philharmonic.
7. The work of Lola Alvarez Bravo, billed as Mexico's first woman photographer, goes on display at the Aperture Gallery.
8. Her hips don't lie: Shakira shakes up Madison Square Garden. Or, go see the acclaimed (and excellent) Man Push Cart, a film about the days and nights of a Pakistani street vendor.


9. Fashion Week enraptures Manhattan. Swarm Bryant Park.


10. Fame Becomes Him: Martin Short hosts this year's "Broadway on Broadway" showcase smack in the middle of of Times Square.
11. Five years later, Joel Meyerowitz, who claims to be the only photographer granted full access to recovery efforts at ground zero, shares his stories and images at the New York Public Library. Call in advance to get tickets to a sneak preview of Beyond the 11th, a documentary about two 9/11 widows who travel to Afghanistan to meet Afghan widows from the war, at the Tribeca Cinemas.
12. Admit it: Wardrobe malfunctions and Britney-dating aside, Justin Timberlake cranks out catchy pop that has you bopping along at the gym. So enjoy his latest, FutureSex/LoveSounds, without shame.
13. Learn how to talk dirty: Homage to Lenny Bruce and Free Speech at the 92nd Street Y.


14. Sausage. Cannoli. Zeppole. Repeat. The annual San Gennaro festival kicks off tonight.
15. Stepping out: Star dancers from City Ballet and ABT's Studio Company star in new works choreographed by fellow dancers Tom Gold, Edwaard Liang, and Brian Reeder at the Miller Theatre.
16. Marty Markowitz, the you-gotta-love-him (sort of) Brooklyn borough president hosts various Jonathans (Safran Foer, Lethem) and other local literary lions (Lahiri) at the Brooklyn Book Fest.
17. Do you enjoy comic books but wish they were set to music? How about the tale of Oedipus? If so, rush to the New York Musical Theatre Festival. Tonight, a superhero fan turned superhero rids the world of evil in Emerald Man, and Oedipus for Kids! goes on with songs like "My Lover Is My Husband Is My Son."
18. Absinthe is a circus that's like vaudeville or cabaret, if you were seeing them on psychedelic drugs. It's playing at the wandering circus-theater Spiegeltent at the South Street Seaport.
19. The beat of two very different drums: Indigo Girls' Despite Our Differences and Lupe Fiasco's Food & Liquor will both be released today.
20. Arielle Dombasle, the French torch singer, spouse of Bernard-Henri Lévy, and super-vamp, plays Broadway for the first time at the Supper Club.
21. Will Meredith run off with Derek or the hunkified Chris O'Donnell? Is Izzie really leaving Seattle Grace? Grey's Anatomy premieres tonight, sandwiched between Ugly Betty and Six Degrees. Make some popcorn and unplug the phone.
22. If it's Oscar season, then that sound you hear must be Sean Penn screaming: Sure enough, he stars as corrupt, back-room-dealing Louisiana governor Willie Stark in the political drama All the Kings's Men; also, Eternal Sunshine director Michel Gondry returns with a whimsical movie about dreams, Science of Sleep. Speaking of dreamy: It stars Gael García Bernal.
23. The fall's can't-miss show at the Met: New Orleans After the Flood: Photographs by Robert Polidori.
24. Al Gore has his Inconvenient Truth, and now ICP has Ecotopia, a chilling photography exhibit about Mother Earth.
25. It's a good night to love indie rock: Jack White's all-star indie band, the Raconteurs, plays at Roseland, and the Flaming Lips play the Hammerstein.
26. Ludacris gives us Release Therapy, a new album that shows off his softer and more serious sides with songs about child abuse and politics. Meanwhile, the slimmer Janet Jackson storms back with her newest album, 20 Y.O. (formerly known as 20 Years Old), twenty years after her 1986 hit album Control.
27. Now that Mick Jagger's in his sixties, can we call him a sextuagenarian? The Rolling Stones play Giants Stadium, along with producer-cum-rapper Kanye West, while …
28. … another kind of music legend, Eric Clapton, rolls into the Garden.


29. A world without cute, bright-eyed, helpless little babies? That's the future envisioned by Alfonso Cuarón in his new sci-fi film, Children of Men, about what happens when women can no longer conceive, starring Clive Owen and Julianne Moore.
30. Rear Window, the Hitchcock film only a New Yorker living in an apartment with a back-of-the-building view can fully appreciate, plays at bam tonight, as part of its Hitchcock–Jimmy Stewart retrospective. Next: October Fall Preview
October
1. Brooklynite critical darlings the Hold Steady rock their Bruce Springsteen–meets–Hüsker Dü sound at Irving Plaza.
2. James Levine conducts megastars Ben Heppner and Dorothea Röschmann in Mozart's Idomeneo, a tangled opera about wrathful gods, human sacrifice, and scheming princesses.
3. Not only does Beck drop his lengthiest album in twelve years (The Information), but he also pimps it out with DVD videos for every single song. And a packet of stickers so you can decorate the blank sleeve. Truly, he is rocking the plastic like a man from the Catskills.
4. Carnegie Hall kicks off its 116th season by importing the superb Cleveland Orchestra, bass-baritone Thomas Quasthoff, and pianist Leif Ove Andsnes to play a fail-safe selection of Mahler, Mozart, and Strauss.
5. A Chorus Line opens at the Schoenfeld Theatre. If history is any indication, you only have until 2021 to catch it, so high-step over there tout de suite.
6. Attention, Oscar handicappers— the race heats up with prime contenders from Martin Scorsese (The Departed), Anthony Minghella (Breaking and Entering), and In the Bedroom's Todd Field (Little Children). And, running at a gazillion-to-one: Employee of the Month, starring Jessica Simpson.
7. Gain a whole season of highbrow cred in one fell swoop by picking up Irish Pulitzer Prize winner Paul Muldoon's simultaneously released new collection of poetry, Horse Latitudes, and collection of essays, The End of the Poem. Reading either one, you will look like the smartest person in the subway car.
8. The fourth annual Openhousenewyork offers a once-a-year chance to get into landmark city sites normally closed to the public. Go early to gape at the most popular spots, such as the Chrysler Building and the High Line.
9. Babs! Barbra Streisand brings Il Divo along for two breath-taking and bank-breaking shows—up to $754.50, before scalpers!—at Madison Square Garden. Will she sing "People"? Will she say something pejorative about Republicans? Will Il Divo fan her with palm fronds? With any luck, yes, yes, and yes.
10. Legendary modern-dance choreographer Merce Cunningham and composer Mikel Rouse request the audience to come wearing iPods for the world premiere of their new show, eyeSpace, at the Joyce. A ticket garners a free download from iTunes; the iPod-less will get a free loaner.
11. NBC debuts 30 Rock, the laugh-out-loud new sitcom starring Tina Fey, Alec Baldwin, Tracy Morgan, Jane Krakowski, and Rachel Dratch. Late-breaking casting changes are worrisome, but they shouldn't negate the pilot's felicitous use of Ginuwine's "Pony" in a strip-club scene.
12. Quoth Jack Kerouac: Whither goest thou, New York, in thy shiny car in the night? Ideally to see Mary Karr and Luc Sante speak as part of a Panel on the Beats at Housing Works.
13. Did you like Dave but wish it had more self-righteousness, inside-Hollywood jokes, and Mork? Then Man of the Year, starring Robin Williams as a Jon Stewart–esque fake-news anchor who wins the White House, is the film for you.
14. Head down to Battery Park City for CultureFest 2006, where 100 arts organizations converge on two stages to give a sample pack of the season's offerings in music and dance. It's cultural tapas for the soul.
15. MoMA trains its Eye on Europe: Prints, Books & Multiples, featuring the cream of London's screen-printing explosion, from 1960 to today, including Dieter Roth prints and Damien Hirst wallpaper.
16. A perfect day to take advantage of the New School's free and practically free programming: There's Scenes From New York: Filming in the City with local filmmakers and a nonfiction forum headed by writer Edward Field (The Man Who Would Marry Susan Sontag).
17. For one night only, Ladysmith Black Mambazo turn Carnegie Hall into Graceland—the Paul Simon album, not the Elvis loony-bin. Friends like Natalie Merchant and Pete Seeger come along for the ride.
18. Notoriously daring Brit choreographer Sarah Michelson makes her bam debut with Dogs, a space-specific dance commissioned for—and custom-tailored to—the Harvey Theater.
19. 19 The City Opera stages The Elixir of Love, Donizetti's splendid 1832 opera that makes Cinderella a man.
20. 20 After being booed at Cannes, Sofia Coppola's New Order–infected Marie Antoinette opens today Stateside. Can the Lost in Translation auteur sell a period piece with as much élan as Bill Murray sold his Suntory whiskey?
21. Stock your fridge with beers or establish yourself as a regular at the pub around the corner—the World Series kicks off tonight. Go Mets! Or possibly Yankees!
22. Hop the V train to Long Island City for three new shows at P.S.1, including Defamation of Character, a timely post-punk attack on fame and pop culture.
23. Stop by the Met for Cavalleria Rusticana/Pagliacci; the former being the opera that turned Pietro Mascagni into an overnight sensation at the age of 26.
24. Try wrapping your mind around the idea of a dystopian Little Miss Sunshine, but substitute the pageant-contesting 7-year-old Olive with an obese adult megalomaniac. That pretty much describes Jane Campion's 1989 gem Sweetie, now available in a spanking new Criterion Collection DVD.
25. The new Met exhibit Americans in Paris, 1860–1900 gathers spectacular works by Whistler, Eakins, and Cassatt—and makes a compelling case for the expatriate lifestyle. As if you needed convincing.
26. Opening night of The Times They Are a-Changin' at the Brooks Atkinson. Twyla Tharp choreographs and directs this much-discussed musical about circus folk, set to songs by Bob Dylan. Could be great. Could be terrible. Must be seen.
27. It's an all-star-cast face-off: 21 Grams's Alejandro Gonzalez Iñárritu returns with the international thriller Babel, starring Cate Blanchett, Brad Pitt, and Gael García Bernal, to do battle with the incumbent, Christopher Nolan's The Prestige (which opens the 20th), featuring Christian Bale, Hugh Jackman, Scarlett Johansson, Michael Caine, and David Bowie. Advantage: The Prestige.
28. The Next Wave fest brings a mind-bending production of Ibsen's 1884 masterpiece The Wild Duck to bam. The cast speaks the original Norwegian against a backdrop of bubblegum pop and fifties Americana. (With English subtitles—phew!)
29. Last chance for design aficionados and foodies alike to drool over Feeding Desire: Design and the Tools of the Table, a look at the evolution of cookware, utensils, and etiquette, at the Cooper-Hewitt.
30. Forgive the 40-day European Dream festival its cheesy name—if only because it brings hot Scandinavian jazz to Lincoln Center. Lage Lund—jazz guitarist, Thelonius Monk award winner, and spectacular Swede—wraps up the series tonight.
31. Like the parade of flesh on Christopher Street, Halloween provides something for everyone: The Cure and Willie Nelson drop anticipated albums, and—boo!—everyone's favorite Nirvana widow releases a memoir titled Dirty Blonde: The Diaries of Courtney Love. Next: November Fall Preview Calendar
November
1. Make haste to final previews for Voyage, part one of Tom Stoppard's epic trilogy, The Coast of Utopia. Even if the plays weren't so smart (which they are), you'd want to see Billy Crudup, Jennifer Ehle, Ethan Hawke, Martha Plimpton, and Brían F. O'Byrne pile onto one stage.
2. The OC's fourth-season premiere conflicts with opening night for the fabulous Christine Ebersole's Grey Gardens. Engage your TiVo and catch them both.
3. Date-movie-palooza: Check out either Sacha Baron Cohen's cult-fave Borat or Volver, Pedro Almodóvar's swoon-inducing ghost flick.
4. Don't miss Anthony Minghella's Madama Butterfly. Lush with Japanese Bunraku-style puppets and shoji screens, the opera sensation stunned London last season.
5. MoMA's well-timed exhibit on art and political violence, Manet and the Execution of Maximilian, maps out the artist's visceral response to the emperor of Mexico's death at the hands of a firing squad.
6. A tip o' the nib to the Museum of Comic and Cartoon Art's massive retrospective She Draws Comics: 100 Years of America's Women Cartoonists.
7. Bard looks like a lady! Declan Donnellan takes the already gender-bendy Twelfth Night, casts an all-male ensemble, and makes them all speak Russian, at bam.
8. Fetching French-born pianist and adopted New Yorker Hélène Grimaud makes her Carnegie Hall recital debut with Chopin, Rachmaninoff, and Brahms.
9. The third annual New York Comedy Festival—this year's headliners include Queen Latifah, Mario Cantone, and Denis Leary—bestows the Andy Kaufman Award to a fledgling stand-up at Carolines on Broadway.
10. Pick a movie according to your mood: In A Good Year, Russell Crowe inherits a lush vineyard in Provence; in Harsh Times, Christian Bale plays a Gulf War vet who turns psychotic.
11. Ponder the big questions as Harlem poet, professor, and performer Sekou Sundiata explores American identity in The 51st (dream) State.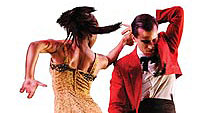 12. Last chance to marvel over Ballet Hispanico's signature mélange of styles: flamenco, Afro-Latin jazz, and Brazilian, all at the Joyce.
13. A little summer reading for the fall: Carl Hiaasen reads from his latest Honey Santana caper, Nature Girl, at the New School.
14. Sturm und Drang! The Met unveils 100 paintings and drawings from the Weimar Republic in the enchanting Glitter and Doom: German Portraits From the 1920s.

15. Remind yourself that photography can be relevant without gimmicks, at New Photographs 2006: Jonathan Monk, Barbara Probst, and Jules Spinatsch at MoMA.
16. The original Super Nanny arrives in New York: Mary Poppins officially opens on Broadway.
17. Bond is a blond in Casino Royale, while Christopher Guest drolly mocks Hollywood in For Your Consideration.
18. If you like Rent, you'll love its fin-de-siècle progenitor La Bohème, opening at the Met Opera.
19. Dueling museums: The Guggenheim shows off the work of five centuries of Spanish art in El Greco to Picasso: Time, Truth, and History; the Met focuses on the artists from Cézanne to Picasso; and the Whitney highlights Picasso's influence on modern American painters.
20. The Met reimagines the opera Il Barbiere by importing the world's greatest Rossini tenor and enlisting the designer of the Tony Award–winning The Light in the Piazza.
21. Underage music wunderkind Beirut plays the Bowery Ballroom.


22. A triple feature: Steven Soderbergh directs George Clooney and Cate Blanchett in a post-WWII murder mystery, The Good German; Darren Aronofsky is out with his New Age-y sci-fi film The Fountain; Nicholas Hytner brings The History Boys to the big screen.
23. Thanksgiving. Watch football.


24. The Nutcracker opens at the New York City Ballet.


25. It's the busiest shopping weekend of the year, which means it's a good day to not go shopping. See a Broadway musical instead: Dr. Seuss's How the Grinch Stole Christmas is the perfect antidote to consumer craziness.
26. It's like Cirque du Soleil—on ice! Hence the name Cirque on Ice, at the St. George Theatre on Staten Island.
27. Last chance to see Monika Sosnowska's Projects 83, an architectural installation of paper maquettes created especially for MoMA.
28. Holy Myth, Batman! A compelling exhibit at the Jewish Museum explores Superheroes: Good and Evil in American Comics.
29. Tourists see the lighting of the Christmas tree in Rockefeller Center; opera lovers prefer the opening night of Tosca at the Met; fans and writers still buzzing from yesterday's museum visit head to Comic Superheroes: Live on the Silver Screen, a night of discussions and screenings hosted by the 92nd Street Y.
30. Julianne Moore hits the boards. Hard. David Hare's The Vertical Hour debuts today.