Katie: The Real Story by Edward Klein
The author of a dishy, trashy Hillary takedown sinks his teeth into another polarizing and powerful blonde (Couric, if you're not on a first-name basis). Crown; August 28.
If You Liked School, You'll Love Work by Irvine Welsh
The delinquent who gave the world Trainspotting comes out with his first collection in more than a decade, with the usual complement of decapitation, masturbation, degradation, pathos, and humor. Norton; September 4.
The Braindead Megaphone: Essays by George Saunders
The cult dystopian writer's first nonfiction collection ranges in locale from Nepal to Dubai, and in tone from David Sedaris to David Foster Wallace. Riverhead; September 4.
Songs Without Words by Ann Packer
The beloved author of The Dive From Clausen's Pier follows up that surprise hit with another intimate story, about lifelong friends tested by fate. Knopf; September 4.
War and Peace: Original Version by Leo Tolstoy, translated by Andrew Bromfield
One Russian publisher called this early draft of Tolstoy's tome "half as long and twice as interesting." But it's still 900 pages. Ecco; September 4.
Samedi the Deafness by Jesse Ball
A young poet's first novel, in which a cult of people kill themselves on the White House lawn, makes Surrealist poetry of the mystery genre. Vintage; September 4.
An Arsonist's Guide to Writers' Homes in New England by Brock Clarke
A man convicted of torching the Emily Dickinson Homestead is implicated decades later in a rash of copycat arsons. Algonquin; September 4.
The Indian Clerk by David Leavitt
The story, based on fact, of a Cambridge math scholar and a lowly clerk from India who happened to be a genius. Bloomsbury; September 4.
Spring Awakening: A Children's Tragedy by Frank Wedekind, translated by Jonathan Franzen
The curmudgeonly writer moves into translation, lambasting the current Broadway production as "insipid" and "overpraised" in his preface. FSG; September 7.
The Art of Political Murder: Who Killed the Bishop? by Francesco Goldman
Chronicling a church's independent investigation into a notorious 1998 killing in Guatemala, the writer uncovers some clues himself and depicts a country still ridden with gangs and corruption. Grove; September 10.
Song for Night by Chris Abani
The acclaimed Nigerian writer takes the new subgenre of the African "lost boy" novel to brutal new highs and lows via a teen in a minesweeping platoon. Akashic; September 17.
Maynard & Jennica by Rudolph Delson
Look out, Miranda July! A former lawyer creates a clever, quirk-tastic romance between two odd-duck New Yorkers. Houghton Mifflin; September 18.
Fire in the Blood by Irène Némirovsky
Another salvaged manuscript from the writer, who died in Auschwitz, which could serve as a prequel to Suite Française, last year's unfinished World War II epic. Knopf; September 25.
The Coldest Winter: America and the Korean War by David Halberstam
The late journalist's last ambitious history, about a doomed American offensive in northern Korea—Douglas MacArthur's greatest blunder. Hyperion; September 25.
Like You'd Understand Anyway by Jim Shepard
The writer's writer whose Project X fictionalized Columbine takes his new stories everywhere from ancient Greece to Paris during the Terror. Knopf; September 25.
The Elephanta Suite by Paul Theroux
Three novellas from the master travel writer about Americans coming up against the contradictions of India. Houghton Mifflin; September 26.
Schulz and Peanuts: A Biography by David Michaelis
The first full-scale life story of Snoopy's creator (who had a rather fraught childhood). Harper; October 1.
Nureyev: The Life by Julie Kavanagh
The ballet critic's bio of the Russian superstar promises to balance serious analysis with dishier stuff. Pantheon; October 2.
The Terror Dream by Susan Faludi
The arch-feminist takes on 9/11. Metropolitan; October 2.
I Am America (And So Can You!) by Stephen Colbert
Jon Stewart wrote a funny book to expand his media platform, too. Grand Central; October 9.
The Year of Living Biblically by A.J. Jacobs
Having conquered the encyclopedia, the participatory journalist raises the stakes by taking the Torah's 613 laws literally (no, he didn't stone anyone). Simon & Schuster; October 9.
Inside Inside by James Lipton
The fawning host of Inside the Actors Studio lards his autobiography with illuminating moments from his interviews. Dutton; October 18.
Cheating at Canasta by William Trevor
Twelve stories from the celebrated novelist, in his usually subtle and melancholic vein. Viking; October 18.
A Free Life by Ha Jin
The National Book Award–winning (for Waiting) Chinese immigrant novelist turns his pen to the U.S. through the eyes of an aspiring poet who opens a Chinese restaurant in Atlanta. Pantheon; October 30.
Never Enough by Joe McGinniss
After fifteen years, McGinniss returns to true crime, covering the horrific murder of Robert Kissel by his wife in Hong Kong. Simon & Schuster; November 1.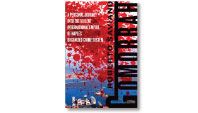 Gomorrah by Roberto Saviano, translated by Virginia Jewiss
An Italian sensation last year, this brutal exposé of Naples' mob starts with a scene of carnage you won't soon forget. FSG; November 7.