ASTORIAComing This Fall
➼ 31-01 Vernon Boulevard (The Piano Factory)
➼ 30-80 21st Street (The Astoria Windsor)
➼ 25-47 23rd Street (Hoyt Terrace)
➼ 32-70 41st Street (Ionian Condominiums, pictured)
What's Going Up
The gamut, from low-key condos without doormen for less than $500 per square foot to Manhattan-style towers full of name-brand finishes and fancy amenities.
Why Here?
Better to ask why not, says local agent Elias Galianos of Century 21 Triboro Terrace Realty. Though it's not "undiscovered," Astoria still isn't crazy expensive, given that it's twenty minutes from midtown and has neighborhoody vibe to spare. The cheap-restaurant scene is well-regarded (Tony Bourdain loves Ali's Kabab Café!), as are the cafés on 30th Avenue and what may be one of the most scenic parks in all the five boroughs. Plus it has the city's only outdoor beer garden.
FINANCIAL DISTRICT (FIDI)Coming This Fall
➼ 50 West Street
➼ 45 John Street (pictured)
➼ 75 Wall Street
➼ 95 Wall Street
➼ 15 William Street (William Beaver House)
➼ 90 William Street (Be@William)
➼ 88 Greenwich Street (Greenwich Club)
What's Going Up
Primarily mid-to-high-end condos catering to moneyed types who like hard edges—André Balazs, Philippe Starck, and David Rockwell are leaving their imprint here—and top finishes.
Why Here?
After a decade of it'll-happen-soon predictions, the area's residential moment is actually here. The nine-to-five district has finally acquired a residential life, with preschools and stores, and it's getting that supermarket it always lacked, in the form of a big new Gristedes, says Rex Hakimian, whose firm is converting 75 Wall Street.
MIDTOWN EAST AND WESTComing This Fall
➼ 33 West 56th Street (The Centurion)
➼ 10 United Nations Plaza
➼ 235 East 55th Street (The Capri)
➼ 440 Park Avenue
➼ 212 East 47th Street
➼ 425 West 53rd Street (The Five Three)
➼ 865 United Nations Plaza (pictured)
What's Going Up
Everything from cookie-cutter boxes to aspirational spaces designed by the latest starchitect to make the scene—the nonagenarian I. M. Pei, who's building the Centurion.
Why Here?
For a lot of people, and especially for pied-à-terre buyers, the whole point of New York life is being in the center of things. "Now more than ever, people want to live near where they work," says Mario Procida, who's developing 425 West 53rd Street. Yes, development costs here are surreal, because midtown land is so expensive, but with a ready-made audience, builders—and therefore potential residents— will likely continue to pay up.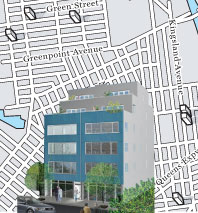 GREENPOINTComing This Fall
➼ 240 Kingsland Avenue (Kingsland Condominiums)
➼ 305 McGuinness Boulevard
➼ 226 Richardson Street (Luxe226, pictured)
➼ 122 West Street (The Pencil Factory)
➼ 267–269 Kingsland Avenue
➼ 110 Green Street
What's Going Up
Starter spaces, Magic Johnson–developed condos with family-size apartments, and modernist concoctions pushing the design envelope.
Why Here?
For years, buyers kept away, turned off by the nearby sewage-treatment plant and a two-train commute. But no more: Priced out of Williamsburg, buyers are migrating here for places that are 15 to 20 percent cheaper, says David Maundrell, who runs aptsandlofts.com. At this rate, it's not going to be Williamsburg's poor cousin for much longer.