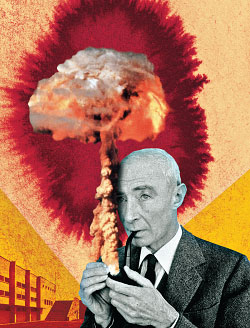 When Doctor Atomic, John Adams's opera set on the last night of the pre-nuclear age, premiered in San Francisco in 2005, a clunky, wire-swaddled bomb hung over the stage. That demon idol waiting to detonate, an oppressively symbolic gesture, was pure Peter Sellars: He directed the first production and constructed the libretto out of transcripts, oral histories of the Manhattan Project, the Bhagavad-Gita, and the fierce, exact poetry of Muriel Rukeyser and John Donne.
But the bomb—the "gadget," they called it at Los Alamos—will be banned from the Metropolitan Opera when Adams's masterpiece arrives in a new production by the English film director Penny Woolcock. It's "lost its potency," she says. "And you can't do anything on the stage to approximate the horror of Hiroshima." In place of a dummy bomb will be a sculptural arrangement of debris frozen in midair, derived from Cornelia Parker's Cold Dark Matter.
During the months leading up to the nuclear pyre called Trinity, Los Alamos was a sealed-off hothouse of intense young men and women, and it's on their tangled rivalries and friendships that Woolcock plans to focus. "When they weren't doing physics, these people were drinking and copulating all the time," Woolcock chortles. "You have to remember, the average age was 25."
The village elder was J. Robert Oppenheimer, the scrawny, charismatic chieftain in a porkpie hat who chain-smoked, mixed a mean martini, and had a genius for orchestrating other people's insights. (Gerald Finlay, the baritone who created the role, will sing it again at the Met.) At his side in the lab was Edward Teller, seething and incubating his later role as Oppenheimer's nemesis.
"Then there's Kitty," Woolcock says with the relish of a director who has discovered her great dramatic character, "there's Kitty." Woolcock has never directed staged opera before (she filmed Adams's Death of Klinghoffer), but she knows a diva vehicle when she sees one. Kitty Oppenheimer was a smart, difficult, flirtatious ex-communist who lost one husband to the Spanish Civil War, divorced another when she became pregnant by Oppenheimer, and then raged through her role as Wife of the Father of the Bomb. "She must have been incredibly frustrated," Woolcock says. "She spent her time drinking and not giving dinner parties. She can't have been very nice to be around, but she was admirable in a way. I'd love it if some of that got through." The task of making sure that happens at the Met falls to mezzo-soprano Sasha Cooke.
Adams has given each Oppenheimer a poignant, soliloquizing aria: Robert's is a setting of the John Donne poem that gave the Trinity test its name ("Batter my heart, three-person'd God"); Kitty sings Rukeyser's apocalyptic poem "Easter Eve, 1945." ("I wait for the great morning of the west / confessing with every breath mortality.") In these passages, Adams captures the way the atomic age was born amid a strange, alluring mixture of beauty and destruction. Cloistered in the fiercely ravishing landscape of New Mexico's high desert is a cast of what Woolcock calls "these brilliant, sophisticated, cultured people, doing this awful thing."
Doctor Atomic
By John Adams. Metropolitan Opera; opens October 13.