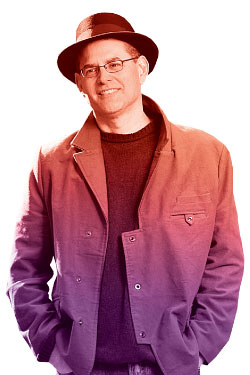 All Doug Cuomo ever wanted was to write an opera. His day job just got in the way. You may have heard a kicky little salsa-inflected tune he wrote: the theme to Sex and the City. Or perhaps the moody theme and six years of incidental music for Homicide: Life on the Street. So, after a decade in TV, Cuomo was ready to write Arjuna's Dilemma, an opera-oratorio drawn from the Bhagavad-Gita.
"Television does make you very aware of the narrative power of music—how music colors narrative, almost word-by-word," he says. "Oftentimes, scoring for film or TV, you're asked to do something that sounds 'like Paris in the 1920s,' or 'something vaguely Turkish.' It's given me familiarity with how to put things together." For Arjuna, Cuomo drew on his jazz background and fascination with North Indian singing, following the title character's crisis of conscience on the eve of battle. Cuomo says he's been surprisingly welcome in the new-music crowd. "I think the time when people would look down on [TV] is gone," he says. "If I hadn't done all this film and television work, I'd be a much less interesting composer."
Arjuna's Dilemma
At the BAM Next Wave Festival; November 5, 7, and 8.