September
Mister Foe …9/5
Billy Elliott star Jamie Bell plays an inappropriately lusty teenage voyeur prowling for maturity in Edinburgh's streets.
The Women …9/12
The updated version of the 1939 bitchfest, starring Meg Ryan, Eva Mendes, Annette Bening, and Bette Midler. A guilty pleasure if we've ever seen one.
The Duchess …9/19
Keira Knightley corsets herself to play notorious eighteenth-century aristocrat Georgiana Cavendish. With Ralph Fiennes.
Elite Squad…9/19
The violent, divisive fictionalized exposé of Brazil's corrupt cops that earned director José Padilha top Berlin Film Fest honors.
Ghost Town…9/19
A misanthropic dentist (Ricky Gervais) gains the ability to commune with the dead, only to be haunted by obnoxious ghost Greg Kinnear.
Lakeview Terrace…9/19
Neil LaBute's suburban-racism drama stars Patrick Wilson and Kerry Washington as interracial lovebirds who tweak a volatile black neighbor played by Hollywood's go-to volatile black man, Samuel L. Jackson.
Blindness …9/26
Julianne Moore is the sighted savior of a band of blind refugees (Mark Ruffalo, Gael García Bernal) in City of God director Fernando Meirelles's urban-quarantine thriller.
Choke…9/26
Sam Rockwell channels his inner sleazebag (and do-it-anywhere porn star) in Clark Gregg's adaptation of Chuck Palahniuk's dirty, gonzo sex-addict romp.
Miracle at St. Anna…9/26
The one that sparked the Eastwood feud! Spike Lee's story (inspired by true events) follows a group of black World War II soldiers stranded in Tuscany.
October
Ballast…10/1
First-time writer-director Lance Hammer's Sundance sleeper hit, about the effects of a friend's suicide on an impoverished Mississippi family.
How to Lose Friends and Alienate People…10/3
British goofball Simon Pegg channels British goofball Toby Young, whose memoir about his failed tenure at Vanity Fair became a best seller.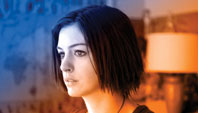 Rachel Getting Married…10/3
Anne Hathaway goes bad for Jonathan Demme's drama about a fresh-out-of-rehab troublemaker who makes her sister's wedding a living hell. The all-to-scarce Debra Winger plays the quirky mom.
Nick & Nora's Infinite Playlist…10/3
Sweet stud-muffin Michael Cera plays in a queercore band and scores another babe in an East Village romance from Peter Sollett (Raising Victor Vargas).
Religulous…10/3
Borat director Larry Charles films sassy talking head Bill Maher as he travels around the world talking to regular folks about God and religion.
RocknRolla…10/8
A great cast—Tom Wilkinson, Gerard Butler, Thandie Newton—places its fate in the hands of inconsistent director Guy Ritchie for a slaphappy crime caper.
Happy-Go-Lucky…10/10
Director Mike Leigh's comedy about a relentless glass-half-fuller (Sally Hawkins) who frustrates and delights the people who love her.
Nights and Weekends …10/10
Mumblecore's nakedest hero-provocateurs Joe Swanberg and Greta Gerwig co-direct, co-write, co-star, and co-habitate.
City of Ember…10/10
So that's where Bill Murray's been: ruling his own underground world, in Gil Kenan's kid-friendly fantasy.
Stranded…10/22
Gonzalo Arijón's festival-hit documentary about the 1972 plane crash that marooned survivors in the Andes.
Changeling…10/24
Clint Eastwood's Cannes hit is a period drama based on the story of a California mother (Angelina Jolie) whose son is kidnapped.
High School Musical 3…10/24
Aiiii! Ahh! Omigod!
Saw V…10/24
Aiiii! Ahh! Omigod!
Zach and Miri Make a Porno…10/31
Kevin Smith's smutty comedy stars Seth Rogen and Elisabeth Banks as down-on-their-luck pals who turn to porn to pay the bills.
November
Quantum of Solace…11/7
Daniel Craig returns as Bond. Let the drooling begin.
Role Models…11/14
Paul Rudd and Sean William Scott play morons who become big brother mentors—to McLovin!
Australia…11/14
A Thorn Birds for the new millennium: Baz Luhrmann's Down Under epic starring Nicole Kidman as a posh cattle baron's widow and Hugh Jackman as the bad-boy cowpoke who helps her. You know what we're talkin' about.
Twilight…11/21
Catherine Hardwicke (Thirteen) hopes Robert Pattinson is the hunkiest vampire since Brad Pitt.