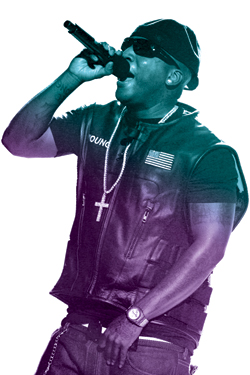 Who needs an economic stimulus package when you've got Young Jeezy? Since his 2005 debut on Def Jam, Let's Get It: Thug Motivation 101, the Atlanta-bred rapper (a.k.a. Jay Jenkins) has become a global ambassador for the Dirty South, flooding the streets with his dark, cinematic anthems for the disenfranchised and throwing down memorable guest raps on jams like Usher's "Love in This Club." He's also sold a couple million albums along the way. These days, Jeezy doesn't seem too happy with the state of things in this country. The picture he paints on his third album, fittingly titled The Recession, is of an urban dystopia—bills piling up, streets unsafe, health care a mess. "I want a new Bentley; my aunt need a new kidney," he raps on the new track "Crazy World." And he's pointing fingers: "I think Bush is trying to punish us." But Jeezy's got a solution. To paraphrase: Don't let it get you down. And whatever you do, don't stop buying stuff.
"I'm not cutting back. I gotta keep pushin'!" says Jeezy, calling in from his promotional tour. Specifically, he's "pushin' " for his album to get decent sales in a sluggish market. It hasn't been easy, though. "Oh, I'm definitely affected [by the recession]," he says. "I've got to pay $5 for gas just like everybody else."
Continuing with "normal" life for Jeezy means being honest about his former life as an ambitious young coke dealer (nicknamed "Snowman") and staying true to his love of fancy cars and gold chains, even if his fan base can't afford those things. "Ain't nobody tripping on them," he says of his jewelry. "They're just trophies, baby. Anything that looks good makes you feel better." More than that, it would be a disservice to fans not to wear bling. "Sometimes it's good to see people still out doing and living as they would normally live, because it kind of gives you hope."
Speaking of hope, Jeezy got in trouble recently for telling Vibe, "I fuck with John McCain." (Translation: "I like that dude.") He's spent the last month reaffirming his loyalties, even to the point of writing a song with Nas called "My President Is Black." Jeezy knows the endorsement by someone who has an extensive criminal past isn't a major boon to Barack Obama, but he wants to inspire action in angry inner-city voters. Personally, Jeezy wants to see an end to the health-care crisis. (He recently paid out of pocket for surgery for his mom.) Other than that issue, he won't specify which particular Obama policies appeal to him. "But, you know," Jeezy says, "he got a plan. I mean, shit, we don't have one. His is a lot better than mine."
Young Jeezy
The Recession.
September 2.