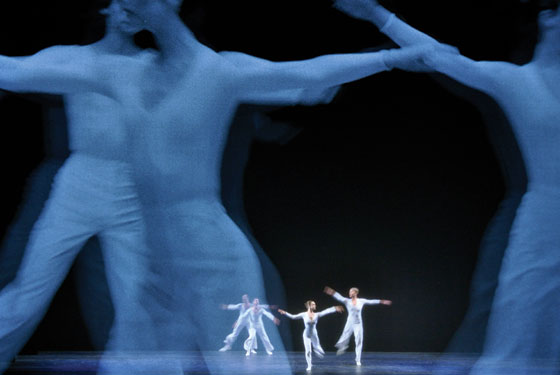 September
"Works & Process," /11–9/12
Larry Keigwin and Peter Quanz interpret Steve Reich's Pulitzer-winning Double Sextet. Royal Winnipeg Ballet members perform . Guggenheim Museum.
Chamber Music Society of Lincoln Center, 9/23
Season premiere is by David Bruce for beloved soprano Dawn Upshaw. Alice Tully Hall.
October
'Dance,' 10/6–10/11
Lucinda Childs's rarely performed 1979 collaboration with Philip Glass and Sol LeWitt. Joyce Theater.
"Composer Portraits," 10/17 and 11/22
Highlights of this fall's continuation of the intimate series devoted to individual talent: Greek polymath Iannis Xenakis and Finnish pioneer Kaija Saariaho. Miller Theatre.
'Songs of Ascension,' 10/21–10/25
Meredith Monk's transcendent meditation on spiritual enlightenment, with delicate video art by Ann Hamilton. Brooklyn Academy of Music.
'The Long Count,' 10/28, 10/30, 10/31
An expansive multimedia song cycle from Aaron and Bryce Dessner (twin brothers who also play in the National), with visual contributions from Matthew Ritchie. Brooklyn Academy of Music.
November
Morphoses/the Wheeldon Company, 10/29–11/1
Christopher Wheeldon's exquisitely talented troupe of ballet stars in their third annual appearance—this time with live music! City Center.
Deborah Hay and Yvonne Rainer, 11/17–11/19
Two icons of the downtown dance scene come together for three evenings, as part of Performa 09. Baryshnikov Arts Center.
'Kepler,' 11/18, 11/20, 11/21
A concert staging of Philip Glass's opera about the astronomy pioneer, with the Bruckner Orchestra Linz under Dennis Russell Davies. Brooklyn Academy of Music.
New York City Ballet, Starts 11/27
The winter season begins, with the onslaught of impressive debuts that the Nutcracker customarily brings. David H. Koch Theater.