I go into every movie wide open, always hoping for the best: "Rob Schneider will finally get a chance to show us … " So my most-anticipated list is provisional. I haven't seen any of them yet, and maybe a few will even end up on my Ten Worst List. But oh, what a fall it could be!
Extract
Mike Judge is happily back with another corporate-culture comedy. His last, Office Space, did little at the B.O. but killed on video. Here, the love object is luscious Mila Kunis; Kristen Wiig gets a better-than-usual platform for her loopy deadpan; and even Ben Affleck looks halfway funny behind a bushy black beard. Sept. 4; Miramax
Jennifer's Body
It's amazing how fast Diablo Cody has become a joke after near-uniform critical raves (and an Oscar) for Juno. (I loathed it.) But hotcha Megan Fox as a camp vampire putting the bite on good girl Amanda Seyfried sounds right up the obnoxious Cody's alley. If only the baby in Juno had burst out of Ellen Page's belly and gone for her jugular … Sept. 18; 20th Century Fox
Capitalism: A Love Story
The big blowhard is back with another subject suited to his outrage: the current global financial crisis. Oh, boohoo, you think Michael Moore's a demagogue? Suck on this: Amid all the right-wing birther/gun-nut Fox-fueled treasonous lunacy, his diatribes remain a sane alternative. Even after they're fact-checked they hold up. Sept. 23; Overture
The Invention of Lying
Ricky Gervais challenges organized religion (a.k.a. the Big Lie) with the help of Jennifer Garner, Tina Fey, Jonah Hill, and Patrick Stewart. I'm praying for the first great atheist comedy of the millennium. Sept. 25; Warner Bros.
A Serious Man
Joel and Ethan Coen explore (and, on the basis of the slapstick, incantatory trailer, travesty) their middle-class Jewish Minneapolis sixties roots. Burn After Davening? Oct. 2; Focus Features
An Education
Nick Hornby wrote it, and the Brit lass Carey Mulligan, who you read about a few pages ago, is the talk of (male) critics for being a luminous Audrey Hepburn–esque waif. Oct. 9; Sony Picture Classics
Where the Wild Things Are
Not a lot of CGI—people in big furry suits. Spike Jonze's movie of Maurice Sendak's incomparable, unruly classic can't live up to our dreams, can it? Hold on: Sendak likes it and doesn't need the money to say so. Good enough for me. Oct. 16; Warner Bros.
Precious: Based on the Novel Push by Sapphire
Oprah Winfrey and Tyler Perry join forces—which ordinarily would make you want to put a bullet in your head—to produce Lee Daniels's acclaimed-at-Sundance adaptation of the novel by Sapphire: the story of a massively obese African-American girl (Gabourey Sidibe) horribly abused by her mother (Mo'Nique) who finds a reason to live—and thrive. The preview made me cry. Nov. 6; Lionsgate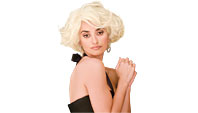 Broken Embraces
If Pedro Almodóvar called up Penélope Cruz and said, "I'd like to make a movie in which all you do for 90 minutes is eat crullers," and she said yes, I'd think, Hmmm, interesting, even if Volver was overrated, because Cruz liberates Almodóvar's feminine (if not sexual) imagination. This one's a lush, insidery melodrama about a blind film director—another hall of mirrors by cinema's cracked genius. Nov. 20; Sony Pictures Classics