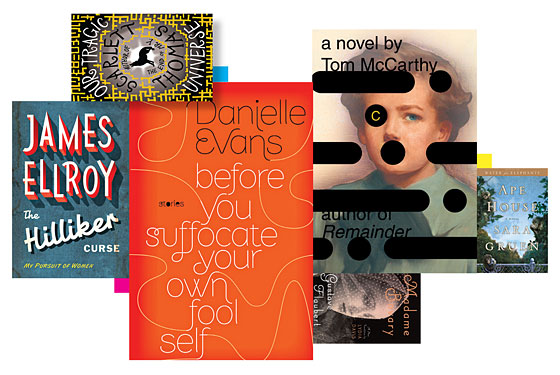 1. Our Tragic Universe
by Scarlett Thomas (Houghton Mifflin Harcourt)
It would be tempting—but unfair—to call the British author's eighth novel metaphysical chick lit. Ostensibly the story of a writer adrift in her career and relationship, the book quickly becomes, via the female protagonist's whip-smart digressions, a meditation on the question of whether life and books are better off plotless. Sept. 1.
2. Zero History
by William Gibson (Putnam)
The god of speculative fiction, who invented the term "cyberspace," comes up with another paranoid, high-tech dystopian thriller. What's new is an unlikely fixation on the links between fashion and the military-industrial complex. Sept. 7.
3. The Hilliker Curse: My Pursuit of Women
by James Ellroy (Knopf)
The writer of politically intertwined meta-crime novels like The Black Dahlia reveals his very complicated relationship with women throughout the decades—which he traces back to the murder of his mother when he was a child. Sept. 7.
4. Ape House
by Sara Gruen (Random House)
The fourth novel from the author of Water for Elephants furthers her preoccupation with intelligent animals and amorous humans. The stars are a troupe of bonobos—the chimps known for their liberal sexual attitudes. Sept. 7.
5. C
by Tom McCarthy (Knopf)
"C" is for the precocious and strange hero, Serge Carrafax, the son of an eccentric inventor—and for many other incidental bit players (cocaine, the myth of Ceres) in this hall-of-mirrors picaresque. Sept. 7.
6. Storyteller: The Authorized Biography of Roald Dahl
by Donald Sturrock (Simon & Schuster)
The artistic director of the Roald Dahl Foundation manages a balanced and juicy treatment of his idol, running through Dahl's years spying for the Brits and bedding a slew of Americans as well as the tensions, setbacks, and depressive jags that gave his work its texture. Sept. 14.
7. Before You Suffocate Your Own Fool Self
by Danielle Evans (Riverhead)
With polished short stories plumbing the intersection of adolescence, race, hormones, and emotional instability, the twentysomething Iowa-workshop graduate threatens to become the season's hot young MFA discovery. Sept. 23.
8. Madame Bovary
by Gustave Flaubert, trans. Lydia Davis (Viking)
The writer of spare short stories has a special talent for translations—like her take on Proust's Swann's Way—and is already being praised for bringing out the subtleties in Flaubert's style. No wonder she won a French Insignia from the Order of Arts and Letters. Sept. 23.
9. Untitled on the Obama Administration
by Bob Woodward (Simon & Schuster)
Woodward turns to a new president in a closely reported account—still under wraps—that focuses on Obama's commander-in-chief duties, particularly his handling of Iraq, Afghanistan, and the constant threat of terrorism. Sept. 27.
10. By Nightfall
by Michael Cunningham (FSG)
The author of such genre-bending books as The Hours and Specimen Days shifts to more stripped-down narrative territory in a novel about a Soho art dealer who begins to doubt everything he's believed in. Sept. 28.
11. Nemesis
by Philip Roth (Houghton Mifflin Harcourt)
Roth returns to Newark in this story of how a young man, rejected by the Army, copes with the 1944 polio epidemic that ravaged New Jersey during Roth's own childhood. Oct. 5.
12. Great House
by Nicole Krauss (Norton)
The author of The History of Love continues her exploration of Jewishness, loneliness, and the threads connecting people across generations, weaving together fragments of four novellas all linked to a massive old desk of mysterious provenance. Oct. 12.
13. Mourning Diary
by Roland Barthes (Hill and Wang)
Thirty years after the postmodern French critic's death, fans can finally read his most personal work: a journal he began the day after the death of his mother—and kept writing almost until his own untimely demise. Oct. 12.
14. How to Read the Air
Dinaw Mengestu (Riverhead)
Mengestu—one of the New Yorker's new "20 under 40" American authors—writes about a son of Ethiopian immigrants who reconstructs his murky family history via a road trip his parents took to Nashville before his birth. Oct. 14.
15. Finishing the Hat: Collected Lyrics with Attendant Comments, Etc.
by Stephen Sondheim (Knopf)
Sondheim's catalogue, between 1954 and 1981, with candid and illuminating notes on how the verbal side of his genius found its form. Oct. 26.
16. The Instructions
by Adam Levin (McSweeney's)
It's left to readers with considerable attention spans to decide whether Levin's 1,024-page novel, about a preteen boy genius with a possibly justified Messiah complex, merits a chorus of David Foster Wallace comparisons. Nov. 1.
17. The Petting Zoo,
by Jim Carroll (Viking)
The latter-day Beat poet and reformed junkie was working on his first novel when he died last year. It centers on the recollections of an eighties art star in the midst of a spiritual crisis. Nov. 4.
18. Life Times: Stories 1952–2007
by Nadine Gordimer (FSG)
The collected short fictions of the South African Nobel laureate includes four previously unpublished stories. Nov. 9.
19.The Autobiography of Mark Twain, Vol. 1
(University of California Press)
Upon dictating the capacious story of his life (this half is over 700 pages long), Twain stipulated that it shouldn't be published unexpurgated until 100 years after his death. Seven months after the passing of that milestone, fans finally get their look. Nov. 15.
20. The Emperor of All Maladies: A Biography of Cancer
by Siddhartha Mukherjee (Scribner)
The Columbia doctor delivers one of the medicine-from-the-inside books that have become so common lately; his take is exhaustive—exploring every angle (biological, cultural, historical, literary) of our relationship with an internal archenemy. Nov. 16.
PLUS
September:
Richard Yates: A Novel, by Tao Lin (Melville House).
Big Girls Don't Cry, by Rebecca Traister (Free Press).
Making Our Democracy Work, by Stephen Breyer (Knopf).
Listen to This, by Alex Ross (FSG).

October:
Washington: A Life by Ron Chernow (Penguin).
Where Good Ideas Come From: The Natural History of Innovation, by Steven Johnson (Riverhead).
Travels in Siberia, by Ian Frazier (FSG).

November
The New Yorker Stories, by Ann Beattie (Scribner).
Cleopatra: A Life, by Stacy Schiff (Little, Brown).
Luka and the Fire of Life, by Salman Rushdie (Random House).
Sunset Park, by Paul Auster (Henry Holt & Co.).