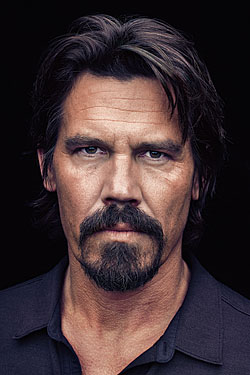 The bro hug will come later—after the golf balls smacked at the Hudson; the 3,000 or so chain-smoked American Spirits; the near-erotic ("but not gay") disrobing in the hotel room. But right now, Josh Brolin is contemplating my footwear.
It's a Tuesday at lunch, and we're supposed to be eating some expensive salads. But Brolin—chiseled and surfer-tanned—has dragged me from the frosty embrace of the Greenwich Hotel into the heat-wave chokehold of a Tribeca sidewalk to smoke a butt. "Ugly habit," says the 42-year-old actor, running a hand through his dark brown rooster bangs. He talks fast and loose and unguarded—about his bad back, the bet he made with his brother that he could quit smoking (he did it for three months), how crazily, happily busy he is. It's all a nervous-energy monologue until the shoes—mine, not his—pull him up short. "You see, man?" he says, squinting and pointing at my desert boots. "Same shoes as mine. Right? But those are what, 400 bucks? Because they're designer?" I point out that I've had them five years, that the ladies love them, and—seriously?—they are vastly cooler than his knockoffs. He laughs. "Fucking New Yorkers."
Brolin should know. Next month, in two unavoidable films, he will invade our civic ether by playing a pair of quintessential New York types: a Mephistophelian banker who manipulates careers and markets in Oliver Stone's big-budget Wall Street: Money Never Sleeps; and a neurotic, cheating, narcissistic novelist in the Woody Allen comedy You Will Meet a Tall Dark Stranger. He will soon be unavoidable on our streets, too, when he shoots Men in Black III. To that end, he's currently weighing his living options: Greenpoint, where his sister lives, or Tribeca, home to his hedge-fund friends.
Not bad for the former Goonies teen stud who had, until a few years ago, assumed the bulk of his income would come from his online day-trading. But then the Coen brothers yanked him from his brilliant supporting career to star in 2007's No Country for Old Men. Of his current projects, Brolin is most nervous about the Allen film, because he doesn't like the guy he plays. "Maybe it's because I'm capable of being that selfish," he says. "I was playing him and it was like, Yeah, that seems right and that seems organic. And that's too bad, because if it seems organic then that means it exists in me. And I just wanted to slap myself. It's pathetic."
Brolin gained 30 pounds for Roy, a whiny, fulminating, beer-guzzling womanizer. Naomi Watts, who plays his gallery-assistant wife, says Brolin "was a wonderful wreck. He ate and smoked constantly. It was impressive."
Before shooting began, Brolin had the bright idea that his character should be in a wheelchair. He wrote Allen a lengthy e-mail, to which Allen responded simply: "No." The director is famously precise. "Once I used the word cannot instead of can't," Brolin says, swatting at a pigeon intent on landing on our table on the hotel's patio. "And he pulled me aside and said, 'You broke the contraction.' And I'm like, 'What?' And he said, 'You broke the contraction. See, it says right here in the script.' I'm like, 'Come on, Woody, you gotta be kidding me.' He said, 'No, it says here in the script can't and you said cannot. You broke the contraction.' "
The pigeon, scrawny and mottled, nails its landing inches from Brolin's lunch, and pings him with a red-eyed stare. "Look at this guy," says the actor, lending the pigeon a Brooklyn-waterfront accent: " 'Hey, fuck you, lemme eat your sandwich. Turn your head, motherfucker. Light your cigarette. Go ahead.' "
Brolin was born into the acting life. His father, James, was on TV's Marcus Welby, M.D. (a fact that got young Josh beaten up in school). His first role, in 1985's The Goonies, seemed promising. The following year, he went up for the lead in 21 Jump Street, but his Los Angeles buddy Johnny Depp got it. He followed The Goonies with the skater flick Thrashin' (skate or die!), which nearly ended his career right there. Brolin was totally bummed—not by the film, but by his horrendous acting. "I realized I wasn't, you know, Leonardo DiCaprio," he says. "It was awful, man."
His big revelation came in the early nineties, courtesy of the underrated character actor Anthony Zerbe, who was an artistic director at the Geva Theatre in Rochester, New York. Brolin was living on the Upper West Side at the time and commuted upstate to perform with Zerbe. "He looked at me and said—actually he didn't even say it, you just kind of felt it: 'There's a great character actor in you. They're trying to make you something else.' "
But even character roles didn't add up to a living, so Brolin turned seriously to day-trading stocks to earn his money. In 2006, he started the website MarketProbability.com and began pitching it on CNBC. "I'd be really disciplined," he says. "I'd have my stop, my target, and even if the stock was going up, I'd get out. The minute you allow greed to take over, that's it, man."
As often happens, as soon as Brolin began caring less about acting, the big parts started coming. In 2007, in addition to No Country for Old Men, he played a sinister doctor in Robert Rodriguez's half of Grindhouse and a sadistic detective in American Gangster. He followed those with 2008's Milk (which earned him an Oscar nomination for Best Supporting Actor) and Oliver Stone's W., starring as our former president.
In the Wall Street sequel, he not only got to reunite with Stone, but got to use his investing life as motivation. In one scene, his frustrated character—the head of a Goldman Sachs–style investment company—breaks a "Goya" painting over a chair. Stone left the rest on the cutting-room floor: "I sat down in the chair and started crying. And then I thought, Ooh, I can break that painting some more," says Brolin, still amused at the lengths he'll go. Eventually, he "smashed the painting into a ball and stuffed it in my mouth."
Brolin and I are in the elevator headed up to his hotel room. We're going to act like Wall Streeters—or tourists—by hitting golf balls at Chelsea Piers. But first he has to change his shirt. "Why do elevators always smell like butt?" he says, pressing his nose into the fabric of the back wall. In his room, Brolin strips off his shirt to reveal a startlingly hairless torso. "Is this uncomfortable for you?" he asks.
At the Piers we have to wait our turn. Brolin tells me that he and his wife, actress Diane Lane, travel often to Ireland. "We were going to get married at the Cliffs of Moher," he says, "but it was too expensive—getting everybody there." Instead, they married on their central-California ranch. Although Lane appears in the film Secretariat this fall, she's been keeping a lower profile. "She doesn't work as much as I do," he says. "She doesn't want to."
Brolin, who used to golf for hours at a time, hasn't swung a club in three years. "I stick out like a sore thumb," he says. "My arms are too short. I look like a gorilla." After a few slices, he's hitting them onto the green and giving me constructive criticism. "You swing like my old man," says Brolin, whose father (does it need saying?) is married to Barbra Streisand. Those must be some family outings in L.A. "We have a couple of great restaurants that not only would nobody ever suspect," he says, "you wouldn't want to go to in the first place."
Despite a steady stream of unpretentious references to Sean's birthday party and e-mailing Owen, Brolin is most comfortable as a Hollywood outsider, which is one of the reasons he loves working with Joel and Ethan Coen. In 2012, he'll come back to New York to do four one-act plays with Ethan; one of them is based on a journal Brolin kept while shooting No Country. "You work with Oliver, and he's got five different editors all piecing the thing together at once," he says. "He's a different kind of master. The Coens are in this shitty little room with half a window doing it all very intimate and efficient."
In December, Brolin stars in their remake of True Grit, playing a bad man on the run, this time from Jeff Bridges, who is reprising John Wayne's role as Rooster Cogburn. During rehearsal, Brolin tried to come up with a voice for his character. "I was talking like this," he says, doing Texas redneck. "I go to Joel and Ethan, 'It's not working, right?' And they go, 'Nah.' " Brolin clenches his fists and raises his arms to connote frustration. He's funniest when he's emotionally distressed, and that can happen a lot in rehearsal. "I get really weird. I'll be like, to the other actor, 'Can you get on all fours, and I'll ride you? Be a bull and we'll do the scene like that, see what happens?' " He's serious. This is how he works. "So out of sheer panic and fear suddenly this voice came out," he says, in a slurry marble-mouthed drawl. "And Joel went, 'Oooh!' "
Brolin explains that putting himself in a position of "absolute, total humiliation is what acting is. Out of that can come interesting moments." And no one, I say, is having a more interesting moment than he is. "That's really queer," Brolin tells me. Then he moves in for the bro hug.
You Will Meet a Tall Dark Stranger
Directed by Woody Allen.
Sept. 22.

Wall Street: Money Never Sleeps
Directed by Oliver Stone.
Sept. 24.