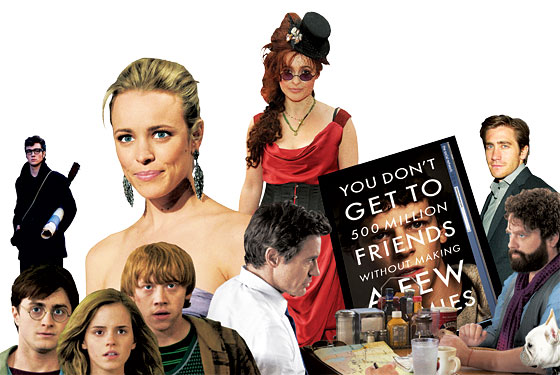 1. I'm Still Here
Casey Affleck directed this absolutely true documentary (wink, wink) about Joaquin Phoenix trading acting for rap music. It's "a portrait of an artist at a crossroads," says Magnolia Pictures. We say it's a crock, but possibly a fun one. Sept. 10.
2. Never Let Me Go
Three children growing up in a cloistered English boarding school, only to discover they are clones raised for organ replacement. Carey Mulligan and a deglamorized Keira Knightley star in the Mark Romanek–directed film, based on the Kazuo Ishiguro novel. Sept. 15.
3. The Town
Jeremy Renner (The Hurt Locker), Rebecca Hall (Please Give), and Jon Hamm give already buzzed-about performances in Ben Affleck's second directorial effort, a heist pic set, once again, in working-class Boston. Sept. 17.
4. Jack Goes Boating
Philip Seymour Hoffman directs himself as a dreadlocked limo driver whose friends (theater vets John Ortiz and Daphne Rubin-Vega) set him up on a heartbreakingly awkward date with a damaged sweetheart (Amy Ryan). Based on Bob Glaudini's play. Sept. 17.
5. Catfish
The breakout documentary at this year's Sundance Film Festival: Henry Joost and Ariel Schulman follow Schulman's 24-year-old brother Nev as he strikes up a disturbing Facebook relationship. Sept. 17.
6. Enter the Void
Auteur-provocateur Gaspar Noé (Irreversible) creates a Technicolor dream riot in which a dead junkie wanders the sex-drenched streets of Tokyo. The must-see foreign film of the fall. Sept. 17.
7. The Social Network
Jesse Eisenberg plays the Harvard kid who may (or may not) have ripped off the idea for a company loosely based on Facebook. Written by Aaron Sorkin, directed by David Fincher, and co-starring Justin Timberlake and Hollywood's next Spider-Man, Andrew Garfield. Start your updates now. Oct. 1.
8. Nowhere Boy
The film covers the troubled relations between the soon-to-be Beatle John Lennon (Kick-Ass's Aaron Johnson), the mother who abandoned him, and the aunt who raised him (Kristin Scott Thomas). But the juicier story may be offscreen: Director Sam Taylor-Wood, 43, just gave birth to a daughter with Johnson, 20. Oct. 8.
9. It's Kind of a Funny Story
Anna Boden and Ryan Fleck (Half Nelson, Sugar) direct a comic Cuckoo's Nest about a depressive teen (Keir Gilchrist) stuck in an asylum with an odd young woman (Emma Roberts) and a mental-home vet (Zach Galifianakis). Oct. 8.
10. Conviction
The true story of a high-school dropout (Hilary Swank) who'll do anything to prove the innocence of her bad-news brother, played by the always-worth-seeing Sam Rockwell. Think of it as Erin Brockovich meets The Shawshank Redemption. Oct. 15.
11. Red
A team of veteran killers (Bruce Willis, Morgan Freeman, Richard Dreyfuss, John Malkovich, and … Helen Mirren?) team up for one last ride in Robert Schwentke's hyperviolent thriller. The trailer, at least, is merrily insane. Oct. 15.
12. Jackass 3-D
Just when it seemed there was nothing left for Johnny Knoxville and Steve-O to do … This is what those glasses were made for: pure, disgusting shock value. Oct. 15.
13. Hereafter
A supernatural thriller with a pedigree: directed by Clint Eastwood, written by The Queen's Peter Morgan, and starring Matt Damon as a reluctant psychic who communicates with the dead. Oct. 22.
14. The Company Men
Men caught in the maw of corporate downsizing, as written by TV's John Wells (ER). Ben Affleck, Kevin Costner, Tommy Lee Jones, and Chris Cooper have already earned raves on the festival circuit. Oct. 22.
15. Megamind
In the DreamWorks toon, warmly received at Comic-Con, Will Ferrell voices a sweetly evil genius, Brad Pitt an overmatched superhero, and Tina Fey a Lois Lane–style reporter. Nov. 5.
16. Due Date
En route to the birth of his child, Robert Downey Jr. gets into an airplane altercation with Zach Galifianakis; the two end up on a sure-to-be-madcap (and Hangover-reminiscent) road trip to the hospital. Nov. 5.
17. Morning Glory
Roger Michell, master of the intelligent romantic comedy (Notting Hill), directs Rachel McAdams, Diane Keaton, and Harrison Ford in a comedy about a young producer updating a hackneyed morning show. Mostly com, a little rom. Nov. 12.
18. Harry Potter and the Deathly Hallows: Part 1
It's hard to imagine a world without Harry Potter movies, but Daniel Radcliffe has to get back to Broadway. In the first part of a two-film adaptation of the final book, Harry faces his nemesis, Voldemort (Ralph Fiennes). David Yates directs, and Bill Nighy joins the cast as Rufus Scrimgeour. Nov. 19.
19. Love and Other Drugs
Based on Jamie Reidy's memoir Hard Sell: The Evolution of a Viagra Salesman, this Edward Zwick film stars Jake Gyllenhaal as the smooth salesman who meets his match in a wisecracking Anne Hathaway. Nov. 24.
20. The King's Speech
A period-pic take on the relationship between stuttering King George VI (Colin Firth, already getting Oscar buzz) and the speech therapist (Geoffrey Rush) who teaches him to talk. Helena Bonham Carter plays Queen Elizabeth (Helen Mirren was busy blowing things up). Nov. 26.
PLUS:
Sept. 1: The American, a thriller starring George Clooney and directed by Anton Corbijn.
Sept. 3: Robert Rodriguez's Mexploitation flick Machete, with Danny Trejo and Robert De Niro.
Sept. 17: Easy A, a high-school comedy with up-and-comer Emma Stone.
Sept. 24: Buried, a thriller—shot entirely in a coffin—with Ryan Reynolds; Waiting for "Superman," a documentary about our dysfunctional school system.
Oct. 15: The Girl Who Kicked the Hornet's Nest, the Swedish version of Stieg Larsson's third Salander thriller.
Nov. 5: 127 Hours, with James Franco as the hiker who cut off his own arm.
Nov. 19: The Next Three Days, a prison-break thriller from Paul Haggis, starring Russell Crowe.