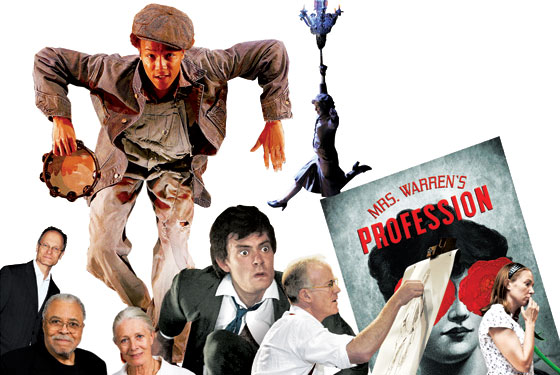 Broadway1. Brief Encounter
First staged last year at St. Ann's Warehouse, this multimedia, genre-bending adaptation of Noël Coward's 1945 romance has enough charm to fill a Broadway house—plus lovely music.
Roundabout at Studio 54; in previews Sept. 10, opening Sept. 28.
2. The Pitmen Painters
It's an art-centric British import, but this is no Red copycat. The play (by Billy Elliot's Lee Hall) tells the true story of a group of miners whose hobby work became an art-world sensation.
Samuel J. Friedman Theatre; in previews Sept. 14, opening Sept. 30.
3. A Life in the Theatre
David Mamet's 1977 two-hander about actors stars the ever-excellent Patrick Stewart and T. R. Knight. Directed by Neil Pepe, who staged the successful 2008 Speed-the-Plow.
Schoenfeld Theatre; in previews Sept. 21, opening Oct. 12.
4. Mrs. Warren's Profession
As the madam who clashes with her daughter in George Bernard Shaw's 1893 tragicomedy, Cherry Jones will be doing the kind of heavy emotional lifting that propelled Doubt to every imaginable award.
American Airlines Theatre; in previews Sept. 3, opening Oct. 3.
5. La Bête
David Hirson's comedy about a seventeenth-century French theater troupe closed after 25 performances in 1991. Will it score this time with Mark Rylance, David Hyde Pierce, and Joanna Lumley?
Music Box Theatre; in previews Sept. 23, opening Oct. 14.
6. The Scottsboro Boys
The transfer of John Kander and Fred Ebb's final musical, nearly a decade in the making. Susan Stroman once again directs and choreographs the production, staged in the form of a minstrel show.
Lyceum Theatre; in previews Oct. 7, opening Oct. 31.
7. The Merchant of Venice
The Shakespeare in the Park smash moves indoors, retaining most of the superb cast, especially Al Pacino as a singular Shylock. Tickets aren't free, but at least you won't have to sleep on the street to get them.
Broadhurst Theatre; in previews Oct. 19, opening Nov. 7.
8. Women on the Verge of a Nervous Breakdown
Primary colors, neon lipstick, doped gazpacho: Pedro Almodóvar's zany 1988 film is as theatrical as they come. And director Bartlett Sher has his pick of actresses, led by Patti LuPone, Sherie Rene Scott, and Laura Benanti. Plus the always welcome Brian Stokes Mitchell.
Belasco Theatre; in previews Oct. 2, opening Nov. 4.
9. Driving Miss Daisy
Alfred Uhry's drama—yes, it was a play before it became the Oscar-winning movie—is only now making its Broadway debut. But what a debut: Vanessa Redgrave and James Earl Jones play the leads.
Golden Theatre; in previews Oct. 7, opening Oct. 25.
10. A Free Man of Color
John Guare (Six Degrees of Separation)returns with a freewheeling epic set in New Orleans just before the Louisiana Purchase, and starring Jeffrey Wright.
Vivian Beaumont Theater; in previews Oct. 21, opening Nov. 18.
11. Spider-Man: Turn Off the Dark
The insane budget, the cast changes, the delays—it will all be forgotten if Julie Taymor generates the same bolt of lightning that electrified The Lion King.
Foxwoods (formerly Hilton) Theatre; in previews Nov. 14, opening Dec. 21.
Off Broadway12. The Little Foxes
The avant-garde director Ivo Van Hove and the intense Elizabeth Marvel (last together in 2004's Hedda Gabler) reunite, to revive Lillian Hellman's lacerating Southern family drama. New York Theatre Workshop;in previews Sept. 10, opening Sept. 21.
13. Angels in America
Tony Kushner's two-part epic, directed by Michael Greif and starring Zachary Quinto, sold out and was extended for more than a month even before previews began.
Peter Norton Space; in previews Sept. 14 (part I) and Sept. 16 (part II), opening Oct. 28.
14. Me, Myself & I
Edward Albee's 30th play applies his absurdist approach to questions of identity with this story of a mother who can't tell her identical-twin sons apart.
Playwrights Horizons; in previews Aug. 24, opening Sept. 12.
15. Gatz
A guy finds a copy of The Great Gatsby in his office and spends six and a half hours reading aloud as his co-workers enact the novel, in a meta-commentary on what constitutes theater. Public Theater; in previews Sept. 26, opening Oct. 6.
16. The Great Game: Afghanistan
This assemblage of twelve short, pithy plays aims to capture more than 150 years of nuanced Afghan history.
NYU Skirball Center; in previews Dec. 1, opening Dec. 7.
17. In the Wake
Lisa Kron and Leigh Silverman, the pair behind 2006's offbeat comedy Well, return with a work about the angst felt by a group of New Yorkers during the George W. Bush years.
Public Theater; in previews Oct. 19, opening November 1.
18. Wings
Arthur Kopit's rarely staged 1978 play stars Jan Maxwell (robbed of a Tony this year!) as a daredevilish woman recovering from a stroke. John Doyle, of the superb Company and Sweeney Todd revivals, directs.
Second Stage Theatre; in previews Oct. 5, opening Oct. 24.
19. Persephone
Greek myths lend themselves beautifully to multimedia, and Bob McGrath's production for the Ridge Theater uses music and visual projections to immerse viewers in the ancient tale. Julia Stiles, who started with the Ridge when she was 8, takes the title role.
BAM Harvey Theater; Oct. 26–30.
20. Metamorphosis
Nick Cave co-wrote the score for his Kafka adaptation in 2006, but this marks its first Stateside appearance. It's bound to be a success: After all, New Yorkers have a special relationship with cockroaches.
BAM Harvey Theater Nov. 30–Dec. 5.
Plus

BROADWAY

Lombardi: Football's greatest coach gets a bio-play, starring Dan Lauria. Circle in the Square, Sept. 23.
Rain: A Tribute to the Beatles on Broadway:Beatlemania! redux. Neil Simon Theatre, Oct. 19.

OFF BROADWAY

Orlando: Sarah Ruhl adapts Virginia Woolf. Classic Stage Company, Sept. 8.
The Divine Sister: Charles Busch dons nun drag. SoHo Playhouse, Sept. 12.
Middletown: Will Eno (Thom Pain: based on nothing) puts small-town America under a microscope. Vineyard Theatre, Oct. 6.
Play Dead: A new thriller by Teller (the smaller chunk of Penn & Teller) and Todd Robbins. Players Theatre, Oct. 21.
The Break of Noon: David Duchovny in Neil LaBute's latest. Lucille Lortel Theatre, Oct. 28.