New Mark Ronson
Record Collection 2012
Because he's like a master sonic chef who pairs seemingly incongruous ingredients (MNDR, a bunch of British rappers, and Pharrell, really?) yielding magnificent results. Sept. 5.
Girls
Father, Son, Holy Ghost
Because even if you're somehow not into the sophisticated casualness of this band's shimmery surf-pop sound, you have to be curious about the music made by a kid who grew up a member of the cult Children of God. Sept. 13.
Ladytron
Gravity the Seducer
Because elegant synth-pop never seems to go out of style, and this British outfit's version has gotten more refined with every release. Sept. 13.
Neon Indian
Era Extraña
Because like all cutesy musical trends, chillwave came and went but left us with one or two genuinely genre-bending pseudo-geniuses whose music actually sounds good even when you're not on drugs. Sept. 13.
St. Vincent
Strange Mercy
Because there's always the wonderful moment when Annie Clark's lush, gorgeous songs start to feel way more tense and unsettling than they seemed at first. Sept. 13.
Mary J. Blige
My Life II: The Journey Continues
Because twenty years into her career, she's still the gold standard by which all triumphs-over-drama modern R&B divas are measured. Sept. 20.
Apparat
The Devil's Walk
Because no one in Germany coaxes stranger, cloudier sounds out of computers. Sept. 27.
Jane's Addiction
The Great Escape Artist
Because TV on the Radio's Dave Sitek, now with Jane's Addiction, is the hipster Rick Rubin, the guy who psyches out the secret awesomeness at the heart of an artist, then produces an album that maximizes it. Sept. 27.
Mastodon
The Hunter
Because chances are you could use heavier rock in your life, and Mastodon's riff-heavy epics are as friendly to non-metalheads as they are to heshers. Sept. 27.
Mekons
Ancient and Modern
Because after twenty-some albums and an oeuvre running from punk to pop to roots, they're still almost always rewarding. Sept. 27.
Wilco
The Whole Love
Because even though Jeff Tweedy is now competing with his drumming-blogger son Spencer for cool points, he's still one of the most beguiling, stealthily anti-Establishment songwriters at work today. Sept. 27.
Yelawolf
Radioactive
Because the Alabama rapper has a personality—and a level ofintensity—that's pretty much all his own. Sept. 27.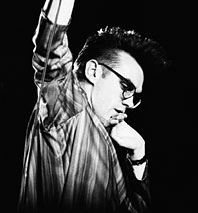 The Smiths
The Smiths Complete
Because moping nostalgically in your apartment to this boxed set is cheaper than therapy. Oct. 3.
Feist
Metals
Because her songs are like sonic Rorschach tests, sad when you're sad, happy when you're happy; no matter what, you're always understood. Oct. 4.
Modeselektor
Monkeytown
Because it's faster than waiting for Radiohead to popularize their electronic tricks (Thom Yorke guests, even). Oct. 4.
Zola Jesus
Conatus
Because eventually this eccentric Wisconsin chanteuse is going to appear on Gossip Girl or model for Miu Miu or be recommended to you by someone you have a crush on, and then you'll feel smart for having already bought her album. Oct. 4.
Hindi Zahra
Handmade
Because this French Moroccan sometimes sings in Berber and sounds like Edith Piaf moved to Jamaica, got stoned, and started reading a lot of Rimbaud. Oct. 11.
Gauntlet Hair
Gauntlet Hair
Because the Denver band is making washed-out, post–Animal Collective indie rock sound freethinking and creative and not just like a hip, vacant trend. Oct. 18.
My Brightest Diamond
All Things Will Unwind
Because the indie-rock realm is filled with dubiously precocious female vocalists who attempt to blend genres like blues, chamber music, raspy soul, and torch singing, but this one actually pulls it off. Oct. 18.
Drake
Take Care
Because the Twilight of rappers will be pouring the best of everything—hooks, guests, producers, Stevie Wonder—into his sophomore record. Oct. 24.
Joker
The Vision
Because the marriage of woozy, snarling British dance music and sultry pop vocals on his first full-length could well be a very happy one. Nov. 8.
Akon
Stadium
Because you need to update your gym iPod playlist. Nov. 15.
Doomstarks
Doomstarks
Because a collaboration between rappers Ghostface Killah and MF Doom is like a superhero crossover story: Even if it's not great, you'll want to hear it anyway. Before Christmas.