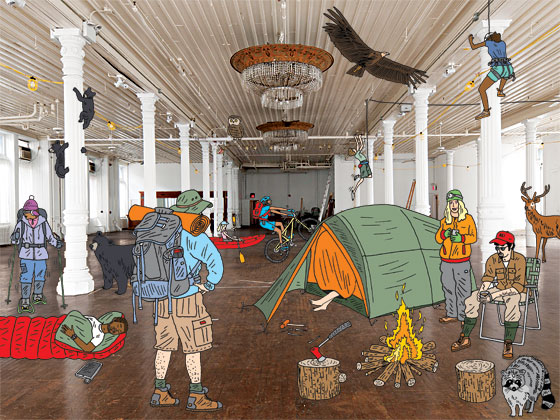 When it comes to outdoorsiness, Manhattan is no Boulder, or Burlington, or even Paramus, New Jersey. And yet, this fall, a borough full of people who couldn't tell a Leatherman from a leather jacket will be joined by a pair of major new outdoors stores. REI, the 600-pound Sasquatch of adventure-gear supermarts, is taking over Soho's historic Puck Building, offering full-service bike and ski shops as well as classes in such essential urban-survival skills as avalanche awareness and wilderness navigation. A quick hike uptown, Eastern Mountain Sports will unveil its second city location on the Upper West Side, where store employees will arrange Nordic ski trips to Bear Mountain and Harriman State Park, complete with van service to and from the city.
Why is New York suddenly Tevatown, USA? REI chief Sally Jewell credits a phenomenon she dubs "urbaneering": the aspirational desire among city-dwellers to take up more ruggedly pastoral pursuits, from blackwater kayaking the Harlem River to mountain biking in Highbridge Park to snowshoeing in the Palisades. EMS CEO Will Manzer puts it more bluntly. "I used to live in the city," he says, "and I remember how desperate I was to get on my bike and get the hell out every weekend."
After launching 118 stores across the country, REI finally tromps into town with a 35,000-square-foot behemoth this November. The company is restoring the Puck Building's original architectural details and building a spiral staircase that plunges two stories down to the subcellar bike-and-ski shop, where those short on closet space can also rent camping and snow-sport gear.While REI will stock a wider range of merchandise in ­areas like Alpine skiing and yoga, the new EMS will focus on technical gear for the more experienced athlete, particularly climbers, cyclists, and Nordic skiers. (Like REI, the new EMS also offers a bike shop and camping and winter-sport rentals.)
Though they risk saturating the market with carabiners and Coleman camp stoves, the rivals are convinced that there's a healthy market for their unurban wares. "We have an advantage in a tough time," says Manzer. "Look at what's happening on Wall Street right now. You don't think people want to escape that at five o'clock?"
REI Soho
295 Lafayette st., nr. Houston st.; no phone yet; opening Nov.

EMS
2152 Broadway, nr. 76th st.; no phone yet; opening Sept.