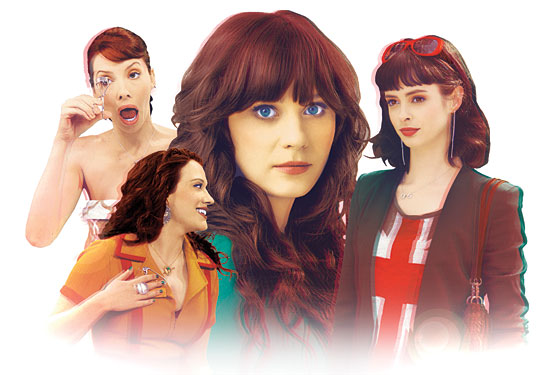 In a perfect aftershock to the success of Bridesmaids (not to mention the ascendance of Poehler and Fey), there's a major uptick this fall in sitcoms about young single women, and, even better, several of these shows were created by female writers.* It's an encouraging phenomenon—as well as a weird analogue to the networks' slate of emasculated-dude comedies (from Work It to Man Up), which look far less … winning.
Intriguingly, there's an emphasis on hard-edged, worldly women rather than sweet ingenues or nerds (with the exception of New Girl, which combines those two roles). That's a brand of bravado that can easily go sour, but it's nice to see some slutty clowns step center stage—not a soul mate or naggy wife in the bunch. Plus, a few shows feature a comic duo, not just a star. (Remember when Parks and Recreation launched that stupid, ahistorical debate about whether a woman could carry a sitcom? Given the overflow of hilarious women in supporting roles—among them, Busy Philipps, Aubrey Plaza, Eden Scher, Casey Wilson, Kaitlin Olson, and Alison Brie—this seems like the natural next stage.)
Eating up much of the early buzz is Fox's New Girl, created by Liz Meriwether, a member of the Hollywood clique "the fempire." The sitcom is a showcase for Zooey Deschanel, her blueberry eyes framed by Bailey Quarters–style glasses. Deschanel's Jess is an elf in a romper, a quoter of Lord of the Rings, perpetually in tears after a breakup. She's an adorable dork, yet she's treated as man-repellent by her roommates (a dude, a bro, and a guy), who school her in femininity. While the premise is questionable, and points must be docked for jeggings gags, Deschanel is winsome, and I liked that guy who kept taking his shirt off. Besides, as Cougar Town showed, a sour premise can turn sweet if the chemistry's there, which it (mostly) is.
Which brings us to Whitney Cummings, the stand-up behind not one but two chick-centered sitcoms. That's a creative windfall likely to put Cummings in a harsh spotlight, much like polarizing hot girl Olivia Munn last year, not to mention Chelsea Handler, whose own eponymous series is slated for mid-season. Cummings's multi-cam sitcom, Whitney, has an awful pilot, full of cynical innuendo, and yet one scene—sexual role-playing gone south—showed a glimmer of something, a dank, self-mocking Sandra Bernhard–esque allure. Sue me, but I can't help rooting for Cummings, who seems to have something to say about the survival skills of damaged women, even if she hasn't quite figured out what it is yet.
Luckily, Cummings's other show, CBS's 2 Broke Girls, which she produced with Sex and the City's Michael Patrick King, has more potential. It stars the luscious Kat Dennings (from Nick & Norah's Infinite Playlist) and Beth Behrs, playing waitresses at a greasy spoon in Williamsburg. Dennings wears knee-high boots and a working-class sneer; Behrs is a newly broke heiress. As the self-reliant cynic, Dennings is fantastic, making the most of acrid punch lines like "That's not what rape feels like!" The script is uneven—the ensemble of stock ethnics gave me a migraine, as it did in several of these shows, all of which star model-pretty white women—but the show did a surprisingly good job at capturing a postcrash Brooklyn zeitgeist.
Meanwhile, over in Manhattan, yet another witchy brunette forges a reluctant friendship with a penniless blonde. In ABC's Apartment 23 (formerly titled Don't Trust the Bitch in Apartment 23), midwestern newbie Dreama Walker gets canned from her finance job, then scammed by hustler Krysten Ritter (Jesse's girlfriend in Breaking Bad). Both sitcoms share a sexual and economic rawness rare for network: Ritter in particular is hilariously venal, a near-sociopathic trickster in a tight skirt.
Other solid vehicles for female roles on the horizon include NBC's Free Agents, with Kathryn Hahn as a bereaved spitfire, and NBC's Up All Night, which stars Christina Applegate as a party girl turned working mom.*
But even if none of these shows pans out, the most promising is due next year, on cable: HBO's Girls, created by the baby-genius 25-year-old Lena Dunham, whose indie film Tiny Furniture broke at Sundance. I've seen the pilot (which, like Bridesmaids, was co-produced by Judd Apatow), and it made me teary with excitement. Knock wood, it has the potential to be the Great Lady Hope of HBO.
*This article has been corrected to show that not all of the featured shows written by women have female showrunners and that Up All Night airs on NBC, not ABC.
New Girl
Fox.
Sept. 20. 9 p.m.

Whitney
NBC.
Sept. 22. 9:30 p.m.

2 Broke Girls
CBS.
Sept. 17. 8:30 p.m.

Girls
HBO.
Date TBA.