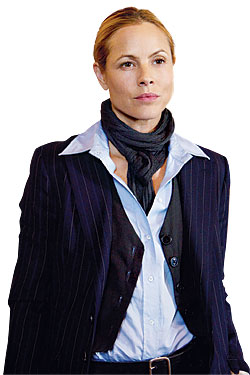 American Horror Story
Because it's by the Glee creators and stars Dylan McDermott, the much-missed Connie Britton, and Jessica Goddamn Lange. And it's on FX, a cable network willing to take real risks. Oct. 5 at 10 p.m., FX.
Revenge
Because it's a melodramatic soap opera—set in the Hamptons and loosely based on The Count of Monte Cristo—that's proud to be just that. Plus, it's visual proof that Madeleine Stowe hasn't aged in twenty years. Sept. 21 at 10 p.m., ABC.
Prime Suspect
Because Maria Bello may not be Helen Mirren, but she's not trying to be—and she's got a way meaner right hook. Sept. 22 at 10 p.m., NBC.
Pan Am
Because it's potential retro catnip and sounds better than The Playboy Club. Plus, Christina Ricci! Sept. 25at 10 p.m., ABC.
Awake
Because it's unclear how a drama about a guy who is living two lives—one in which his wife is alive, and one in which his son is—will sustain itself, but the first episode is strong enough that we're happy to see if the show can figure it out. Mid-season, NBC.
Terra Nova
Because this beautifully filmed futuristic drama set in the prehistoric past cops Lost, but more satisfyingly than any of the myriad Lost clones have before. Plus, who doesn't love dinosaurs?Sept. 26 at 8 p.m., Fox.
Free Agents
Because Hank Azaria is the world's most adorable recent divorcé who falls for his bereaved co-worker. Sept. 14 at 10:30 p.m., NBC.
A Gifted Man
Because despite a ridiculous premise—an arrogant doctor learns to be human from the ghost of his ex-wife—it has a great cast (Patrick Wilson and Jennifer Ehle) and plays like Supernatural meets Regarding Henry meets Grey's Anatomy but, you know, in a good way. Sept. 23 at 8 p.m., CBS.
The X Factor
Because Simon and Paula were the beating heart of American Idol once upon a time. Sept. 21 at 8 p.m., Fox.
Hell on Wheels
Because between the meth dealers, zombie slayers, admen, and detectives, there has to be room for a Civil War veteran on a quest for vengeance. Nov. 6 at 10 p.m., AMC.




Homeland
Because Claire Danes can furrow a brow like no one else, and she gets plenty of chances as the only CIA agent who knows the truth about a returned POW. Oct. 2 at 10 p.m., Showtime.
RETURNING
Two and a Half Men
Because Ashton Kutcher is the new Charlie Sheen. Sept. 19 at 9 p.m., CBS.
The Good Wife
Because it's the smartest, slyest, most resonant drama on network television. And because last season ended with the steamiest elevator ride imaginable and we need to know what comes next. Sept. 25 at 9 p.m., CBS.
Parenthood
Because Friday Night Lights isn't around anymore to elicit the heaving sobs of familial devotion. Sept. 13 at 10 p.m., NBC.
Community
Because creator and showrunner Dan Harmon uses genre the way other comedies use high jinks: There's a new one every week; the wackier it is, the more thrilling; and just when you think there's no way the show can pull off something that bonkers, it does. Sept. 22 at 8 p.m., NBC.
Parks and Recreation
Because Pawnee, Indiana, is more than just glorious mustaches and silly tribute songs. It's also home to a radically uncynical workplace comedy that's finally bringing Detlef Schrempf the national affection he deserves. Sept. 22 at 8:30 p.m., NBC.
Happy Endings
Because the Friends setup is fine as long as it's funny, and Happy Endings is really, really funny. Sept. 28 at 9:30 p.m., ABC.