1. Zadie Smith, NW
Are there any truly great British novels that aren't about class? Maybe so, but I'm hard-pressed to think of them just now. Either way, Smith's new novel takes up the national theme, following the intertwined lives of four characters who grew up in a council estate (that's public housing, to New Yorkers) in the titular northwest quadrant of London. In White Teeth and On Beauty, Smith used class, race, geography, and gender the way Buckminster Fuller used triangles, borrowing their rigid forms and stress-distributing properties to build beautiful structures. Here's hoping NW achieves the same. Penguin Press, Sept. 4.
2. David Quammen, Spillover: Animal Infections and the Next Human Pandemic
David Quammen might be my favorite living science writer: amiable, erudite, understated, incredibly funny, profoundly humane. The best of his books, The Song of the Dodo, renders the relatively arcane field of island biogeography as gripping as a thriller. That bodes well for his new book, whose subject really is thriller-worthy: how deadly diseases (AIDS, SARS, Ebola) make the leap from animals to humans, and how, where, and when the next pandemic might emerge.W.W. Norton, Oct. 1.
3. Chinua Achebe, There Was a Country
Chinua Achebe is best known as the author of Things Fall Apart, the most influential English-language African novel, but he is also a poet, essayist, short-story writer, and critic. Yet his writings remain largely mute on the Biafran War, the civil war that raged in Nigeria during the prime of his own life. This new book—part history, part memoir, part poetry collection—finally breaks that silence. Penguin Press, Oct. 11.
4. Alice Munro, Dear Life
The only person who could really manage a one-paragraph summary of Alice Munro is Alice Munro, that grand master of distillation whose short stories are restrained, surprising, and alarmingly personal—not to her, to you. The title of this newest collection seems, itself, to distill the feeling you get from reading Munro: that life is, at every moment, terribly costly, and terribly beloved. Knopf, Nov. 13.
5. David Byrne, How Music Works
In his new book, David Byrne—he of Talking Heads fame—focuses primarily on the technological, economic, and physical contexts that shape music, from the ambient noise level at CBGB to the invention of the iPod. By all accounts, Byrne's style and energy are as apparent on the page as on the stage. And if you own an e-reader, you can benefit from both: McSweeney's—always an inventive publisher—is offering a version with music clips. McSweeney's, Sept. 12.
And We're Also Anticipating
Every Love Story Is a Ghost Story: A Life of David Foster Wallace, by D. T. Max
Because we are still reeling from the suicide of this generation's most innovative writer. Viking, Aug. 30.
Mortality by Christopher Hitchens
Because his eighteen-month battle with esophageal cancer in no way slowed down the prolific, incendiary Hitchens. Twelve, Sept. 4.
A Wilderness of Error: The Trials of Jeffrey MacDonald, by Errol Morris
Because the documentarian Morris is accusing canonical MacDonald chroniclers (like Janet Malcolm) of malpractice. Penguin, Sept. 4.
Laura Lamont's Life in Pictures, by Emma Straub
Because there's more to Straub, BookCourt's most beloved employee, than being a member of the literary world's mutual-admiration society on Twitter. Riverhead, Sept. 4.
The People of Forever Are Not Afraid, by Shani Boianjiu
Because every books season needs that one debut novel to get excited about. Hogarth, Sept. 11.
The End of Men: And the Rise of Women, by Hanna Rosin
Because now more than ever, we need a new feminist manifesto.Riverhead, Sept. 11.
Governing the World: The History of an Idea, by Mark Mazower
Because a major work of history can also be a story of major tragedy, especially if it describes the dream of world peace under a rule of law.Penguin, Sept. 13.
Future Perfect: The Case for Progress in a Networked Age, by Steven Johnson
Because Johnson is a TED man we can actually believe in. Riverhead, Sept. 18.
Punk: An Aesthetic, by Jon Savage, William Gibson, Linder Sterling, and Johan Kugelberg
Because! So, sod off!Rizzoli, Sept. 18.
The Scientists: A Family Romance, by Marco Roth
Because for n+1 editor Roth, the death of his father from aids was just the beginning. FSG, Sept. 18.
Joseph Anton: A Memoir, by Salman Rushdie
Because we have been waiting years to read Sir Rushdie's detailed account of living under a near-decade-long fatwa. Random House, Sept. 18.
The Casual Vacancy, by J. K. Rowling
Because we're eager to know if Rowling can write for adults reading like adults as well as she wrote for adults reading like their inner children.Little, Brown & Co., Sept. 27.


All Gone: A Memoir of My Mother's Dementia. With Refreshments, by Alex Witchel
Because a story like this deserves a writer this deft.Riverhead, Sept. 27.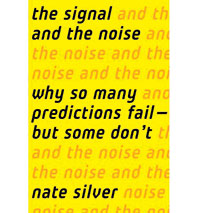 The Signal and the Noise: Why So Many Predictions Fail—But Some Don't, by Nate Silver
Because, while we're not prognosticators, we are willing to bet Silver will once again call this presidential race. Here, he explains why he's so good at it. Penguin Press, Sept. 27.
Marvel Comics: The Untold Story, by Sean Howe
Because a comic-book empire deserves an imperial history. HarperCollins, Oct. 9.
We Killed: The Rise of Women in American Comedy, A Very Oral History, by Yael Kohen
Because Kohen's celebratory oral history—from Phyllis Diller to Lily Tomlin, Joan Rivers to Gilda Radner, Whoopi Goldberg to Tina Fey—traces an actual revolution in who gets to tell jokes, and to laugh at them.FSG/Sarah Crichton Books, Oct. 16.
The Big Screen: The Story of Movies, by David Thomson
Because the idiosyncratic film encyclopedist has finally written a straightforward movie history. FSG, Oct. 16.
Astray, by Emma Donoghue
Because with these new stories, the Irish author (of the surprise best seller Room) has started writing about America. Little, Brown & Co., Oct. 30.
Hallucinations, by Oliver Sacks
Because the man who gave us Awakenings is up and at it again. Knopf, Nov. 6.
Grace: A Memoir, by Grace Coddington
Because we fell in love with the dynamic redhead (and Anna Wintour's right-hand woman) in The September Issue, and that's reason enough. Random House, Nov. 20.

Plus:
We're very excited about three fall books by New York editors. In Instant: The Story of Polaroid (October 23, Princeton Architectural Press), Christopher Bonanos traces the rise and fall of the company founded by snapshot visionary Edwin Land—the Steve Jobs of his time. In Season: More Than 150 Fresh and Simple Recipes from New York Magazine Inspired by Farmers' Market Ingredients (October 25, Blue Rider Press) is the first cookbook by New York's underground gourmands Rob Patronite and Robin Raisfeld. And in What's a Dog For?: The Surprising History, Science, Philosophy, and Politics of Man's Best Friend (November 8, Penguin Press), John Homans explains how we came to live alongside, and actually love, all those mutt wolves.