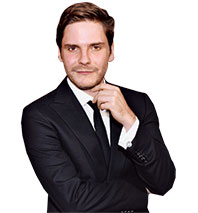 In both Rush and The Fifth Estate this fall, Daniel Brühl, 35, plays the grounded, more practical foil of two flamboyant, blond-maned hedonists. In the former, he's Niki Lauda, the legendary Austrian Formula One superstar whose 1976 competition with party-boy James Hunt (Chris Hemsworth) literally ignited the racetracks of the world. In The Fifth Estate, he's Daniel Domscheit-Berg, the German activist who, together with Julian Assange (Benedict Cumberbatch), terrified the world's governments by posting their top-secret communications on WikiLeaks.
Were you able to meet Daniel Domscheit-Berg for your part in The Fifth Estate?
A couple of times. I also read his book, and a couple of others, and the differing points of view were quite confusing at first. Luckily, after meeting with Daniel, I totally trusted him and believed in his integrity as an activist. It was apparent to me how sad he was that this great idea, and this great relationship he had with Julian, went so terribly wrong.
Julian Assange has called The Fifth Estate a "massive propaganda attack." Did your attitude toward WikiLeaks change as a result of working on it?
The film could have been very black-and-white, portraying them as traitors or villains. But it shows the value of what they did. I'm still taken with the general idea behind WikiLeaks. For me, personally, what they did was so important. My parents always went to rallies and demonstrated against certain things; my generation, we often have a political conscience, but we're not that involved. But then there's the danger of the power that WikiLeaks suddenly had. They didn't know how to deal with the power of information. And before I did the film, I didn't know about the inner conflict that they had in the organization.
There are some similarities between Daniel in The Fifth Estate and Niki Lauda in Rush. Do either of these characters match your personality?
Not really. Maybe Daniel more than Niki. Niki is so incredibly undiplomatic. I remember our first conversation on the phone: We were talking about meeting in Vienna, and he said, "Well, just bring hand luggage to Vienna, so in case we don't like each other, you can piss off straight away." After one day, though, I had the impression that he liked the idea of my portraying him. He even took me in his own Learjet to Brazil to help me meet both modern drivers and also those of his own generation.
Did you have to do a lot of preparation for the part in Rush?
I had to do a Formula Three course and get used to driving these vehicles. I was also in Vienna for a while to learn the Austrian accent, which is important for the character: It has a hint of arrogance, of irony, a cockiness that Germans don't have … as well as a sense of humor, which, as you know, we Germans don't have at all. Also, the trip back into the seventies was very interesting—such a wild time, full of rock and sex and drugs. A driver like James Hunt doesn't exist anymore. In a way, Niki was a pioneer. He's more like the modern drivers that you see today: very focused, technically very skilled. Not a party guy.
Rush
Directed by Ron Howard. Universal Pictures. R. September 20.

The Fifth Estate
Directed by Bill Condon. Dreamworks. R. October 18.