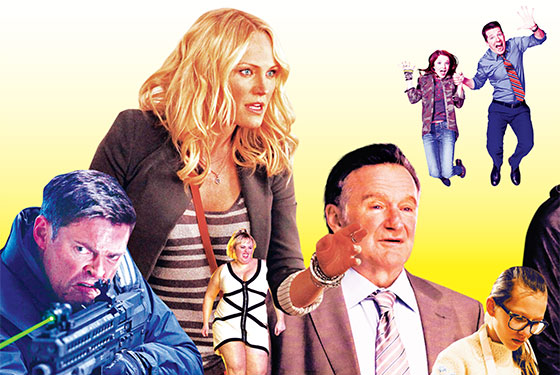 Sunday
Betrayal
A photographer (Hannah Ware) and a lawyer (Stuart Townsend) battle mutual attraction, even though they're married to other people and rooting for opposing sides in a murder trial. The kid from E.T. (Henry Thomas) plays the mentally challenged defendant. ABC, 10 p.m., Sept. 29.
Masters of Sex
The true-ish story of William Masters and Virginia Johnson (Michael Sheen and Lizzy Caplan), pioneer researchers of human sexuality. Showtime, 10 p.m., Sept. 29.
Witches of East End
A Long Island woman (Julia Ormond) and her two daughters (Jenna Dewan Tatum and Rachel Boston) are, yep, witches. Lifetime, 10 p.m., Oct. 6.
Monday
Almost Human
In 2048, a human cop (Karl Urban) is partnered against his will with an android one (Michael Ealy). J. J. Abrams executive-produces. Fox, 8 p.m., Nov. 4.
The Million Second Quiz
Ryan Seacrest gets yet another job as the host of this quiz show, which pits contestants against each other in a nonstop million-second (that's about eleven days) trivia contest and will allegedly pay out the largest cash prize in game-show history. NBC, 8 p.m., Sept. 9.
We Are Men
Three divorced guys (Jerry O'Connell, Kal Penn, and Tony Shalhoub) dispense crappy relationship advice to their neighbor (Chris Smith), a jilted groom. CBS, 8:30 p.m., Sept. 30.
Sleepy Hollow
Ichabod Crane gets beamed out of revolutionary times to present day, where he teams with police to help catch the Headless Horseman and, naturally, prevent the fast-approaching apocalypse. FX, 9 p.m., Sept. 16.
Hostages
A surgeon (Toni Collette) set to operate on the president has her family kidnapped by terrorists (led by Dylan McDermott) who demand that she assassinate him. Conservative explosionist Jerry Bruckheimer produces, so don't be surprised when Obamacare is exposed as the real villain. CBS, 10 p.m., Sept. 30.
Tuesday
Marvel's Agents of S.H.I.E.L.D.
This Avengers spinoff—about a team of (superpower-less) crime-fighters—boasts neither Iron Man nor a blockbuster budget. But creator Joss Whedon and Clark Gregg (The Avengers' Phil Coulson) might be nerd-bait enough. ABC, 8 p.m., Sept. 24.
Dads
Two successful thirtysomething video-game-makers (Seth Green and Giovanni Ribisi) are inconvenienced when their less successful fathers (Peter Riegert and Martin Mull) move in with them. Fox, 8 p.m., Sept. 17.
Trophy Wife
Malin Akerman marries a twice-divorced Bradley Whitford and must contend with his children and ex-wives (Marcia Gay Harden and Michaela Watkins). ABC, 9:30 p.m., Sept. 24.
The Goldbergs
Finally, a Wonder Years for BuzzFeed readers: Jeff Garlin and Wendi McLendon-Covey raise a family in the eighties, amid bad sweaters and Alf references. ABC, 9 p.m., Sept. 24.
Cold Justice
A reality series following a pair of real-life cold-case investigators. TNT, 10 p.m., Sept. 3.
Lucky 7
Important lessons will be learned when seven gas-station employees from Queens win the lottery but discover that money can only solve most of their problems. ABC, 10 p.m., Sept. 24.
Wednesday
Back in the Game
A former softball player (Maggie Lawson) whose career was cut short by single motherhood moves in with her couch-potato dad (James Caan) and coaches her son's Little League team. ABC, 8:30 p.m., Sept. 25.
Super Fun Night
Rebel Wilson tries on an American accent as the leader of a trio of shut-in women who pledge to spend every Friday out on the town. ABC, 9:30 p.m., Oct. 2.
Ironside
This remake of the sixties show stars Blair Underwood as the wheelchair-bound detective who solves crimes with his loyal team of experts (including Pablo Schreiber and Brent Sexton). NBC, 10 p.m., Oct. 2.
Thursday
Once Upon a Time in Wonderland
Just like original-flavor Once Upon a Time, except with a Lewis Carroll bent. John Lithgow voices the White Rabbit. ABC, 8 p.m., Oct. 10.
The Millers
Maybe the fourth time's the charm for Will Arnett, who stars here as a local TV-news reporter whose own divorce inspires his parents (Beau Bridges and Margo Martindale) to split up after 43 years. At least Millers has something Arnett's previous shows didn't: JB Smoove as Arnett's best friend. CBS, 8:30 p.m., Oct. 3.
Welcome to the Family
A teenage couple gets pregnant, forcing a culture clash between their families, hers white, his Hispanic. Ricardo A. Chavira and Mike O'Malley are the grouchy dads. NBC, 8:30 p.m., Oct. 3.
The Crazy Ones
Robin Williams and Sarah Michelle Gellar as father-and-daughter partners at a Chicago advertising firm. James Wolk (Mad Men's Bob Benson, using his SCDP experience) plays their co-worker. CBS, 9 p.m., Sept. 26.
The Originals
A Vampire Diaries spinoff in which the world's first-ever vampire family clashes in New Orleans. CW, 9 p.m., Oct. 3.
Reign
If you've ever wished that Game of Thrones could be more like Gossip Girl, prepare to enjoy this teen drama, about the teenage Mary, Queen of Scots. CW, 9 p.m., Oct. 17.
Sean Saves the World
A gay divorced dad (Sean Hayes) balances a career with being a helicopter parent to his teenage daughter, who recently moved in. Linda Lavin plays his mom. NBC, 9 p.m., Oct. 3.
Friday
MasterChef Junior
Children between the ages of 8 and 13 will be shouted at by Gordon Ramsay as they compete in cooking challenges for a grand prize of $100,000. Fox, 8 p.m., Sept. 27.
Enlisted
A comedy following three brothers all stationed at the same Florida Army base. Fox, 9:30 p.m., Nov. 8.
Dracula
Jonathan Rhys Meyers plays the title vampire, who comes to nineteenth-century London to reheat centuries-old beef with those who made him immortal. NBC, 10 p.m., Oct. 25.