First Look
Domenico Vacca (15 W. 55th St.)
This September, Italian designer Domenico Vacca, known for making Ari Gold's suits on Entourage, will open an 11-floor complex, complete with a store, café, barbershop, salon, members-only club, and long-term-stay residences.
1. Residences: Eight floors of long-term-stay apartments (one-month minimum; pricing TBD), furnished by Domenico Vacca.
2. Live music: Italian singers like Umberto Smaila play one week per month.
3. Open bar: A $20,000 yearly membership fee includes light food and an open bar for you and three guests.
4. Outdoor space: A 2,000-square-foot terrace with a retractable roof and fire pit; 4,000-square-foot rooftop.
5. VIP shopping: A bespoke shopping experience with a Domenico Vacca specialist.
6. Barber: Three chairs for men's shaves ($25) and cuts ($30).
7. Home: Domenico Vacca's first tableware collection.
8. Hair salon: Six chairs for women's haircuts (from $120), blow-dries ($50), and highlights ($180).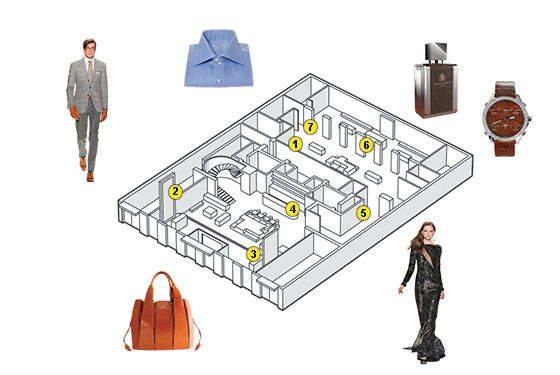 1. Men's outerwear: Gray-and-blue sport jackets ($2,600); double-breasted suits ($2,900).
2. Video: Two-story-tall video screens playing the most recent fashion shows.
3. Handbags: Two-story-tall wood-paneled shelves displaying the signature Julie bag (from $2,400) in 35 colors.
4. Café: A cappuccino specialist from Italy serves coffee, breakfast, lunch, and evening aperitivi; 25-person seating area.
5. Women's eveningwear: Sheer cocktail dresses (from $900); sequined gowns ($1,900).
6. Men's accessories: Domenico Vacca's first collection of watches ($7,900) and Uomo fragrance ($240).
7. Men's handmade shirts: 300 varieties ($360).

---
2x2
Ernest (255 Fifth Ave.)
Founded by a Belgian-born designer, the European furniture distributor d'Apostrophe will open a storefront named Ernest with a strong selection of sleek chairs (mid-October).
Arms:
Two Legs: Pub & Club, by Bulo. Designed by Luc Vincent. $1,987.
Four Legs: Ciel!, by Tabisso. Designed by Noé Duchaufour-Lawrance. $3,218.
No Arms:
Two Legs: Visa, by Wildspirit. Designed by Anita Nevens. From $2,650.
Four Legs: Mosquito, by Wildspirit. Designed by Michael Bihain. From $985.
---
Three-in-One
Zazen Bear (497 Broome St. )
A Korean-Japanese concept shop offering plush sleep cushions and meditation jewelry, a downstairs art gallery, and yoga classes (September).
Store: The Zazen Bear's shape, according to the company, represents peace and tranquility and acts as a reminder to "stop, breathe deeply, and embrace the inner self." Apparently, hugging a Zazen Bear plush cushion ($50) helps create a feeling of calm; pink sapphire necklaces ($475) are meant to evoke a "feminine sense of eternal peace of mind."
Gallery: A live-plant wall spans the store's two floors, and the downstairs space displays Japanese artist Seiho's Zen paintings and calligraphy (from $14,000).
Wellness: The word zazen translates to "sitting in the lotus position," so the downstairs gallery will double as a yoga and meditation studio, with Zen-related classes by guest speakers.
---
Side by Side
Opening just five blocks apart, two very different menswear brands encourage in-store lounging. skaters and artists.
Diamond Supply Co. (286 Lafayette St.; end of August)
Who: Readers of Thrasher who might otherwise shop at Supreme, which is a few doors down.
What: Limited-edition printed-in-the-USA tees, designed in collaboration with New York–based UXA ($38) and DJ legends Stretch and Bobbito ($38); purple or cream logo skateboard decks ($50).
Hang: Two Barcelona loungers sit next to a coffee table covered with skateboard magazines; an outdoor bench on a sidewalk wide enough to skate; scheduled appearances from skaters and artists.
The Slowear Store (116 Prince St.; mid-August)
Who: Readers of A Continuous Lean who prefer their virgin wool knit in Northern Italy.
What: Handmade, in-store-exclusive designs from four Italian brands: Incotex slim-fit chinos ($350), Zanone knit sweaters (from $295), Glanshirt button-downs (from $225), Montedoro blazers (from $950).
Hang: A 1930s curved sofa and velvet armchairs next to art-book-stacked shelves; a record player for classic-rock vinyls; visiting Italian barbers and tailors for haircuts and made-to-order trousers.
---
First Look
Printed Matter (231 11th Ave.)
This October, the independent art-book seller will move into a much bigger space in Chelsea, with two floors and a gallery.

1. Photography: The Family Acid, by Roger Steffens ($65). Comics: Here Comes Kitty: A Comic Opera, by Richard Kraft ($32). Novels: The Book Lovers Publication: Artist Novels, edited by David Maroto and Joanna Zielinska ($34).
2. VHS: ESP TV boxed set ($250). Cassettes and LPs: A Sheep on the Bus, Vol. 3 ($6).
3. Architecture: Architecture/Astrology, by Jessica Russell, Mieko Meguro, and Dan Graham ($40). Feminism and Gender: A Feminist Publication on Art and Politics, by the Heresies Collective ($15).
1. Posters: "A Kind in Glass," by Eve Fowler ($250).
2. Zines: Phantomia IV, by Beni Bischof ($15).
3. Reading room: The publisher's first since its Soho store closed in 2001.
4. Community bulletin board: Local services, events, and workshop announcements.
5. Small and miniature: Different Notions of Time, by Athena Tacha ($10).
6. Out-of-print: Inserts: advertising supplements to the Sunday New York Times, by Group Material ($65). Special editions: Acid.gif, by Paper Rad ($10); 100 Tiles, by Thomas Mailaender ($250).
7. Gallery: Two smaller exhibition rooms can convert into one big space depending on the show.
---
Top Five
HAY Mini Market (81 Spring St.)
Mette Hay, co-founder of the Danish design firm, picks her favorites from the first New York HAY Mini Market, taking over the lower level of the MoMA Design Store now through January.
"I asked the Dutch couple Scholten & Baijings to design these tea towels ($18) for us. All of the furniture they sell is very expensive, but my idea was to create an object that anyone could buy."




"This wooden hand (from $18) is usually sold in art-supply stores for people to learn how to draw hands. We display it as a decoration piece. It's one of our most popular products."





"People buy these spine binders ($15) from us because of the colors. They want everyday objects that are more beautiful to look at. We've sold them to everyone from 7-year-old girls to architects."




"This tree-trunk vase (from $45) by Richard Woods is my favorite product from the Wrong for Hay collection, because it looks a bit odd. The concept was translated from a large tree trunk that Woods showed in London."




"Inga Sempé designed this letter box (from $18) so you could archive papers while holding a cup of coffee. Normally, you need to open the box with the other hand, but because of the little slip here, you don't need to."




---
First Look
Totokaelo (54 Crosby St.)
The Seattle-founded den for designers like Rachel Comey and Haider Ackermann arrives in Soho with five floors, outdoor gardens, and a hidden shoppable stockroom (September 12).
1. Outdoor space: 400 square feet with chairs, couches, and free Wi-Fi.
2. Library: Phaidon-sponsored community library.
3. White clothes: Rachel Comey dresses ($598).
4. VIP fitting room: By-appointment private shopping for top clients will include beer, Champagne, and lunch.
5. Colorful clothes: Blue Dries Van Noten boots ($785).
6. Jewelry: Nikos Koulis geometric cutout earrings ($4,860).
7. Women's shoes
8. Dark clothes: Y's by Yohji Yamamoto jumper dresses ($1,172).
9. Statement designers: Acne Studios robe coats ($1,550).
10. Home objects: Julie Thevenot wall hanging ($836).
11. Shoppable stockroom: Upon request, shop clerks take clients into the stockroom for exclusive products.
12. Smoking section: Six-foot-wide outdoor courtyard with benches and a mural by Margot Bird.
13. Men's clothes: Yohji Yamamoto sweaters ($877).
14. Men's shoes: Rick Owens Creeper ankle boots ($1,792).
---
Incoming!
Store proprietors pick their most anticipated fall arrivals.
From left:
ABC Home (888 Broadway)
Co-create x Catellani & Smith Cosmos Star LED light, $4,000.
Paulette Cole, CEO and creative director: "The colors are inspired by chakras — the yellow light can spark the energy of intention; the blue can deepen a sense of intuition."
McNally Jackson, Goods for the Study (234 Mulberry St.)
Stálogy translucent sticky notes, $7.
Sandeep Salter, partner and director: "Put these Japanese sticky notes on top of something and annotate a text that's underneath. They're really useful."
Abode (179 Grand St., Williamsburg)
Stephen's Stovetop BBQ Grill, $95.
Tony Wong and Brian Sahd, co-owners: "You can continue grilling all your favorite summer-cookout food — juicy hamburgers, charred vegetables — but inside, right on top of your gas stove."
BEAM (240 Kent Ave., Williamsburg)
Luca Nichetto for Seletti Inception desk organizer–dish rack, $125.
Ali Arain, owner and buyer: "This silicone desk organizer–dish rack was inspired by the scene in Inception where the city of Paris folds onto itself, as if made of rubber."
Cite (32 Greene St.)
Karim Rashid hookah for Gaia & Gino, $2,025.
Travis Decker, sales director: "The world's most high-end hookah, designed by renowned Arab designer Karim Rashid."
The Line (76 Greene St.)
Blackcreek Mercantile & Trading Co. cutting board, $175.
Vanessa Traina Snow, executive creative director: "There's a fabulously modern dark finish on this white oak, from upstate."
Still House (117 E. 7th St.)
Fredericks and Mae pumice-stone brushes, $36 each.
Utre Tylaite, founder: "They're made with volcanic stone and boar bristle, which you can use to file down foot calluses and sweep away the dust."
Coming Soon (37 Orchard St.)
Exclusive Concrete Cat Incense Holder, $80.
Helena Barquet and Fabiana Faria, co-founders: "Burning incense and sage gets you in the mood for spending more time indoors at home."
---
Deconstruction
Toto (20 W. 22nd St.)
Toto's new Carlyle II 1G toilet with C100 washlet ($1,493) will be available at its forthcoming showroom (December).
1. The seat is heated and elongated with a round front for maximum comfort.
2. The washlet pre-mists before use to prevent anything from sticking to the porcelain.
3. The soft-close-seat technology will always shut the lid quietly.
4. A built-in air-purifying system cleans and deodorizes the inside of the toilet after every use.
5. Two nozzles with siphon-jet action spin one gallon of water into a double cyclone for a powerful yet water-conserving flush.
6. The post-wash air dryer can be adjusted to three temperatures.
7. A wand pops out and sprays an aerated stream of water for a rear cleanse. Toto recommends new users start with the "soft rear" option for a less invigorating wash.
8. The wand extends farther for a front-cleansing bidet function and can be customized to accommodate preferred temperature and positioning. It cleans itself before and after each use.
---
Side by Side
Two new instant-makeover salons, one uptown, one down.
M.A.C Studio
825 Lexington Ave.; soft-opened in July, grand opening in September
Setup: Six makeover chairs in the front room have attached iPads featuring looks like "neutral face with winged liner and bold bright lips"; two back rooms are for parties and VIP clients.
Services: Full makeovers, including a face chart to re-create the look at home ($60); tattoo cover-ups ($10); and contouring and smoky-eye lessons ($30).
Products: All of M.A.C's 1,200 products, including new additions like Cremesheen Pearl lipsticks ($17) and cult favorites like Ruby Woo lipstick ($17) and Extreme Dimension Lash ($22).
Joli Beauty Bar
44 E. 1st St.; September
Setup: Six chairs in a 400-square-foot room decorated with subway tiles reminiscent of Paris Métro stations, one private-party room, and a changing area with storage lockers.
Services: Express eye masks ($25), full-face makeovers (from $60), and lash extensions ($150), which all come with a glass of wine or espresso.
Products: Makeup artists will use hard-to-find brands like Shien Cosmetics, which Joli plans on eventually selling in-store.
---
Also Opening
Lowe's
2008 Broadway and 635–641 Sixth Ave.
The home-improvement chain debuts in Manhattan with two smaller-scale (but still 30,000-square-foot) stores on the Upper West Side and in Chelsea. In addition to the appliances, storage products, and throw pillows, there are apartment-friendly vignettes — one kitchen setup squeezes a dishwasher, stove, and cooktop within an eight-foot countertop.
Tory Sport
257 Elizabeth St.
Ahead of a stand-alone storefront expected in March, this pop-up version inside Tory Burch's original boutique is a Royal Tenenbaums take on athleisure, with navy-and-red Lycra leggings ($125) and tennis sweaters made in breathable cotton ($195).
Givenchy
747 Madison Ave.
Following a seven-year absence, the brand helmed by Riccardo Tisci returns to New York with a zebra-print-accented, 4,600-square-foot Upper East Side flagship and the launch of its first-ever denim collection.
Porcelanosa
202 Fifth Ave.
A Spanish transplant, this fancy kitchen-and-bath showroom features an interactive wall with life-size images of its porcelain tiles and brushed-wood laminate flooring — plus a café, bar, library, and rooftop.
Dylan's Candy Bar
33 Union Square W.
Think of it as a nightclub version of the original Dylan's — shiny black walls, color-changing ceilings, oversize-lollipop trees — in a building once home to Andy Warhol's Factory.
Artists & Revolutionaries
120 Thompson St.
Based in the Hudson Valley, this ecofriendly womenswear label will offer linen jumpers ($198), shibori-dyed dresses ($368), and recycled-leather belts ($148) in a cabinlike space.
Cire Trudon
248 Elizabeth St.
After closing its Bond Street location a few years ago, the Parisian candle shop returns with burgundy lacquered furniture, antique mirrors, leather- and glazed-chestnut-scented natural wax candles (from $55), and kitschy wax busts.
Larsson & Jennings
335 Bleecker St.
Net-a-Porter shoppers may recognize the very British details — vegetable-tanned leather straps, brushed-metal bezels, round faces with Roman numerals — of these Swiss-made watches (priced around $350). The first Stateside store will also offer free coffee from South London's Alchemy.
Bloomingdale's: The Outlet Store
2085 Broadway
Expect "all the usual players" at Manhattan's first-ever Bloomie's outlet, says company senior vice-president Michelle Israel: a robust denim section with brands like Paige, basics from Vince, and Converse sneakers, all for as much as 70 percent off the department store's prices, with new deliveries coming in every few days.