According to the National Retail Federation, the top-five children's Halloween costumes are princess, Spider-Man, pirate, witch, and fairy. That's nicely predictable, but what about breaking out a little originality for the munchkins this year? John Derian Dry Goods has a stock of Bandicoot Lapin outfits from France, based on characters from fairy tales and legends, such as Lancelot and Donkeyskin (pictured), with details like lace cuffs, puffed sleeves, thigh boots, and feathered caps for the kind of charm that's hard to find in typical store-bought fare ($130 to $214; 10 E. 2nd St., nr. Bowery; 212-677-8408). For more fright-night ideas for all ages, click ahead.
For Tea With Voldemort
Apricot-jam-filled petits fours with witchy symbols might tempt even the Dark Lord ($31 for set of sixteen at Three Tarts, 164 Ninth Ave., at 20th St.; 212-462-4392).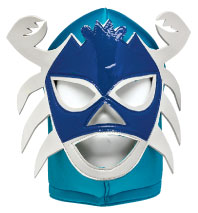 Go As Nacho Libre
Add leggings and a cape, and you're a luchador ($30 for adult sizes, $18 for kids at La Sirena Mexican Folk Art, 27 E. 3rd St., nr. Second Ave.; 212-780-9113).
Dig Into the Squash
The Pumpkin Masters carving kit has the saws, scraper-scoops, and ready-made patterns ($4.99 at Kmart, 250 W. 34th St., nr. Eighth Ave.; 212-760-1188).
If Morticia Is Your Bartender
Make cocktails with Blavod black vodka ($22.99 for 755 milliliters at Astor Wines & Spirits, 399 Lafayette St., nr. 4th St.; 212-674-7500).
The Party Goes On
Artisanal-chocolate craniums mimic the traditional sugar versions distributed at Mexican cemeteries after Halloween (Day of the Dead skulls, $8.50 each at Vosges Haut-Chocolat, 1100 Madison Ave., nr. 83rd St.; 212-717-2929).
The Quickest Disguise
This hoodie comes with a built-in hockey mask, and its street cred lasts past the holiday ($110 at Michael K., 512 Broadway, nr. Spring St.; 212-334-9088).
Creepy and Educational
Pop a bug in the terrarium, and watch nature's drama unfold as it wanders into the Venus flytrap's spiky leaves ($6.95 to $13.95 at the Brooklyn Botanic Garden Shop, 1000 Washington Ave., nr. Montgomery St., Prospect Park; 718-623-7280).
Trick Out Your Canine
Dressing up the dog is a New Yorker's prerogative ($32 at the Barking Zoo, 172 Ninth Ave., nr. 21st St.; 212-255-0658).
Ichabod Crane's Goody Bag
Small cotton pouches printed with Washington Irving's face make very literary treat bags ($4 at Greenwich Letter Press, 39 Christopher St., nr. Grove St.; 212-989-7464).
A Shriek-Producing Prop
Put this life-size remote-controlled tarantula in the sink for holiday- appropriate screams ($25 at Mary Arnold Toys, 1010 Lexington Ave., nr. 72nd St.; 212-744-8510).
Too Lazy to Carve?
Put some pumpkin candles in the window, and call it a day ($19 to $24 at Pottery Barn, 600 Broadway, nr. Houston St.; 212-219-2420).
Atypical Knickknacks
Freeze-dried bats add a Tim Burton–ish flair to Halloween-party décor ($49 at the Evolution Store, 120 Spring St., nr. Greene St.; 212-343-1114).best bets