Blackout: House
225 E. Houston St. at Essex St.; $45; theblackoutexperience.com; through Nov. 8.
In years past, you might have heard Blackout likened to, oh, a torture chamber. This year, however, things get even more twisted: Instead of venturing through solo, enduring enough psychological trauma to send a weaker person to therapy, you walk (and sometimes crawl) in groups of six. Be warned that you don't get to choose your mates, but at least when you encounter the Japanese horror characters populating this year's theatrical nightmare, you'll have other bodies to lean on. Whether they help you or turn on you remains to be seen.
Scare rating: 4 (out of 5). What's scarier than potentially being betrayed by those you trust?
Nightmare: New York
Clemente Soto Velez, 107 Suffolk St., nr. Rivington St.; 855-235-2867; $30–$60, with $20 student rush tickets available; nightmarenyc.comthrough Nov. 1..
You'd think that actually living in New York would desensitize you to this year's Nightmare, with scenes built from urban mythology and horror stories from the city's history. And perhaps the graffiti-covered subway, roaches (the lack of bedbugs is a real missed opportunity), and rat king won't do much to faze you, but David Berkowitz and Typhoid Mary will sure try. Opt for the X on your cheek—called the "extra-crispy" experience— and get a more engaging interaction with the characters. But before you approach them, make sure that they are indeed just acting.
Scare rating: 3.6. Some of these things actually happened. Real life is scary!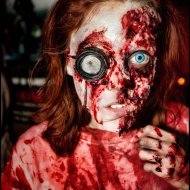 Blood Manor
163 Varick St., nr. Charlton St.; 212-290-2825; bloodmanor.com; $30–$60; through 11/1 and 11/7-11/8.
This year, the massive phantasmagoria that is Blood Manor celebrates ten years of ultra-high-tech UV lights, animatronics, and gore-filled makeup. And for their birthday, you get the presents: "Touch Me Thursdays" (which, sadly, isn't as dirty as it sounds), where participants get limited contact with the actors; a Thunderdome where nature and the undead join forces, a maggot invasion, and more. In November, they're also offering a "raw" experience, where you walk through with minimal lighting and a glow stick, which will also function nicely should you want to throw an impromptu haunted rave.
Scare rating: 3.4, possibly higher depending how averse you are to desk jobs (It's on the second floor of an office building).
Times Scare
669 Eighth Ave., nr. 42nd St.; 212-586-7829; timesscarenyc.com; $27 for adults, $22 for children.
This year-round, multi-story cadaverous chateau has cultivated such an air of the macabre that it's become a hangout for the goth set. And why wouldn't they love it? Beyond the haunted house, there's a morgue-themed restaurant called the Crypt Café, a candelabra-lit Kill Bar, and a theater hosting campy illusionists, among other spooky acts. Note: There's no fee to enter the restaurant, so if you're not gutsy enough for the house, stop by for a Beezlebub's Burger (with fries, $12.95), a Witches Brew (soup of the day, $4.95), or one of the absinthe-laced cocktails. Maybe all you need to hang with the haunts is some liquid courage.
Scare rating: 3.3. The extra 0.3 is for venturing into Times Square.
Jekyll and Hyde's Chamber of Horrors
216 West 44th St., nr. Seventh Ave.; 212-869-4933; jekyllandhydehauntedhouse.com; $20–$35; through Nov. 2.
We all have a bit of a split personality. Dr. Jekyll's was just more … extreme. In this perennial haunted house—attached to the campy Times Square restaurant—you'll tour Jekyll's quarters turned Hyde's lair for experiments, wandering through a maze of rooms to help solve the mystery of those who disappeared down there and hoping not to become one yourself. It all happens in two shifts: noon to 7 p.m. is the "moderate scare" time slot for ages 8 and up (and adults whom we are not going to judge); after 7 p.m. is the "intense scare" time.
Scare rating: 2.8. Guys, they let in 10-year-olds.
Gravesend Inn Haunted Hotel
Voorhees Theater, 186 Jay St., nr. Tillery St., Downtown Brooklyn; 718-260-5588; gravesendinn.org ; $8, $5 with student I.D.; 10/23–10/25 and 10/31–11/1.
Machines basically run the world, which makes it terrifying when they turn on you. In this high-tech "hotel" (built every year since 1999 by students in the New York City of Technology), pirates pop out and paintings talk, and you'll check in … but you may not check out. It's all controlled by sensors, so if you stand very still, maybe nothing will happen. But, then again, you'll be forced to stay there forever.
Scare rating: 2.4. Unless your iPhone comes to life and starts commanding the machines, you'll be fine.