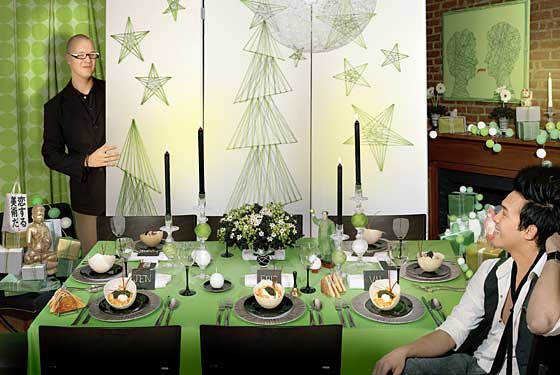 Eight Guests, Four Courses = $1,300
E ric Shiner, a guest curator for the Japan Society, and Todd Sirikanjanapong, a resident in pathology at SUNY Downstate Medical Center in Brooklyn, live in a small Chelsea apartment packed with evidence of their shared love for Asian culture: Buddhas, lucky cats, contemporary art. Around the holidays, it also gets packed with about 30 of their friends, who squeeze into the 800-square-foot space for the couple's annual Christmas open house. It's a tradition Shiner started when he was in graduate school at Yale, and continued later when he lived in Japan, and the menu is typically Asian- inflected: Thai food, spring rolls, sushi, senbei crackers, and, in a gesture to the Americans, mini-hamburgers, followed by traditional holiday cookies and cakes that he gets at Financier in the financial district. It's mostly a standing-room situation (this year they're thinking of getting a heat lamp so people can use the balcony), so decoration is relatively space-efficient: a five-foot silver tree decorated with blown-glass ornaments, stockings hung by the mock fireplace, some festive candlesticks, a single bowl of cranberries on the table, and fresh fir branches arranged around the apartment. For New Year's Eve, which is also Shiner's birthday, they'll typically have dinner out, then bring a group back to the apartment for champagne and dancing while waiting for midnight. "I'm known for my theme parties," says Shiner, "but for Christmas I stick to the rules." A sit-down, four-course dinner for eight required some major reconfiguring of the space, a judiciously placed screen, a lot of wrapping and tying to create the holiday-themed string-art panels, and some contortions in the tiny kitchen—but it still came in close to budget.
How the Experts Would Set Up the Party
String art, roast duck, and lots of Eartha Kitt for mood.


The DécorDavid Stark, event designer
The problem with the room was that, while they have a lot of interesting things, the way it's put together doesn't add up to a cohesive look. A lot of it has to do with scale; there are a lot of things that are smallish and interesting on close examination. We needed bigger elements to give those a backdrop. The apartment's not set up for entertaining; there's a small round table that seats four, two Barcelona chairs, and a Barcelona daybed. It needs a table (six-foot table, Party Rental Ltd.; 201-727-4700) to give it focus.
I found the string-wrapped holiday lights at Pearl River Mart (212-431-4770), and it inspired me to do different things with the string-art form; I thought that idea could be developed for the vases, candlesticks, and napkin rings—even the screen and the lighting fixture and the plates. It's a classic seventies art form, but it's become fresh today. I used black, white, and green thread—some of it was from the 99-cent store, some was embroidery thread from the garment district (Daytona Trimming; 212-354-1713).
The screen (made of three doors from the Home Depot; 212-929-9571) hid a lot of visual noise and an unsightly air conditioner. Then the fireplace could become the architectural focus of the room.
New Yorkers are tight on space, so you can have holiday presents do double duty if you wrap them in coordinated hues. Pile them up on countertops and in the fireplace, and it's the most festive thing in the house. I picked the candlesticks (Crate & Barrel; 212-308-0011) because of the shape of the glass, and winding them with string echoed the ball-shaped lighting fixture. The black tapered candles (Gracious Home; 212-517-6300) felt graphic and modern. The black plates were Eric's, and they were a perfect showcase for the ostrich eggs; the table really worked in concert with the food.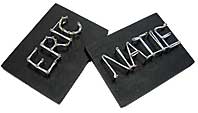 The flowers were inspired by Todd's love of flower arranging. A lot of times when people think about flowers, they go right for blossoms, but here the blackberries felt very graphic, and tied in with the caviar and the black chairs. We had white hemstitched napkins put in a roll, which was something to lean the place cards against, and we did seventies string art on those, too. TOTAL COST … $905




The FoodDavid Burke, chef of davidburke & donatella
I like dishes that make people talk, that are eye-catching. Scrambled eggs are easy to do, and with the lobster and caviar, it's festive and a nice conversation starter. You get some sweetness from the lobster, saltiness from the caviar, and with the rich eggs and cream, it's wow, especially from a small kitchen.
I wanted to do one Asian-inspired dish for them. The tuna is a cold course, so you just have to assemble it; you're not stuck in the kitchen. If you don't want to use a salt brick, just put the slices of tuna over a piece of marble or on a plate. Traditionally you'd put a mignonette with oysters, but this one, with nori and Muscat vinegar, gives a depth of flavor and an Asian feeling.
Duck isn't an everyday meal, and I thought we'd serve them on a platter like in France or England, where they present the bird. Leaving the head and feet on shows they're fresh-killed. We brined them for two days to help with the color and crisp it up. Braised Swiss chard is a little different from spinach, and green beans would have been boring.
We stayed with something fruity for dessert, because Todd likes fruit. Kir Royale is a celebration; you'd pour some champagne with it. And you can make it a day ahead.TOTAL COST … $407.37




The MusicEartha Kitt, chanteuse
Party music should be relaxed, so that people don't go crazy; easy music that will allow you to have a conversation, without having to scream. "Santa Baby" is one of my standards, and it seemed appropriate for these two, as I am the same age as Eric's grandmother. "I Love Men": it's an old-fashioned song, and I certainly love men. "C'mon a My House," which I sang in Japanese, is a great party song, especially for Eric since he's spent time in Japan. "Have Yourself a Merry Little Christmas"—they don't write songs this romantic anymore. Madame Butterfly and Aida: Maria Callas brings great drama. Anything by Nat "King" Cole; he was a wonderful interpreter with a wonderful gentle voice. "I've Got My Love to Keep Me Warm," because that's what we all want, someone we can love and trust. "I Wanna Be Evil": It's a lot of fun to play; no event would be right without it.
Bringing Home the Wow
David Burke's high-drama menu.


The Menu• Scrambled Eggs With Lobster and Caviar Served Ostrich Style
WINE: Perrier-Jouët Grand Brut NV
• Sashimi of Tuna on Salt Bricks With Bonito Flakes and a Muscat Vinaigrette
WINE: Nigl Grüner Veltliner Kremser Freiheit 2004
• Roasted Maple- Lacquered Duck With Corn-Cranberry Pudding, Candied Kumquats, Cider-Vinegar Sauce, and Braised Swiss Chard
WINE: Rozak "Rozak Ranch" Pinot Noir 2003
• Kir Royale Panna Cotta
WINE: Perrier-Jouët Grand Brut NV


Roasted Maple-Lacquered Duck With Corn-Cranberry Pudding, Candied Kumquats, and Cider-Vinegar Sauce
DUCK
3 female Muscovy ducks with head and feet on (about 4 pounds) (available from D'Artagnan; 800-327-8246)
DUCK MARINADE
3 cups soy sauce
1 1/2 cups maple syrup
4 1/2 tablespoons black pepper, crushed
4 1/2 tablespoons smashed garlic
Trim excess fat from each duck (especially from breast) and score the skin in a crosshatch pattern.
Mix all the marinade ingredients together with 3 cups of water. Place the ducks and marinade in a large plastic bag; close the bag, and marinate for two days in the refrigerator, rotating the ducks several times.
Preheat the oven to 350. Remove the ducks from the marinade, and place them on a wire rack in a roasting pan; allow them to come to room temperature. Cover with aluminum foil, and place in the oven. Roast the ducks for about 2 hours or until the skin is crisp and an instant thermometer reaches 165 degrees when inserted into the thickest part of the thigh. If the skin is not crisping, remove the aluminum foil for the last 15 minutes of roasting. Garnish the ducks with candied kumquats and serve with the corn-cranberry pudding, braised Swiss chard, and the cider-vinegar sauce.
CANDIED KUMQUATS
2 pints (or 24–36 pieces)
kumquats
1 1/2 pounds sugar
Poke small holes in each kumquat with a fork. Add 8 cups water and the sugar to a saucepan, and bring to a boil. Add the kumquats, and simmer for 1–1 1/4 hours until the liquid becomes syrupy. Leave the kumquats in the syrup to cool. Reserve the syrup for the cider-vinegar sauce.
CIDER-VINEGAR SAUCE
2 tablespoons butter
2 shallots, minced
1/2 bay leaf
1 thyme sprig
3/4 cup reserved kumquat syrup
1 1/2 cups cider vinegar
1/4 cup demi-glace
2 cups chicken stock
Melt the butter in a sauté pan, add the shallots, bay leaf, and thyme, and cook for 1 minute. Add the kumquat syrup and reduce until it turns a caramel color. Add the cider vinegar and reduce by half; then add the demi-glace and stock, and reduce until it forms a saucelike consistency. Strain the sauce, and season to taste with salt and pepper. Adjust the sweet-acid balance with vinegar and syrup, if necessary. Add some of the kumquats to the sauce, and garnish the duck with the remaining fruit.
CORN-CRANBERRY PUDDING
1 12-ounce bag cranberries
1 1/4 cups sugar
2 cups all-purpose flour
1 1/2 cups cornmeal
2 teaspoons salt
2 tablespoons baking powder
1 1/2 cups milk
2 eggs, beaten
2 egg whites
1 tablespoon melted butter plus additional butter for ramekins
Preheat the oven to 350 degrees. Butter eight 8-ounce ramekins.
Add the cranberries, 1 cup water, and ∏ cup sugar to a small saucepan, bring to a boil, and cook until the cranberries are soft and start to split. Drain and set aside.
Add the flour, cornmeal, 3/4 cups sugar, salt, and baking powder to a large mixing bowl and stir together. In another bowl, beat together the milk, whole eggs, and butter, and slowly stir into the dry ingredients until it forms a smooth batter. Whip the egg whites until soft peaks form and gently fold into the batter, followed by the drained cranberries. Pour the batter into ramekins, set on a baking sheet, and bake 25 minutes, or until firm and golden.


Kir Royale Panna Cotta
1 bottle champagne
5 1/2 cups heavy cream
2 tablespoons powdered gelatin (2 envelopes)
1 cup plus 2 tablespoons sugar
1 vanilla bean
2 cups raspberries

GARNISH
1 cup raspberries
Reduce the champagne in a saucepan set over medium heat to 1 cup. Pour 1 cup cream in a bowl and sprinkle with the powdered gelatin and leave for 5 minutes. Add the remaining cream to a medium saucepan with the reduced champagne, and ¾ cup plus 2 tablespoons sugar. Scrape the seeds from the vanilla bean into the cream. Heat gently until the sugar dissolves and the vanilla infuses into the mixture. Add the gelatin mixture and heat until warm, stirring so that the gelatin dissolves. Strain the mixture into a bowl and set over an ice bath to cool slightly, stirring frequently.
Crush 1 cup of raspberries with 2 tablespoons sugar and allow to macerate for a few minutes. Put 1 tablespoon of the fruit in the bottom of 8 martini or champagne glasses. Pour the champagne-cream mixture gently over the raspberries, and place the glasses in the refrigerator to set for at least 3 hours or overnight.
Put 1 cup raspberries and 2 tablespoons sugar in a blender and purée until smooth. Strain through a fine sieve and set coulis aside. Just before serving, when the panna cotta has set, pour a little coulis over the top to cover the surface completely, and decorate the surface with remaining raspberries.


Scrambled Eggs With Lobster and Caviar Served Ostrich Style
VIDEO RECIPE: Watch David Burke make this dish
4 tablespoons butter
6 shallots, minced
2 cooked 1 – 1 1/4 pound lobsters (shrimp can be substituted) to make 1 1/2 cups lobster meat, chopped into 1/4-inch chunks
2 plum tomatoes, seeds removed and cut into 1/4-inch chunks
2 tablespoons chopped tarragon
16 eggs
1 cup cold lobster bisque (heavy cream can be substituted)
4 tablespoons chopped chives
Salt and freshly ground black pepper
1/2 cup crème fraîche, whipped
8 teaspoons caviar
Presentation: 4 Ostrich Egg shells, cut in half (available from Ostrich.com)
Heat the butter in a large sauté pan; add the shallots, 1 1/2 cups lobster meat, tomatoes, and tarragon; and sauté until warm. Beat together the eggs together with the lobster bisque, add to the pan, and stir continuously over low heat until the eggs are softly scrambled. Stir in the chives and season with salt and pepper. Set eight ostrich-shell halves in bowls or pots on a bed of salt.
Divide the egg mixture among the eight ostrich shells nestled into bowls or pots on a bed of salt. Top each portion with a dollop of whipped crème fraîche and 1 teaspoon caviar.


Sashimi Tuna on Pink Himalayan Salt Bricks With Muscat Vinaigrette and Bonito Flakes

8 salt bricks
1 pound sashimi-quality tuna, trimmed into 2-inch-by-4-inch rectangles
1 English hot house cucumber, cut into 24 thin slices
2 tablespoons bonito flakes
2 tablespoons chopped chives
8 lime wedges
Cut the tuna into 1/4-inch thick slices.
Place a cucumber slice under each piece of tuna and set three on each salt brick or plate. (The sashimi tuna must be set on the salt immediately just before serving; otherwise, it will get too salty.). Top the tuna with bonito flakes, chopped chives, and a lime wedge on the side. Serve the Muscat vinaigrette in a small bowl on the side.

Muscat Vinaigrette
1 cup Muscat vinegar
2 tablespoons lemon zest
2 tablespoons minced shallots
2 tablespoons honey
1 tablespoon extra- virgin olive oil
2 tablespoons chopped nori
1 teaspoon ground black pepper

Combine all the ingredients in a bowl and set aside.