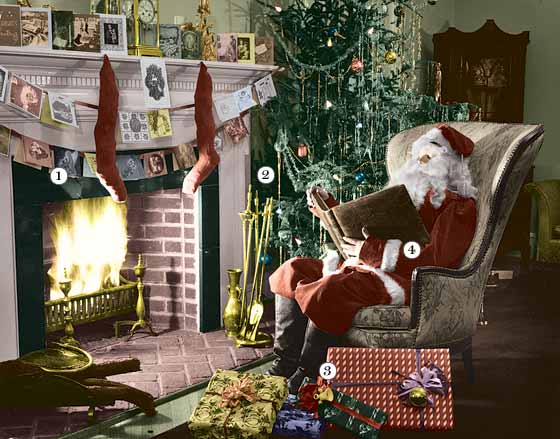 It's a nice idea: a Christmas spread with all the trimmings that Irving Berlin himself would recognize. But the reality of locating—and then unraveling—last year's Christmas lights, withstanding the shopping hordes, and slaving over a pot of eggnog can quickly put a damper on the old holiday spirit. Instead, outsource the elements to the professionals. We've assembled the best folks to help keep your holiday merry and bright.


(1.) MAILING THE HOLIDAY CARDS
Hire Bernard Maisner Calligraphy & Fine Stationery (212-477-6776) to take care of your holiday cards, and they'll actually get out the door. Create custom stationery ($10 and up for 100 cards), which he'll address in his unique blend of Spencerian and copperplate hand-lettering for $3 to $5 per line. Stamping and stuffing is $25 an hour.


(2.) TRIMMING THE TREE
Belle Fleur's (212-254-8703) tree expert Meredith Waga Perez will come to your house, get the dimensions, and then pick out a tree (blue spruce? Balsam?) based on the look and scent you want and how long you want it to last. They will then decorate with your ornaments or buy you new ones, and can also truck in poinsettias, amaryllis, paperwhites, and garlands of magnolia leaves. After the holidays, they'll take it all away. Decorated trees start at $600.


(3.) WRAPPING TO PERFECTION
Kate's Paperie has wrapped a piano, an Aeron chair, and, recently, a $500,000 canary diamond tiara. Wrapping ranges from $8 for small and simple to $35 for large and elaborate (with origami-esque folds and bows with multiple loops), not including ribbons or paper.


(4.) PLAYING SANTA WITH GUSTO
The New York–based St. Nicks from Realsantas.com have real white beards, resounding ho-ho-hos, and know how to work a room and a camera. Your Santa will call as he's approaching so you can meet him outside with the gifts. Fees start at $250 for the first hour. FYI: They book up fast.


COOKING CHRISTMAS DINNER
My Chef Direct (646-239-4257) will assign one of its chefs (all formerly of restaurants like Union Square Cafe, Gotham Bar and Grill, and Café Luxembourg) to shop for, prepare, serve, and clean up a classic Christmas menu (truffled goose, glazed carrots, creamed onions, gingerbread). It can also do a kosher-vegan sodium-free spread, if that's what you desire. A three-course menu begins at $80 per person plus tax, which includes the cost of groceries.


DEALING WITH VISITING RELATIVES
Arden Lifestyle Management (212-757-1250) will book hotel rooms for your relatives, pick them up at the airport, create a dossier on the neighborhood where they're staying, and plan a daily itinerary (ice skating in Rockefeller Center at 2 p.m., followed by a Letterman taping). These services require the purchase of a six-month membership ($3,500), but large projects can be billed at $75 per hour.


DECORATING TO THE NINES
EventQuest (212-966-3146) once transformed a client's 10,000-square-foot loft into an Arctic wonderland for an evening. For about $5,000, it can make a 1,200-square-foot apartment into a 3-D Dickensian installation with dripping candelabra, poinsettias, and retro Christmas ornaments.


SCHLEPPING SHOPPING BAGS
Cross It Off Your List (212-725-0122) will do your shopping at any store within city limits, then gift-wrap and deliver the goods to you or the lucky recipients directly, for $65 per hour. When it's all over, it also does gift returns.


SOURCING "IT" GIFTS
Before PlayStation 3 hit stores, Quintessentially (800-414-9840) had already secured one for a member. The concierge service has been able to land a pair of Chanel boots hot off the runway in Milan. To use the service, you have to join; a membership (which starts at $1,500) means you can use all its assistant services for a year.


LIGHTING THE TREE AND MORE
Creative Christmas Decorators (718-444-4114) will hang icicle-shaped bulbs in your windows, drape strings of garland lights across your moldings, and line your doorways with twinkling branches for a traditional effect. Labor starts at $350 (minus $25 for the estimate) plus the cost of the bulbs.