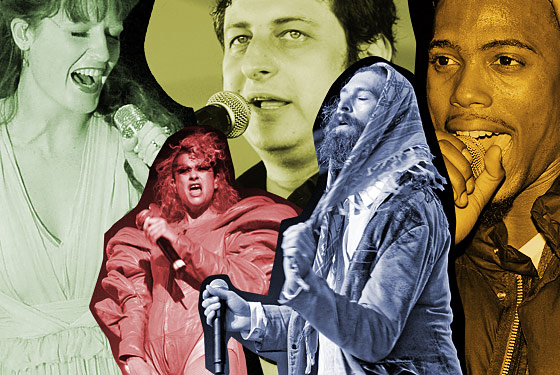 Matisyahu
Brooklyn Bowl; 11/29 at 6 p.m.; 61 Wythe Ave., nr. N. 11th St., Williamsburg, Brooklyn; 718-963-3369
For his fifth Hanukkah-centric NYC residency, the Hasidic reggae artist will play four dates in our little shtetl (11/29 at Brooklyn Bowl and 11/30, 12/4, and 12/5 at Music Hall of Williamsburg) before taking the show on the road for the first time.
Yo La Tengo
Maxwell's; 12/1–12/2 and 12/5–12/8 at 8:30 p.m., 12/3–2/4 at 9 p.m.; 1039 Washington St., at 11th St., Hoboken, NJ; 201-653-1703
They skipped 2009, but the indie stalwarts will once again light up Hoboken with their annual eight-day Hanukkah residency, with each night featuring a musical and comedy guest. It's currently sold out, but there's always a possibility of a Hanukkah miracle.
Citizen Cope's Holiday Party
Brooklyn Bowl; 12/2 at 6 p.m.; 61 Wythe Ave., nr. N. 11th St., Williamsburg, Brooklyn; 718-963-3369
Clarence Greenwood, a.k.a. Citizen Cope, is a music mixologist, blending laid-back acoustic blues, singer/songwriter rock, and soulful grooves. He hosts a holiday party featuring Gary Clark Jr., Frozen Files, and a D.J. set by Questlove. Bonus: bowling!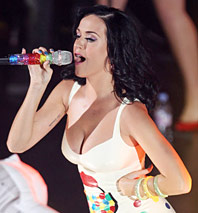 Jingle Ball
Madison Square Garden; 12/10 at 6:30 p.m.; 4 Penn Plaza, nr. 31st St.; 212-465-6741
Jingle bells will rock when Katy Perry joins Justin Bieber, B.o.B, Michael Bublé, and more for Z-100's annual parade of stars. Hosts this year include Kim Kardashian, Jesse McCartney, and DJ Pauly D (of Jersey Shore fame).
Peaches Christ Superstar
New York Society for Ethical Culture; 12/11 at 8 p.m.; 2 W. 64th St., nr. Central Park West.; 212-874-5210
Berlin-based electroclash artist Peaches is known best Stateside for her gender-bending, sexually explicit lyrics, but overseas she's been going at it rock-operatic style, narrating the story of the last week of Jesus' life using songs from the Andrew Lloyd Webber musical. She brings the act to U.S. soil for the first time, with Chilly Gonzalez. Also 12/12 at Music Hall of Williamsburg.
Martin Sexton
Judy and Arthur Zankel Hall, Carnegie Hall; 12/11 at 10 p.m.; 881 Seventh Ave., nr. 56th St.; 212-903-9600
John Mayer has described the soulful, rock-and-roll troubador as "the best live performer I've ever seen." He plays a solo holiday show in support of his latest, Sugarcoating.
Florence and the Machine
Irving Plaza; 12/14 at 7 p.m.; 17 Irving Pl., at 15th St.; 212-777-6800
With her fiery red hair, operatic pop star Florence Welsh already has a sort of holiday look about her—especially when she pairs it with gold-lined outfits. She'll headline the KEXP Yule Rock (ha!) shindig with Civil Twilight.
Ronnie Spector's Christmas Party
B.B. King Blues Club & Grill; 12/17 at 7 p.m.; 237 W. 42nd St., nr. Seventh Ave.; 212-997-4144
Ronnie Spector is many things: former front woman for the Ronettes, Rock and Roll Hall of Famer, and O.G. of rock girls behaving badly. For her tenth annual holiday show, she'll do a mix of songs from her new release, Ronnie Spector's Best Christmas Ever, seasonal standards like "Sleigh Ride" and "I Saw Mommy Kissing Santa Claus", and Ronette's classics. If you can't make it, she'll also be signing CDs on 12/1 at Borders and performing on David Letterman on 12/15.
Joell Ortiz: A RapRadar X-Mas
S.O.B.'s; 12/23 at 9 p.m.; 204 Varick St., at W. Houston St.; 212-243-4940
With a new, long-awaited Free Agent album to tout (stocking stuffer, anyone?), the beloved Brooklyn rap champ lends lyrically driven raps and signature "Yaowa" wail to an X-mas show. Details are scarce on what other holiday goodies will be offered, but fingers crossed he'll wear a Santa hat!
The Gift of Laughter

There are also comedy offerings a-plenty this holiday season. The rapid-fire Last Comic Standing alum Myq (pronounced "Mike") Kaplan plays two holiday dates at Carolines on 12/8 and 12/15, and Eugene Mirman hosts the Festival of Strikes benefit for JDub Records on 11/30 at Brooklyn Bowl. Mirman pops up again at the John Wesley Harding Cabinet of Wonders Holiday Show 12/17 at City Winery, along with The Daily Show's John Hodgman. And on 12/24, funny lady Jessica Kirson hosts A Very Jewish Christmas at the Gotham Comedy Club.