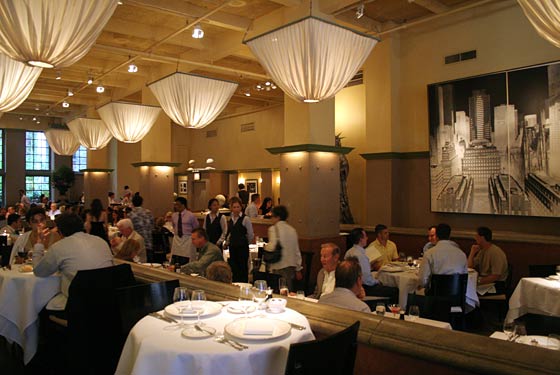 Del Posto
85 Tenth Ave., nr. 16th St.; 212-497-8090
If some benevolent relative is picking up the tab, ring in the night before Christmas with Del Posto's blowout seven-course feast complete with wine pairings. The "Vigilia di Natale" kicks off with a caviar- and lobster-studded cauliflower budino accompanied by a glass of Champagne, moves on to smoked cod with black truffle, a cheeky partridge-and-pear main, and finishes with the house fruitcake. It's $150 per person (and another $150 for the wine pairings), but that much vino practically guarantees some unforgettable family moments.
Gotham Bar & Grill
12 E. 12th St., nr. Fifth Ave.; 212-620-4020
If the garland and pine-tree-decked dining room doesn't get you in a festive mood, then this four-course seasonal meal surely will. You'll start with wild-mushroom linguine, then select from a lineup that includes many of the restaurant's signatures (squab-and-foie-gras terrine, grilled rack of lamb). Dinner is $110 per person; for an extra $75 a head, you'll get a customized wine pairing with each course.
i Trulli Ristorante
122 E. 27th St., nr. Lexington Ave.; 212-481-7372
On Christmas Eve, this Puglian restaurant will serve a classic seafood-focused "Feast of the Seven Fishes." The antipasti lineup includes yellowfin crudo with grapefruit and fennel or a Peekytoe crab cocktail; first courses veer starch-centric, as in the spaghetti tangled with sea urchin, mussels, tomato, and mint; and seafood mains include a fritto misto. The four-course meal is $65 per person, and is served the evenings of December 18 to 24, in case you feel like celebrating early.
SD26
19 E. 26th St., nr. Madison Ave.; 212-265-5959
Highlights of SD26's five-course Christmas Eve menu include Cod carpaccio, prawn taglioni, and a mixed seafood grill. The $90 prix fixe also includes a traditional Roman puntarelle dish, plus coffee and two dessert courses—don't worry, you can diet in the New Year. Though if that sounds too rich, the regular menu will also be available.
Le Comptoir
251 Grand St., nr. Roebling St., Williamsburg; 718-486-3300
Ring in Christmas Eve at this diminutive Brooklyn French bistro by opting for specials such as baked oysters with Champagne sabayon, beef wellington, or a four-course foie gras tasting menu for $60. The same specials are available for dinner Christmas Day (until 8 p.m.), and the restaurant will also serve Christmas brunch from noon to 5 p.m.
Ofrenda
113 Seventh Ave. S., nr. Christopher St.; 212-924-2305
Have a feliz Navidad by indulging in a traditional Mexican meal at this West Village spot. The lineup includes shrimp pozole, whole roasted snapper, tamales, and poncho Navideno, a warm fruit drink traditionally served for Christmas and New Year's. The $35 meal is served till 1 a.m. on Christmas Eve and will also be offered Christmas Day.
More Restaurants Open on Christmas Eve
A Voce Columbus
Time Warner Center, 10 Columbus Cir., 3rd fl., at Broadway; 212-823-2523
Aldea (closing at 8 p.m.)
31 W. 17th St., nr. Fifth Ave.; 212-675-7223
Apiary
60 Third Ave., nr. 10th St.; 212-254-0888
Bar Americain (closing at 8 p.m.)
152 W. 52nd St., nr. Seventh Ave.; 212-265-9700
Blue Ribbon Brasserie
97 Sullivan St., nr. Spring St.; 212-274-0404
Boqueria Soho
171 Spring St., nr. Thompson St.; 212-343-4255
Butter
415 Lafayette St., nr. Astor Pl.; 212-253-2828
Convivio
45 Tudor City Pl., at 42nd St.; 212-599-5045
Estiatorio Milos (last seating 8 p.m.)
125 W. 55th St., nr. Sixth Ave.; 212-245-7400
Gennaro
665 Amsterdam Ave., nr. 92nd St.; 212-665-5348
The Lion
62 W. 9th St., nr. 6th Ave.; 212-353-8400
Locanda Verde
379 Greenwich St., at N. Moore St.; 212-925-3797
Marea
240 Central Park S., nr. Broadway; 212-582-5100
Morimoto
88 Tenth Ave., nr. 16th St.; 212-989-8883
Prime Meats
465 Court St., at Luquer St., Brooklyn; 718-254-0327
Recette
328 W. 12th St., nr. Greenwich St.; 212-414-3000
Spice Market
403 W. 13th St., at Ninth Ave.; 212-675-2322
The Spotted Pig
314 W. 11th St., at Greenwich St.; 212-620-0393

Christmas Eve and Christmas Day
Balthazar
80 Spring St., at Crosby St.; 212-965-1414
Le Bernardin
155 W. 51st St., nr. Seventh Ave.; 212-554-1515
Ippudo NY
65 Fourth Ave., nr. 10th St.; 212-388-0088
Jean Georges
1 Central Park West, at 60th St; 212-299-3900
Le Caprice
795 Fifth Ave., nr. 61st St.; 212-940-8195
Loreley Williamsburg
64 Frost St., at Meeker Ave., Brooklyn; 718-599-0025
Maialino
2 Lexington Ave., nr. 21st St.; 212-777-2410
Minetta Tavern
113 MacDougal St., nr. Bleecker St.; 212-475-3850
Picholine
35 W. 64th St., nr. Central Park West; 212-724-8585