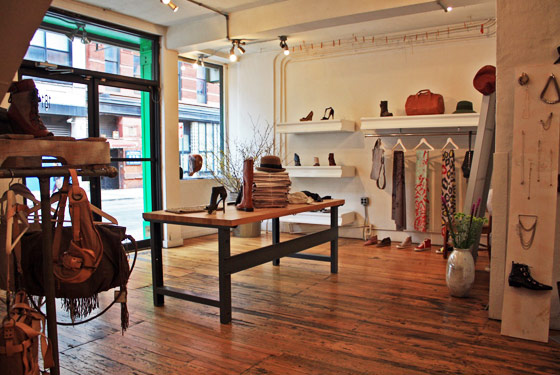 Nau
25 Howard St.; 212-226-4040; nau.com
The Oregon-based clothing line Nau makes its second pop-up appearance in the city, this time cozying up for the winter with like-minded Swedish brand Dunderdon in its downtown space.
• Date: Oct. 15 through mid-January; M-S noon-7 p.m.; Su 1-7 p.m.
Wired
692 Broadway, nr. W. 4th St.; wiredstore.net
For the sixth time, Wired magazine has set up shop with three floors of futuristic gadgets, everything from headphones to phone-charging bicycles.
• Date: Nov. 19-Dec. 26; W–Su 11 a.m.–7 p.m.
Annie's Blue Ribbon General Store
2408 Broadway, nr. 88th St.; 212-877-7733; blueribbongeneralstore.com
Find quirky gifts (inflatable fruitcake, film-festivals-in-a-box) and stocking stuffers (chocolate coal, peppermint taffy) for everyone on your list at this one-stop holiday store.
• Date: Nov. 22-Dec. 24; M-S 11 a.m.-8 p.m.; Su 11 a.m.-7 p.m.
L'Effrontee
181 Mott St., nr. Kenmare St.; 917-826-1105; leffrontee.com
L'Effrontee, a new online shopping destination, is showcasing accessories from designers like Linda Farrow, Camilla Skovgaard, rag & bone, Iosselliani, and more.
• Date: Nov. 26-Dec. 31; daily 10 a.m.-7 p.m.
Chanel at Jeffrey New York
449 W. 14th St., nr. Tenth Ave.; 212-206-1272
The south of France has made its way to the meatpacking district, where Chanel set up a small boutique inside department store Jeffrey New York.
• Date: Through early January; M-W, F 10 a.m.-8 p.m.; Th 10 a.m.-9 p.m.; S 10 a.m.-7 p.m.; Su, 12:30 p.m.-6 p.m.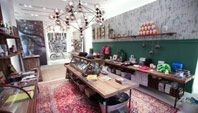 Cool Hunting for Gap
680 Fifth Ave., nr. 54th St.; coolhunting.com/gap
Cool Hunting's editors scoured New York–based companies for items (including Amy Sedaris's new book) to sell at its ByKenyan-designed space.
• Date: Nov. 19-Jan. 2; M-S 9 a.m.-9 p.m., Su 10 a.m.-8 p.m.
AllSaints
411-417 W. 13th St., nr. Washington St.
Next door to the restaurant Bagatelle, Allsaints's 8,000-square-foot pop-up shop sells party dresses and other clothing for women, men, and children. See what's available in our Buyer's Guide slideshow.
• Date: Nov 22-early January; M-S 11 a.m.-8 p.m., Su 11 a.m.-7 p.m.
Sahadi's
191 Atlantic Ave., nr. Clinton St., Cobble Hill; sahadis.com
This Middle Eastern specialty-foods vendor opened a gift shop next door where you can buy holiday snacks and gift baskets.
• Date: Now through January; M-S 9 a.m.-7 p.m.
Under Armour
134 Spring St., nr. Wooster St.; 212-219-2147; underarmour.com
Sports enthusiasts will be making a beeline for Under Armour's Soho pop-up, where 3,500 square feet will be packed with the stretchy athletic collection.
• Date: Through Jan. 23; M-S 10 a.m.–8 p.m.; Su 11 a.m.–7 p.m.
Real Simple
Rockefeller Center, 10 W. 49th St., nr. Fifth Ave.; realsimple.com
Shop for a good cause at Real Simple's pop-up. Each day, proceeds will go to a different charitable organization, including Stand Up to Cancer, Habitat for Humanity, St. Jude's Children's Hospital, the Jackie Robinson Foundation, and the Intrepid Fallen Heroes Fund.
• Date: Dec. 1-6; daily 10 a.m.-10 p.m.
NORFOLKSNYC Gallery
139 Norfolk St.; 212-387-8010; norfolksnyc.com
NORFOLKSNYC's Face-to-Face Holiday Market includes fine art, photography, fashion, and jewelry from more than 30 international and local artists.
• Date: Dec. 3-5; daily noon-8 p.m.
Shiny Squirrel
Various locations, more details here
Shiny Squirrel, a showcase for emerging designers, teamed up with Brooklyn Based for a mobile pop-up store (look for the Ford Edge, they say) making the rounds in Brooklyn.
• Date: Dec. 4; Brooklyn Circus, 11 a.m.-noon; Life: Curated, 12:30-1:30 p.m.; 3rd Ward Holiday Craft Fair, 2-3 p.m.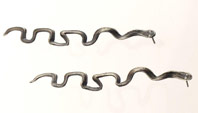 NMAI Art Market
Diker Pavilion, 1 Bowling Green; 212-514-3700; americanindian.si.edu
The National Museum of the American Indian will host its annual Native Art Market, featuring jewelry, ceramics, prints, pottery, and artwork from more than 30 Native artists.
• Date: Dec. 4-5; daily 10 a.m.-5 p.m.
Made in Harlem Art & Gift Festival
Casa Frela Gallery, 47 W. 119th St.; casafrela.com
Hand-crafted gifts at Casa Frela's one-off weekend market will include jewelry, quilts, decorative items, and holiday ornaments.
• Date: Dec. 4-5; daily 10 a.m.-7 p.m.
Brooklyn Holiday Bazaar
North 7th St. and Wythe Ave.; 917-301-5765; artistsandfleas.com
Artists & Fleas debuts an additional holiday market space, showcasing a festive twist on the wares of their regulars and more.
• Date: Dec. 4-5, 11-12, 18-19; daily noon-8 p.m.
Nightwood Holiday Fair
189 Schermerhorn St., nr. Smith St.; 347-249-9552; nightwoodny.com
Enjoy Mexican food and baked goods from local vendors while browsing original handmade goods at Nightwood. The fair features beauty products by meowmeowtweet, paper goods by Trace, pottery by Nick Schneider, knitwear by Iwona Ludyga, and more.
• Date: Dec. 4-5, 11-12; daily noon-6 p.m.
Fredflare.com's Holiday Store at Jingle Market
Chelsea Market, 75 Ninth Ave., nr. 15th St.; 718-349-1257; fredflare.com
Browse a variety of Fred Flare favorites, from household items to sweet treats to accessories.
• Date: Dec. 9-23; M-S 10:30 a.m.-7 p.m.; Su 10:30 a.m.-6 p.m.
BUST Magazine Craftacular
The Metropolitan Pavilion, 125 W. 18th St.; bust.com
With nearly 300 vendors every year, the BUST Magazine Craftacular is the largest single-day indoor shopping event in New York. Tickets are $2.
• Date: Dec. 12; 10 a.m.-8 p.m.
Gifted: A Holiday Market presented by the Brooklyn Flea and Design*Sponge
Skylight One Hanson, One Hanson Pl., nr. Ashland Pl.; brooklynflea.com
More than 100 of the Brooklyn Flea's vendors will fill three floors with delightfully kitsch holiday gifts and miscellany.
• Date: Dec. 15-23; daily 11 a.m. -7 p.m.
The Big Social Holiday Market
201 Mulberry St., nr. Kenmare St.; hesterstreetfair.com
The presenters of the Hester Street Fair on the LES will move inside for the holiday season to bring you art, jewelry, and handmade gifts.
• Date: Dec. 17-23; daily 11 a.m.-8 p.m.
Brooklyn Craft Central Holiday Market
Littlefield Performance Space, 622 Degraw St., and Textile Arts Center, 505 Carroll St.; bkcraftcentral.com
Browse the stalls at two separate venues filled with seasonal crafts and hip wares, sample artisanal food and drinks, and pick up DIY tips from instructional demos.
• Date: Dec. 18-19; S 11 a.m.-5 p.m.; Su 11 a.m.-6 p.m.