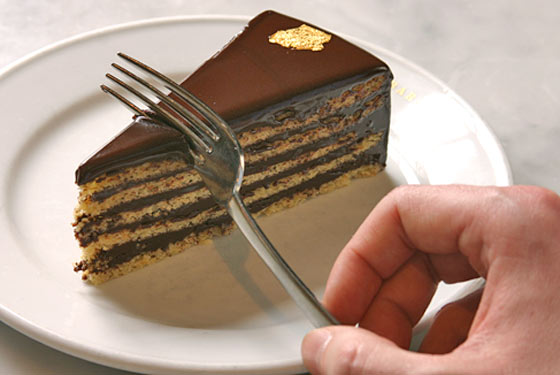 BAKE IT
Chocolate-Custard Tart
Craft pastry chef Karen DeMasco takes extravagance to the extreme by topping her lush chocolate crust and rich egg custard with a dollop of brandy whipped cream.
BUY IT
Three-Chocolate Mousse Cake from La Bergamote
169 Ninth Ave., at 20th St.; 212-627-9010.
The intensity of the cocoa sponge cake and dark-chocolate mousse in La Bergamote's cake is tempered with creamy layers of white- and milk-chocolate mousse. $37.
BAKE IT
Apple-and-Pear Streusel Tart
None other than New York's Sexiest Chef, motorcycle-riding Johnny Iuzzini, is behind this seductively simple pastry with delicate crumble topping.
BUY IT
Apple Galette from Balthazar Bakery
80 Spring St., at Crosby St.; 212-965-1785.
Flaky puff pastry makes this a rather rustic version of a French apple tart, which lends an air of countrified sweetness to the spread. $30.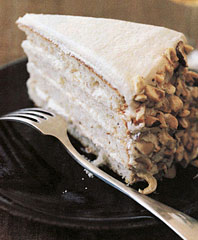 BAKE IT
Hazelnut-Praline Layer Cake
Chock-full of nuts, spiked with Frangelico, and piled with praline buttercream, this stately cake will make you want to lick the bowl.
BUY IT
Klimtort from Café Sabarsky
1048 Fifth Ave., nr. 86th St.; 212-288-0665.
The thin layers of this hazelnut cake made by Kurt Gutenbrunner's Viennese café are brushed with chocolate filling before a bath in ganache and a dab of gold leaf. $50.
BAKE IT
Mrs. Maccioni's Fruitcake
Señora Le Cirque's creation, packed with cognac-soaked candied fruit, may change your opinion about the much-mocked dessert.
BUY IT
Panettone from Bouchon Bakery
10 Columbus Circle, nr. 58th St., third fl.; 212-823-9366. If you're wary of even muttering the word "fruitcake" to your guests, pick up Thomas Keller's version of this Italian sweet bread, studded with dried fruit. $28.
BAKE IT
Linzer Cookies
Just tie up these zest-laced cookies in a tumbler or nestle them in wooden boxes and they're perfect to bring to the party.
BUY IT
Green-Tea Sweets from Amai Tea and Bake House
171 Third Ave., nr. 16th St.; 212-863-9630.
These leaf-shaped cookies fit in with holly (or mistletoe) and share a gift box with loose-leaf tea. The finishing touch? A portion of the proceeds go to helping restaurants become environmentally sustainable. $32.