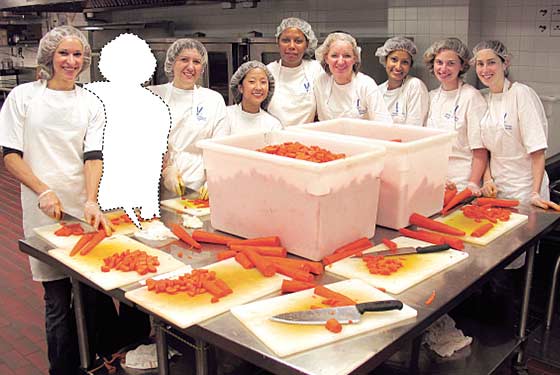 I'm going to tutor kids. I'm going to work at a soup kitchen. I'm going to do the aids ride. Volunteering is one of those things that everybody talks about—but not that many people ever get around to doing.
A few things hinder our noble intentions. The time commitment, for one; what few free hours we have between family and work and friends, we hoard. Then there's that omnipresent fear of the unknown, and of our own capabilities. Will I be comfortable in a room full of homeless men? Who am I to teach English to a new immigrant? If I sign up now, will all the other volunteers already know each other?
And finally, there's the vast, overwhelming landscape of need that is New York, with its thousands of organizations each attempting to help one sliver of the population. The first decision you have to make—what kind of volunteer work do you want to do?—can be the most daunting. Do you want to volunteer with kids? The sick? The homeless? And how much time can you give? Once a week? Once a month? Just once? Weekdays? Weekends? Near your home? Your work? Oh, and we need references! Do you like office work? Field work? School work? Any special skills?
Over the course of a month, I tried various volunteer opportunities, ranging in time commitment, population served, and geography. I found out a few things: it can take a lot of legwork just to become a volunteer. The experience is often discomfiting, even exhausting. And no one jumped to pat me on the back for giving up my lazy Sunday morning. Sometimes I felt like I helped; often, I wondered if I'd accomplished anything at all. Still, when it clicked—and it did—I felt more connected to my city than I ever had. Here's what I learned.
Most organizations require at least one orientation. God's Love We Deliver, a nonprofit that depends on an army of 1,800 volunteers to make and deliver meals to seriously ill New Yorkers, hosts both a general prep session and an additional kitchen-safety class before letting you near the knives. The bigger the volunteer operation, the more frequent the orientations.
My first effort was 826NYC (826nyc .org, contact Miriam Siddiq), the Park Slope branch of Dave Eggers's San Francisco–based children's program; since it's a ten-minute walk from my apartment and its focus matches my only "special skill" (writing), it was a no-brainer to start here. It was also efficient; I filled out an online volunteer form (my weekday availability was a major plus amid the sea of weekend-warrior applicants), and a week later I attended a Sunday-morning intro session at 826's tutoring room. After a brief program overview, I signed up right there for weekly tutoring shifts. A few hours later I got an e-mail from the education coordinator, Miriam, slotting me for Thursdays, starting immediately.
In theory, tutoring at 826 is pretty straightforward. From 3 to 5:30 p.m., Sunday through Thursday, about 40 kids, most of whom are ages 6 to 11, drop in to do homework, aided by volunteers who look ripped from the pages of The Hipster Handbook. What, I figured, could a third-grader ask that I won't know?
Things I don't know:
Math.
Science.
The correct answer to this question: Which form of transportation did Native Americans use before the Europeans came to America: canoe, horse, tractor, or automobile?
Still, Miriam assured us that it wasn't important to always know the answers. It's more coaching than teaching.
On the first day, I worked with Gabby, an adorable and very chatty second-grader, whose assignment was to compose an essay on her family outing to an amusement park. She needed a lot of help putting words to paper and spelling correctly, and I was tempted to grab her composition book and write the thing myself. But Miriam had warned us to be careful about giving answers, so I sounded out every word, from rrrriiiide to brrrrothhhherrrr to gutsssss (as in, this rrrriiiide made my brrrrothhhherrrr puke his gutsssss).
The next week wasn't as easy. Kenya, a newcomer to 826, needed help preparing her class presentation on Anne Frank. As we went over what she knew about Anne, I realized with some shock that I'd basically be teaching Kenya about the Holocaust. I gave a quick, nervous primer on World War II. Kenya stared at me blankly and then asked, "What's a Jew?" Wow. Not a question I ever thought I'd hear in New York, and, frankly, I didn't know where to begin. She's not my kid. I'm not a teacher. Did my rambling lecture on world religions stick with her?
A few of my attempts didn't get very far. I went to an orientation at the Bowery Residents' Committee (brc.org), a social-service agency that helps New York's homeless through transitional housing, substance-abuse programs, and job training. But I had a tough time nailing down a volunteer shift—which happens in the overstretched, understaffed nonprofit world. The New York Restoration Project (nyrp.org), Bette Midler's public-space beautification organization, is run in part by AmeriCorps volunteers. If they're unavailable, the project doesn't happen, which is why my Saturday-cleaning-the-park plan didn't materialize. I'll check back again in the spring.
I decided to try a walkathon. Most are in the fall, and all are one-off events (though one-off can mean three days, as is the case for the Susan G. Komen Breast Cancer 3-Day). Athletes for Charity (athletesforcharity.com) keeps a list of run-walks on its Website. A friend has a cousin living with lupus, so she and I signed up for the Alliance for Lupus Research's Walk With Us to Cure Lupus.
Then, the night before the walk, my husband asked how much money I'd raised. Money? Frantic, I sent out a mass e-mail (the Alliance provides language on its Website, if you're not a master of the solicitation), and my very generous in-laws saved the day with a $250 donation, smashing my fund-raising goal of $50. Saved—except high winds and downed power lines forced organizers to cancel the walk.
I applied to be a mentor for the Young Women's Leadership Foundation's Jump-start to College program (ywlfoundation .org, contact Tara Wood), a new initiative that pairs professional women with the 62 high-school seniors from the Young Women's Leadership School of East Harlem, an all-girls public school that boasts a 100 percent graduation and college-acceptance rate. The yearlong commitment sounds daunting, but there are only three mandatory sessions and no orientation.
I didn't hear back for a few weeks, but then I got an e-mail inviting me (and 32 other women) to attend the kickoff event: Interviewing and Communication Skills. I was a little nervous about what to expect when I showed up at the school on East 106th. Would everyone be "professional"? (Most were, from the pediatric doctor to the Pfizer marketing director to the hedge-fund recruiter.) Would I be the only white woman? (Not even close. Almost all the girls were African-American and Hispanic, and almost all the women were white.) And, most worrying: How should I act? It's one thing to be the authority in a room of 10-year-olds, quite another to figure out your role in a gym full of young women on the verge of adulthood. I decided to talk to the girls like they were my peers, and maybe tried a little too hard to be the "cool" mentor.
I was assigned two extremely poised seniors—Marisol, an aspiring chef, and Ziarra, who has already exhibited her photographs at the Studio Museum and is applying to the Rhode Island School of Design. For two hours, we conducted mock college interviews: What's your favorite book? Any extracurricular activities? Why do you want to attend _____ University? I gave them tips on behavior: Stop fidgeting; um is not a word; project confidence (the school's guidance counselor went so far as to tell them to brag). The next session, in February, will be on financial literacy—not my strongest suit. Still, as at 826, the idea is to be a sounding board, not the perfect role model.
But what if you're really time-starved? New York Cares (nycares.org), an umbrella organization that provides volunteer support to some 850 area nonprofits, is an infrequent volunteer's best friend. Set up an account on its Website, attend one brief orientation (there are nearly twenty a month), then sign up via the Website for numerous projects. A team leader contacts you by e-mail with details.
Weekend gigs fill up fast, though; often, the project I'd hoped to join was full by the time I found out about it (which, when you think about it, is encouraging). I did get a Sunday slot to prepare and serve breakfast at a shelter at St. John the Divine.
I arrived at 9:15 a.m. and the kitchen was already buzzing as mostly middle-aged, female volunteers chopped and washed and gabbed. After throwing me a plastic apron and gloves, my team leader, Leslie, asked me to cut onions. I hesitated. She rolled her eyes and appointed me to utensil duty. For the next hour, I wrapped plastic forks and spoons in napkins as the room filled up. Soon it was time to serve. Again Leslie gave me my assignment: butter. And smile. For the next hour, we served pancakes and bagels and fruit cups and "apple or orange juice?" to a long line of very appreciative New Yorkers, mostly men, mostly twice. They all said, "Thank you," some remarked on their cholesterol, others answered my "Butter?" with "Parkay!"
There's a reason feeding the hungry has become a cliché: The need is constant and the work instantly rewarding.
Yes, I'm getting paid to write this story, so, in a way, all my volunteering has been, as my friend calls it, "faux-lenteering." The true test will be whether I continue without a magazine assignment (I will, at least with mentoring; I want to see Marisol and Ziarra get into their first choice). I don't think volunteering automatically makes you a better person, but I do know that getting out of my comfort zone felt right, that we can't help everyone but that doesn't mean we shouldn't help anyone, and that the Europeans brought horses to America.
For Every New Yorker, a Place That Needs You
Whether you've got twenty hours a week or one day a year.


IF YOU HAVE MORE THAN ONE DAY A WEEK …
Children's Aid Society
If managing large groups of children doesn't throw you, this sprawling agency has an unending need for volunteers who (once they've gone through a screening process) will chaperone kids on field trips, host parties, and run toy drives. They'll match you up based on your interests; if you're in theater, you could end up helping produce a high-school play.
• 105 E. 22nd St., nr. Park Ave.; 212-284-4591; childrensaidsociety.org
Contact: Scott McLeod
FoodChange
For socially minded foodies: This community kitchen's emphasis is on making healthy, locally farmed meals and serving them to low-income adults and children. Volunteers serve and clean up five days per week, from 4 to 6 p.m.
• 252 W. 116th St., nr. Frederick Douglass Blvd.; 212-894-8094; foodchange.org
Contact: Jennifer Prissel
The Franciscan Friars of the Renewal
The tutoring center and homeless shelter are small, and therefore pretty serene, at this Franciscan-run shelter and tutoring center. They need people every day to help 7-to-14-year-olds with their homework or help prepare and serve meals for the residents.
• 410 E. 156th St., at Melrose Ave., the Bronx; 718-993-5161
Contact: Ann Kosmerl
Literacy Partners
You have to commit to two three-hour sessions a week for at least a year and go through a twenty-hour training period. Then, you and your co-tutor will work with a group of eight to twelve adults, teaching reading, writing, and employment preparation.
• Various sites 212-725-9200, ext. 120; literacypartners.org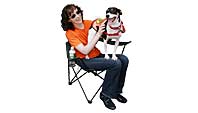 ASPCA of NYC
Not for those with allergies: You can temporarily house young, sick, or injured dogs and cats. You must go through an orientation and take classes on dog and cat behavior, but the ASPCA provides the food and medical care.
• 424 E. 92nd St., at First Ave.; 212-876-7700; aspca.org
Contact: Eric Grant, ext. 4581


ONE DAY A WEEK…
Housing Works Bookstore
Volunteers who show up at least four hours a week (for a minimum of three months) will help with everything from unpacking boxes of books to creating displays. You'll get free coffee and heavily discounted books and CDs. The Used Book Café tends to be short-staffed in January, June, and September.
• 126 Crosby St., nr. Houston St.; 212-334-3324; housingworks.org
The International Center
With a little patience and three two-hour training sessions, you can become a conversation partner and help immigrants and newcomers become more comfortable in English. They ask a three-month commitment and two hours a week of "active listening."
• 50 W. 23rd St., at Broadway; 212-255-9555; intlcenter.org
New York Foundling Hospital
They ask for a yearlong commitment, and there's an orientation; once that's done, you will play with the kids, take them to events, and prepare their snacks. Recruiting sessions start in mid-January.
• 590 Sixth Ave., at 17th St.; 212-633-9300; nyfoundling.org
Contact: Alan Shatz
Achilles Track Club
If you're a regular, all-weather runner, you can participate in one or both of Achilles' twice-weekly sessions with disabled runners (Tuesdays and Saturdays, in Central Park). You accompany them to ensure safety, but also for coaching and encouragement.
• 42 W. 38th St., nr. Sixth Ave.; 212-345-0300; achillestrackclub.org
Contact: Genna Griffith or Russell Koplin


ONE DAY A MONTH …
Mount Sinai Sexual Assault and Violence Intervention Program
Sign up now for next June's seven-week training session, which will teach you to be an emergency-room advocate for victims of sexual violence. Right now, help is needed in event planning, graphic design to plan fund-raisers, and putting out the quarterly bulletin.
• 1 Gustave L. Levy Pl., at Park Ave.; 212-423-2140; mssm.edu/savi
Gilda's Club
You'll organize workshops on cancer-related subjects, work in the Noogieland children's play rooms, lead yoga or art classes, help plan fund-raisers, and help with clerical duties.
• 195 W. Houston St., nr. Sixth Ave.; 212-647-9700; gildasclub.org
Contact: Cynthia Helton
Seeds of Peace
If you excel at benefits, Seeds of Peace needs volunteers to organize the events (like its "Bid for Peace" celebrity auction) that fund its summer camp in Maine, where children from war-torn countries are brought for a respite.
• 370 Lexington Ave., at 41st St.; 212-573-8040; seedsofpeace.org
Contact: Fayth Centeno
Helpline NYC
There's a rigorous training curriculum, but since it's a 24-hour crisis and suicide-prevention hotline (the city's oldest), it always needs volunteers.
• 120 W. 57th St., nr. Sixth Ave.; 212-684-4480; helpline.org
Contact: Amy Barr, ext. 201


ONE DAY A YEAR …
Visiting Neighbors
You have to provide references and be interviewed. Once you're approved (and if you get it done before December 5), you can dress up as an elf and deliver a gift to a housebound New Yorker this year.
• 611 Broadway, at W. Houston St.; 212-260-6200 visitingneighbors.org
Contact: Howie Square
New York City Food Bank
Last year, volunteers provided 1.1 million meals to New Yorkers in need. Up this year's number and spend a day repackaging donated food for distribution at the Food Bank's Bronx warehouse.
• 355 Food Center Dr., the Bronx; 212-566-7855; foodbanknyc.org
Contact: Grace Cary, ext. 6
New York SCORES
Any Friday between March and November, you can be a referee at a soccer game for inner-city kids. The not-so-athletically inclined can help at scores poetry slams.
• 520 Eighth Ave., at W. 36th St.; 212-563-3250; americascores.org
Contact: Catherine Sui
PLUS: For Every New Yorker, a Place That Needs You
Compiled by Wren Abbott, Amos Barshad, Jocelyn Guest, and Wesley Wade.