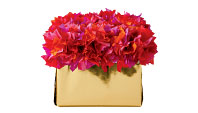 THE EXPLODING LID
Materials: Gold paper, tissue squares in assorted colors, Elmer's Glue.
Skill level: Beginner
Done in: 1 hour
Tip: Use a watercolor brush to cover a small area of the lid with glue. Then press down two-inch squares of tissue paper, one by one, with your fingertip. Repeat until the lid is covered.
THE CRAFTS PROJECT
Materials: Postal wrapping paper, satin cord, raffia string, chunky glitter, Elmer's glue, ornament.
Skill level: Beginner
Done in: 5 minutes
Tip: Use a bone folder—which looks like a small, ivory shoehorn—to make perfect creases and get crispy, flat edges.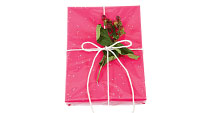 THE LITTLE-GIRL FAVORITE
Materials: Gemstone tissue paper, cellophane, butcher's string.
Skill level: Intermediate
Done in: 10 minutes
Tip: Measure how much tissue paper you'll need, and cut the same amount of cellophane. Treat the two as one; wrap together for a lacquer finish.
THE A+ FROM SCHOOL
Materials: Children's drawings (two), cellophane, satin red ribbon.
Skill level: Intermediate
Done in: 10 minutes
Tip: Wrap the bottom half of the box and the lid separately. The cellophane goes over the paintings; you can also use newsprint instead of artwork.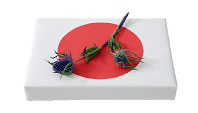 THE MINIMALIST
Materials: White banner paper, 5-inch adhesive seals, thistles.
Skill level: Beginner
Done in: 2 minutes
Tip: Be sure to wrap on a clean surface; every little bit of dirt will show up on that pure, milky white paper.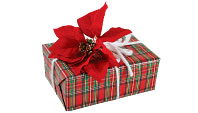 THE CLASSIC
Materials: Plaid wrapping paper, yarn, poinsettia flower.
Skill level: Beginner
Done in: 3 minutes and 30 seconds (give or take)
Tip: Follow the plaid pattern to keep edges straight. As with other boxes, use a pop-up tape dispenser, and Fiskars Classic scissors or a twelve-inch Fiskars rotary trimmer to prevent the paper from bunching.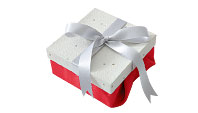 THE BESPOKE BOX
Materials: Silk twill and fabric (bought at Paron Fabrics or Mood).
Skill level: Advanced
Done in: 30 minutes
Tip: Use fabric scissors; adhere with a low-temperature glue gun, and finish off tips with a needle and thread. Completely line the interior of the box, or fill with colorful paper raffia to obscure raw edges.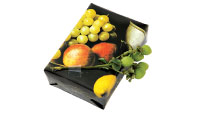 THE FOUND OBJECT
Materials: A page cut out of an art magazine (here, an ad for an Evelyn Hofer exhibition from Artforum), berries.
Skill level: Beginner
Done in: 2 minutes
Tip: With small packages like this, there is no room for bulk. Use a bone folder to make sharp creases.
Supplies available at: The Container Store, 725 Lexington Ave., nr. 58th St. (212-366-4200); Pearl Paint, 308 Canal St., nr. Broadway (212-431-7932); A.I. Friedman, 44 W. 18th St., nr. Fifth Ave. (212-243-9000).