"A Spider-Man web shooter and Spider-Man pajamas."
Sam MacKay, 3, preschool student
Spider-Man pajama set, $12.99 at Target , (139 Flatbush Ave., nr. Atlantic Ave., Brooklyn; 718-290-1109).
"Dance lessons at Alvin Ailey and a warm down coat with a furry hood."
Alexandra Roxo, 25, filmmaker
Modern dance class, $25 for two classes (new student discount) at the Ailey Extension, (405 W. 55th St., at Ninth Ave.; 212-405-9500).
"A foldable bike, so I can ride from the Staten Island Ferry to the Flatiron, and take the train home if it rains."
Nikki Saint Bautista, 23, editorial intern
eZeebike "Quando" electric bike, $1,500 at NYCe Wheels (1603 York Ave., nr. 85th St.; 212-737-3078).
"A beautiful menorah and some dark chocolate."
Marilyn Coen, 64, artist
Joe Spoon hand-formed brass menorah, $365 at the Jewish Museum (1 E. 92nd St., nr. Fifth Ave.; 212-423-3260).

"A wine fridge, a Wii Fit, a men's Patek Philippe, and the Valentino rosette bag."
Antonia Salvucci, 30, headhunter
Valentino red Petale bag, $2,495 (747 Madison Ave., nr. 65th St.; 212-772-6969).

"I just moved into my new apartment, so I'd like some new furniture— a couch. And an entertainment center. And a new car."
Pia Johnson, 22, student
Flat-out sofa, $1,099 at
"My best gift ever was a little horsey. But this year I want a Barbie—the Three Musketeers one."
Teresa Victoria Da Silva Woll, 5, kindergartner
Barbie and The Three Musketeers Aramina doll, $21.99 at Toys 'R' Us (1514 Broadway, at 45th St.; 646-366-8800).
"A KitchenAid Artisan mixer in red. And a Nook e-reader with a cover. I'd download the Andre Agassi bio, Open."
Marisa Galante, 27, purchasing coordinator
Nook e-reader, $259, and Jonathan Adler Punctuation Nook cover, $29.95 by preorder, both at Barnes & Noble (396 Sixth Ave., at 8th St.; 212-674-8780).

"Gift cards, family photos in a frame, and a nice tennis bracelet."
Theresa Fitzgerald, 49, café operations manager
Gold-and-diamond bangle, $7,500 at Judith Ripka (777 Madison Ave., nr. 66th St.; 212-517-8200).

"A Montblanc pen and nice, expensive bedding in black and white."
Joseph Herrans, 41, concierge
Duvet, sham, and sheets, $75 to $400 at Frette (799 Madison Ave., nr. 68th St.; 212-988-5221).
"A charm bracelet from Swarovski, makeup, and a coin purse."
Ann Kim, 26, gemologist
Coin purse, $115 at Mulberry (605 Madison Ave., nr. 58th St.; 212-835-4700).

"A fruitcake from Harry & David. I like those."
Barry Cutright, 53, dentist
Fruitcake holiday sampler, $24.95 at Harry & David (harryanddavid.com).

"I go to Vermont every two weeks in the winter, but I've never owned a pair of skis."
Derek Medwed, 22, wardrobe assistant
K2 Apache Recon skis, $800 at Paragon Sports (871 Broadway, nr. 18th St.; 212-255-8889).
"A hiking backpack I can take to Patagonia, Chile. I hear it's beautiful there."
Roane Carey, 49, editor
Lightweight travel pack, $90 at
"I want my ex-girlfriend back. Or a stainless-steel Daytona Rolex."
Scott Kaplow, 23, trader
Rolex Oyster Perpetual Cosmograph Daytona, $14,250 at Tourneau (500 Madison Ave., at 52nd St.; 212-758-6098).
"Tinkerbell doll, Tinkerbell costume, and Tinkerbell coloring book."
Macey Miller, 3, preschooler
Pixie Hollow dress, $20.09 at Target .

"LED lights, Final Cut Studio 3 software, and a Nizo Super 8."
Alice Arnold, 36, documentary filmmaker
Nizo 801 Macro Super 8 camera, $800 at Du-All Camera (231 W. 29th St., nr. Seventh Ave., Ste. 210; 212-643-1042).

"I'm not a baker, but I am a cooker. I'd love Italian cooking classes and more Le Creuset ware in red."
Andy Wzorek, 27, advertising
Le Creuset baker, $75 at Bed Bath & Beyond (620 Sixth Ave., at 18th St.; 212-255-3550).
"Jeans from Miss Sixty, black high heels, and a trip to L.A. because I want to see Hollywood."
Shqipe Balaj, 20, student
Sandals, $790 at Christian Dior (21 E. 57th St., nr. Madison Ave.; 212-931-2950).
"A Dell mini- laptop—they're really small and nice. Also a green Moncler jacket and a green G-Shock watch."
Deshawn Frazier, 15, student
Dell Inspiron Mini 10, from $349 at Best Buy (622 Broadway, nr. W. Houston St.; 212-673-4067).
"A chocolate brown peacoat that doesn't look too grungy that I could wear with brown boots."
Rochelle Kramer, 20, student
Fox-trimmed peacoat, $398 at Searle (635 Madison Ave., nr. 59th St.; 212-750-5153).

"Gummy bears from Germany and a special edition of the graphic novel Watchmen. I've had my eye on that for a while."
Taylor White, 25, comedian
Watchmen: The Absolute Edition, $75 at Gotham City Comics (796 Lexington Ave., nr. 62nd St.; second fl.; 212-980-0009).

"A blue scooter, so I can drive to work on the Lower East Side from Brooklyn. And socks and underwear—you can never have enough."
Jackson Smith, 28, gelato maker
Piaggio FLY 50, $1,999 at Potamkin Manhattan (706 Eleventh Ave., nr. 50th St.; 212-708-3170).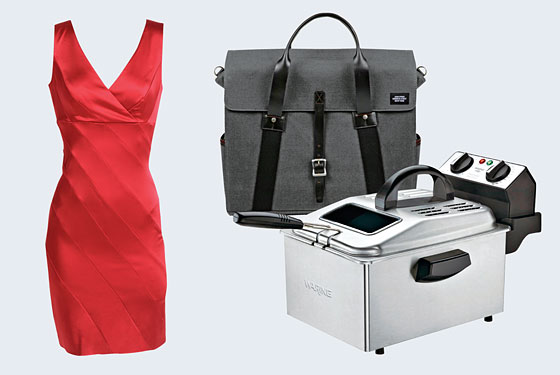 "An Audi TT, shirts and ties from Brooks Brothers, and a new briefcase."
Norman Michaels, 58, insurance salesman
Twill briefcase, $445 at Jack Spade (56 Greene St., nr. Broome St.; 212-625-1820).

"A paid vacation to Portugal, Jessica Simpson perfume, and a great red dress."
Roxanna Leardo, 51, city clerk
Calvin Klein satin dress, $159 at Macy's (151 W. 34th St., nr. Seventh Ave.; 212-695-4400).

"I would love a big new fryer for my kitchen."
Gustavo Tzoc, 28, chef
Waring Pro Professional deep fryer, $99.99 at Bed Bath & Beyond .
"Anything from Wolford would be great. I'd love to find their lingerie in my stocking!"
Candice Carmel, 44, translator
Paradise bra and panty set, $220 and $115 at Wolford (997 Madison Ave., nr. 77th St.; 212-327-1000).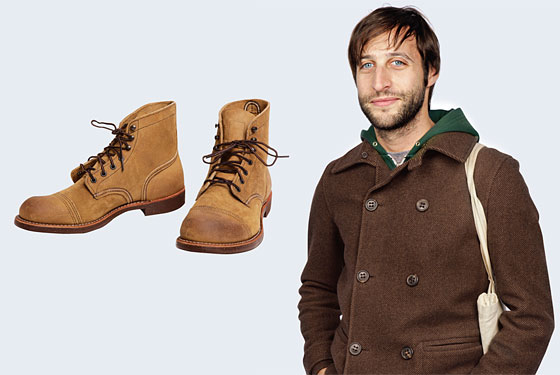 "A navy suit from APC and Red Wings that don't make my feet look big."
Kris D'agostino, 30, preschool teacher
Red Wing boots, $298 at J.Crew Men's Shop (484 Broadway, nr. Broome St.; 212-343-1227).
"I want bright-orange headphones and a Microsoft Surface computer."
Tavit Geudelekian, 26, video-game director
Earphones, $160 at Bang & Olufsen (63 Greene St., nr. Broome St.; 212-274-1003).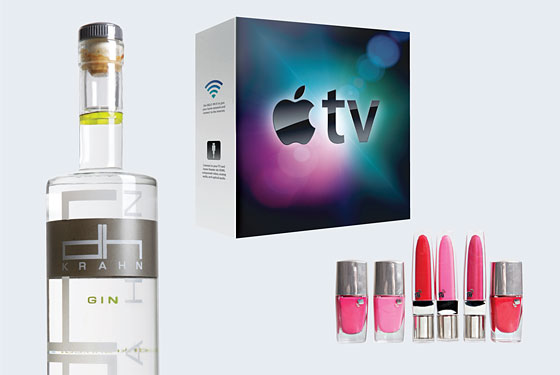 "Nail polish and lip gloss and the Michael Jackson This Is It soundtrack."
Lana Goldsmith, 23, marketing associate
Lip gloss and nail polish, $35 per set at Lancôme (201 Columbus Ave., nr. 69th St.; 212-362-4858).

"A nice bottle of gin, so I can make martinis with blue-cheese-stuffed olives."
Brad Broman, 25, actor
DH Krahn gin, $24.99 at Astor Wines & Spirits (399 Lafayette St., nr. 4th St.; 212-674-7500).

"To watch the episodes of 30 Rock that I've downloaded on iTunes on my TV in high def."
Steven Loeffler, 21, student
AppleTV with 160 GB, $229 at Apple (767 Fifth Ave., at 58th St., 212-336-1440).
"YSL lipstick— it's the only one that stays on my lips. Also a warm tweed scarf that you put over a coat."
Harriet Grover, 82, sales associate
Hooded scarf, $225 at Theory (40 Gansevoort St., nr. Little W. 12th St.; 212-524-6790).
"A twelve-quart soup pot. I just bought one of these for someone else, and now I want one."
David Bandola, 36, doctor
Belgique twelve-quart stainless-steel stock pot, $69.99 at Macy's .

"A new cutting board and a plane ticket to Italy, because I just got an encyclopedia of pasta."
Aaron Oster, 28, chef
Flexible cutting mats, $15 for set of four at Sur La Table (75 Spring St., at Crosby St.; 212-966-3375).

"Baby Ugg booties in pink, because I'm having twin girls. Also, a Belly Bandit wrap to get my stomach back in shape."
Xiola Schafer, 32, science writer
Booties, $50 at UGG Australia (160 Columbus Ave., at 67th St.; 212-671-1190).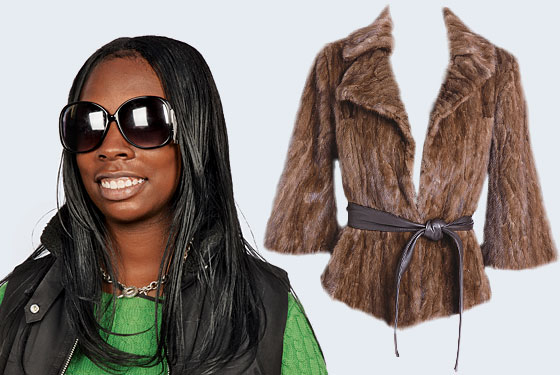 "A scholarship to F.I.T., a black BMW, a gift card to H&M, and a chocolate-brown mink coat."
Najah Aziz, 24, eligibility specialist
Adrienne Landau mink jacket, $1,500 by order at Saks Fifth Avenue (754 Fifth Ave., nr. 58th St.; 212-753-7300).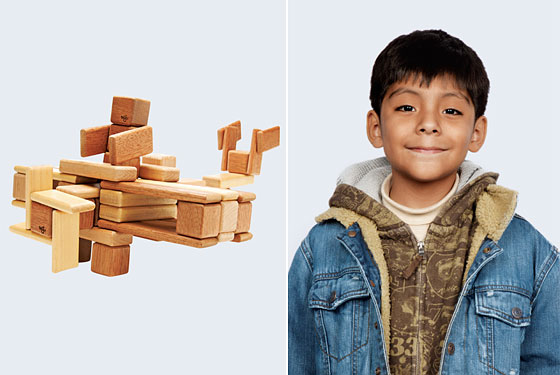 "Blocks that you can build an airplane with. And Lego."
Scott Reyna, 8, student
Tegu block set, $50 to $85 at Kid O (123 W. 10th St., nr. Sixth Ave.; 212-366-5436).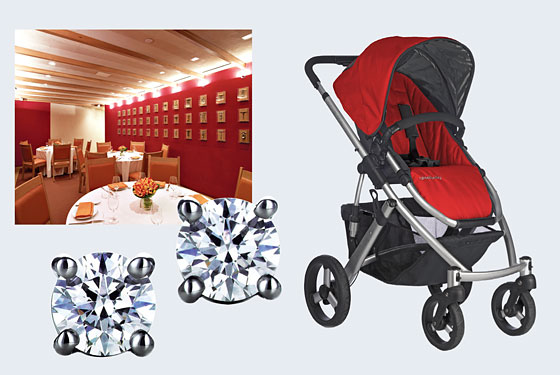 "A pair of diamond stud earrings and a Mercedes."
Yoselyn Arisly, 34, insurance agent
Diamond stud platinum-set earrings, $1,760 at Tiffany & Co (727 Fifth Ave., nr. 56th St.; 212-755-8000).

"We're having a baby in December, so diapers, bottles, a blanket to bring them home, and a stroller."
Josh Kamins, 37, AV technician
UPPAbaby stroller, $699.99 at All About Baby (4802 Glenwood Rd., at 48th St., East Flatbush; 718-339-6212).

"A dinner with my family of twenty at a French restaurant and a half-day massage."
Kim Magloire, 42, educational consultant
Three-course prix fixe (private dining for 12 to 22 people), $69 per person at Bar Boulud (1900 Broadway, nr. 63rd St.; 212-595-0303).
"My mom once gave me a necklace of giant turquoise balls. This year, I want a framed Patrick Nagel poster."
Jessica Cole, 26, musician
Patrick Nagel poster, $150 at Philip Williams Posters (122 Chambers St., nr. W. Broadway; 212-513-0313).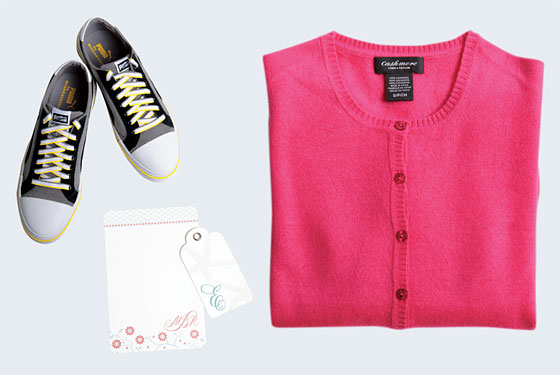 "Fingerless gloves, so I can type on my Treo, and personalized stationery— my daughter has some and I don't!"
Jennifer Miller, 35, publicist
Smock Paper customized stationery, from $300 at Paper Love (178A Lincoln Pl., nr. Seventh Ave., Park Slope; 718-783-1383).

"More cool sneakers—probably Pumas. And a narrow-fitting cashmere blazer."
Ken Giddon, 49, store owner
Puma by Mihara Yasuhiro, $125 at the Puma Black Store (521 Broadway, nr. Spring St.; 212-334-7861).

"A camera with no delay to photograph my toddler and a cashmere sweater because I freeze all the time and I like soft things."
Melissa Gill, 35, doctor
Cashmere cardigan, $148 at Lord & Taylor (424 Fifth Ave., nr. 38th St.; 212-391-3344).
"My fiancé grew up with a beagle, and I really want a beagle puppy. We'd name him Junior."
Ellen Meagher, 30, teacher
Beagles, $225 adoption fee for puppies under six months at Bideawee (410 E. 38th St., nr. FDR Dr.; 212-532-4455).