The Dreamer:
Isadora Tang, 29, consultant
The Fantasy Present:
Best Made Co. Paler Male felling axes, $300
"I love these because they're equal parts beautiful and utilitarian. It would look really great on my wall, and it'd be nice to have a weapon in the house for when the zombie apocalypse comes."
Available at Best Made, 36 White St., nr. Church St.; 646-478-7092.
A Smart Backup:
Wood-inlaid pocket knife, $55
Santa Fe Stoneworks' walker-deterringlock-back blade is as beautiful as it is deadly.
Available at Raised by Wolves, 174 Franklin St., nr. Java St., Greenpoint; 347-889-5798.
The Dreamer:
Terrence Murray, 37, editor
The Fantasy Present:
Colombo Angelo hand-dyed scarf, $375
"I've never owned a really nice scarf. I like the color and texture of this one—and the fact that it's cashmere doesn't hurt either."
Available at Barneys New York, 660 Madison Ave., at 61st St.; 212-826-8900.
A Smart Backup:
Paul Smith scarf, $185
This stripey number boasts a similar two-tone effect, and its thick cardiganlike knit provides texture and warmth.
Available at Paul Smith, 108 Fifth Ave., at 16th St.; 212-627-9770.
The Dreamer:
Daniel Blaser, 32, attorney
The Fantasy Present:
Audemars Piguet Royal Oak watch, $16,900
"I'm pretty casual and wouldn't dream of spending this much on a watch, but I like it because it's sporty and unassuming-looking."
Available at Audemars Piguet, 65 E. 57th St., nr. Park Ave.; 212-688-6644.
A Smart Backup:
Kenneth Cole watch, $125
It may not be as luxe, but this stainless-steel wrist candy is just as sporty—and you won't be out a year's rent if you happen to misplace it.
Available at Kenneth Cole, 95 Fifth Ave., at 17th St.; 212-675-2550.
The Dreamer:
Katie Latham, 28, event planner
The Fantasy Present:
Christian Louboutins, $845
"These shoes are perfect: The color is timeless, and froma functionality standpoint, the front platform makes them so comfortable."
Available at Christian Louboutin, 59 Horatio St., atGreenwich St.; 212-255-1910.
The Smart Backup:
Belle by Sigerson Morrison platform heels, $295
With its 4.5-inch suede-covered heel, Belle's Tryla style is a close match for Katie's height and color preferences, with the added bonus of snakeskin detailing.
Available at Belle by Sigerson Morrison, 242 Mott St., at Prince St.; 212-941-5404.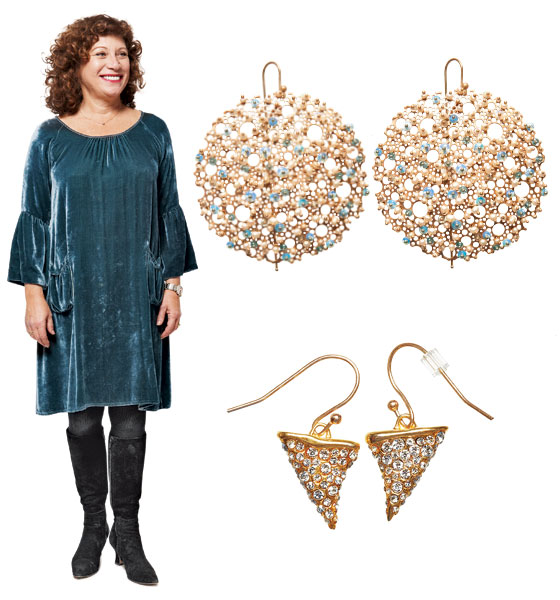 The Dreamer:
Julie Saul, 57, gallery owner
The Fantasy Present:
Ted Muehling Earrings, $5,000
"I have been a huge fan of Ted Muehling's jewelry for over twenty years. I love the beach, and these earrings remind me of the way the light catches the foam at the water's edge."
Available at Ted Muehling, 52 White St., nr. Church St.; 212-431-3825.
The Smart Backup:
Alexis Bittar earrings, $95
Sticking with the light-catching oceanic theme, these Swarovski-encrusted, gold-plated "Grey Gardens" earrings resemble glittering shark teeth.
Available at Alexis Bittar, 353D Bleecker St., nr. Charles St.; 212-727-1093.