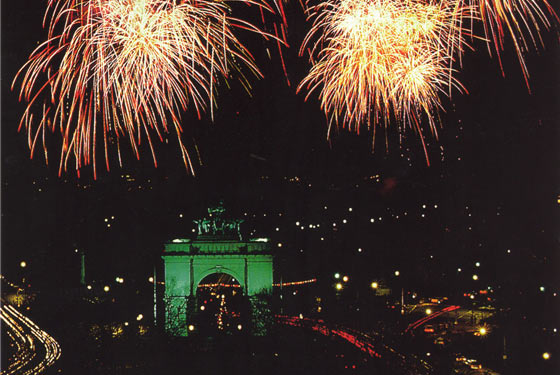 Kick Off 2007 With…
…a Walk on the Water
Brooklyn Bridge Walk
Blimpie's Restaurant, 38 Park Row, nr. Beekman St.; 888-377-4455
City historian Philip Schoenberg's staff guides groups of hardy romantics on an educational stroll capped by a midnight toast and a skyline crowned with fireworks.
• Date: Dec. 31; tours start between 10:30 p.m. and 11:15 p.m.
• Price: $30
…a Moving Revelation
Alvin Ailey Dance Theater's New Year's Eve Show
City Center , 131 W. 55th St., nr. Sixth Ave.; 212-581-1212
One of the city's great modern-dance companies ends its recent season with an all-star show featuring works from Twyla Tharp, Karole Armitage, and the late Ailey himself.
• Date: Dec. 31, 7 p.m.
• Price: $35–$190
…a Bit of Peace and Quiet
Jivamukti Yoga School's Silent New Year's Eve
841 Broadway, nr. 13th St., second fl.;212-353-0214
Searching for a healthy way to start the New Year? Say no more—literally. This yoga club rings in 2007 with a three-hour observation of life-affirming silence.
• Date: Dec. 31, 9 p.m.–midnight
• Price: Free.
…a Serenade From a Siren
New Year's Eve With Audra McDonald and the New York Philharmonic
Avery Fisher Hall, Lincoln Center, 212-875-5900
Though her fame has been built on the Broadway stage, Audra McDonald takes her material from the silver screen for this Philharmonic-backed concert.
• Date: Dec. 31, 8 p.m.
• Price: $82–$235
…a Late-Night Cycle
Time's Up New Year's Eve Party Ride
Ride begins at Washington Square Park, Fifth Ave. at Waverly Pl.; 212-310-6600
The annual mass bike ride weaves in and out of midtown traffic and ends with a celebratory dance party near Belvedere Castle.
• Date: Dec. 31, 10:30 p.m.–late
• Price: Free
…a Pyrotechnic Orgy
25th Annual Grand Army Plaza Fireworks
Grand Army Plaza, Flatbush Ave. at Eastern Pkwy., Prospect Park, Brooklyn; 718-965-8999
Flushed and sweaty runners finish off a midnight Fun Run by joining thousands of fellow New Yorkers (and a few stray tourists) for a familial fireworks show in the park.
• Date: Dec. 31, midnight
• Price: Free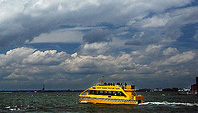 …a Firelight Cruise
New Years Eve With Water Taxi
South Street Seaport, Fulton St. at South St.; 212-732-8257
The best views of the fireworks may be from the open deck of a New York Water Taxi. If you can tear your eyes away, the Times Square ball will be dropping inside the cabin, on a 42-inch plasma screen.
• Date: Dec. 31, 9:30 p.m.–1 a.m.
• Price: $120
…a Buoyant Concerti
New Year's Eve Concert: All Bach
Bargemusic at Empire-Fulton Ferry State Park,2 Water St., nr. Old Fulton St.;718-624-2083
A slew of up-and-coming classical musicians like Nicholas Cords, Mark Peskanov, and Colin Jacobsen usher in 2007 from the banks of the East River.
• Date: Dec. 31, 7 p.m.
• Price: $125
…a Trip to Bohemia
33rd Annual New Year's Day Marathon Reading
St. Mark's Church-in-the-Bowery, 131 E. 10th St., at Second Ave.; 212-674-6377
Downtown heavy hitters Patti Smith, Jim Carrol, and Eric Bogosian swap verses with 150 poets, actors, and other hungover chroniclers of the human condition.
• Date: Jan. 1, 2 p.m.
• Price: $16; $12 for students and seniors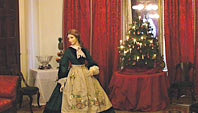 …a Lesson in Manners
Merchant's House Museum's Traditional New Year's Day Open House
29 East Fourth St., nr. Lafayette St.;212-777-1089
A perfectly preserved nineteenth-century home plays host to a long-forgotten (and surprisingly sodden) society tradition.
• Date: Jan. 1, noon–5 p.m.
• Price: $10