Tequila Immune Booster, (Recipe)
Matt Levine and Ross Meisel, Cocktail Bodega
You want to start 2013 off healthy, but there's no reason to jump in feet-first. The boys at Cocktail Bodega have you covered with spiked smoothies, fresh juices, and health shots. For an at-home New Year's antioxidant fix, co-owner Matt Levine recommends this tequila, carrot juice, orange juice, ginger, and Vitamin C concoction, giving you a fresh start, literally.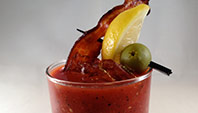 B & E Bloody Mary, (Recipe)
Peter Kane, Beauty and Essex
Beauty and Essex is a go-to for glamorous brunch in the LES. Have the glitz without changing out of your jammies with their stout-based twist on a classic hangover drink. The kicker? Bacon-infused Ketel 1 Vodka. It's simple to make at home, but keep in mind that it needs to start steeping two days in advance. Planning!
Bols Deep, (Recipe)
Tristan Willey, Booker and Dax
The mad scientists at Booker and Dax may have an in-house centrifuge to make their elaborate medleys, but for at-home mixologists looking to warm up on a cold January first, they recommend the simple but powerful Bols Deep. Made with the malty Bols Genever, Angostura, and Demerara syrup, it's heavily bittered and brimming with winter spice.
Cereal Milk Punch, (Recipe)
Jeff Bell, PDT
Cereal fiends already know the simple pleasure that is Christina Tosi's Cereal Milk (sold at Momofuku Milk Bar, at-home recipe here). Just a few blocks over in the East Village, Jeff Bell of PDT co-opts it for his riff on a classic New Orleans punch, adding honey liquor, nutmeg, and two types of whiskey for a childhood-invoking brunch treat that's definitely adults-only.
The Eye Opener, (Recipe)
Chess Lankford, Alobar
True to its name, the Eye Opener takes a tried and true hangover cure, coffee, and throws it in a shaker with the second best: more liquor. In this case, espresso, coffee-infused bourbon, and Frangelico provide the pick-me-up. It'll caffeinate the hangover right out of 'ya.
Hot Toddy, (Recipe)
Naren Young, Saxon and Parole
AvroKo beverage director Young recommends making a lighter version of this cold-weather staple, using herbaceous ZU vodka in place of the traditional whiskey. To it he adds the light elderflower flavor of St. Germain, pear liquor, spiced honey syrup, and chamomile tea. Garnished with lemon and cloves, it's a soothing way to ease into the New Year.
Blood Orange Beer Sangria, (Recipe)
Zack Bezunartea, Boqueria
Having people over? Liquor up the masses with this party in a pitcher, an easy mix of blood orange juice, lime, tequila, triple sec, and your choice of pilsner or wheat beer. Added bonus: It's packed with citrus, so nobody has to lie to their mom about taking vitamins.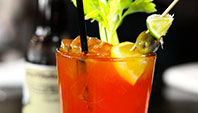 Maria Chelada, (Recipe)
Robert Crosson, the little owl
Joey Campanaro's popular West Village restaurant has one for the football watchers, with this tequila-optional Pacifico beer Michelada, complete with Clamato juice and a fiery Worcestershire mix, garnished with celery sticks (which will pair exceptionally well with wing eating).
Margabucha, (Recipe)
Benjamin Roshia, One Stop Beer Shop
The Greenpoint neighborhood joint offers something for the health-conscious yet tequila-loving, adding the benefits of blueberry kombucha, lime, lemon, and ginger. At around 100 calories, it might make it into your daily diet.
Snows of Cotopaxi, (Recipe)
Nicolas de Soto, Experimental Cocktail Club
De Soto named this creamy and stomach-coating flip (a drink generally made with a whole egg) after succumbing to altitude sickness on his travels to Ecuador. The festive sipper of Cardinal Mendoza Spanish Brandy, Amaro Ciocaro, and a simple-to-make spiced sweet potato syrup will help you realize your mortality quite nicely.
Horse Tonic, (Recipe)
Richard Boccato, PKNY, Dutch Kills, Weather Up Tribeca
Clear out the cobwebs with this traditional fizz, a category of sours topped with soda water and containing egg whites that were originally intended as a "morning after" remedy. Boccato's hair of the dog features Falernum, ginger syrup, Black Strap and Bermuda rum, and the white of one egg. Topped with espresso grounds and the oils of an orange peel, it's both protein-rich and eye-opening.
Champagne Revolution , (Recipe)
Brandon Freid, Haven Ski Chalet
Fizzy drinks are always great for unruly stomachs. Grandma would probably suggest ginger ale, but we'd rather go for this bubbly prosecco cocktail, sweetened with the fruity flavors of blueberries and raspberries.
Grapefruit-Campari Spritz, (Recipe)
Christopher Melly, L'Apico
There's only four ingredients in this refreshing and seasonal cocktail (three if you make the alternate version without vodka), which may be all you can handle after a night on the town. Campari, grapefruit, and vodka provide the base, throw in some of the leftover sparkling wine, and you're good to go.
Passion Fruit Jalapeño Margarita, (Recipe)
Jonathan VanSleet, MexiBBQ
This margarita powers up with a cinnamon, salt, and cayenne rim, bringing you back to life before you even get to the revitalizing effects of tequila and jalapeño, also good for sweating out toxins.
Ginger Apple Cider, (Recipe)
Ben Daitz and Ratha Chaupoly, Num Pang
The cult sandwich shop knows how to hug your heart, which is why their apple cider utilizes the warming effects of bourbon (as per their instructions "the good stuff"), and lots of it. It's cold weather comfort served hot, and spiced up with ginger.