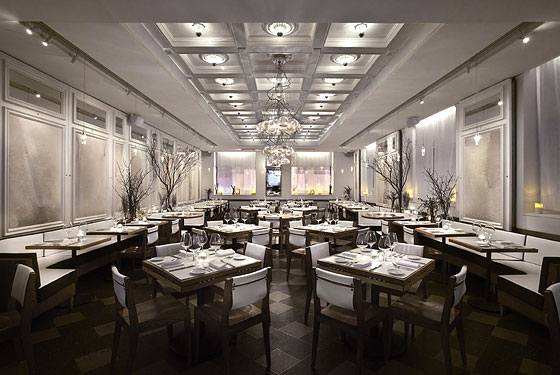 Park Avenue Winter (View Menu)
100 E. 63rd St., at Park Ave.; 212-644-1900.
The $35 prix fixe begins with plenty of Champagne-absorbing starch, from pastries and breads for the table to appetizers like porcini ravioli. Entrée choices include a toad in the hole with hen-of-the-woods mushrooms, and a dish that Joe Bastianich would be proud of, breakfast risotto.
• Hours: Noon–4 p.m.
Norma's (View Menu)
118 W. 57th St., nr. Sixth Ave.; 212-708-7460.
Dedicated to serving breakfast 365 days a year, this perennial favorite is your go-to place for decadent French toast with strawberries, pistachios, and Valrhona-chocolate drizzle, or the Zillion Dollar Lobster Frittata flecked with caviar.
• Hours: 7 a.m.–3 p.m.
202 (View Menu)
75 Ninth Ave., nr. 15th St.; 646-638-1173.
Ease into 2008 amid the dark, organic tones of Nicole Farhi's airy eatery, where chef Annie Wayte's take on a full English breakfast promises poached eggs, bacon, and mushrooms.
• Hours: 11 a.m.–4 p.m.
Morandi (View Menu)
211 Waverly Pl., at Charles St.; 212-627-7575 .
Keith McNally's cozy Italian spot serves plenty of sugary breads, planks of pizza, and baked eggs—plus a variety of fresh-juice mimosa riffs for those craving the hair of the dog.
• Hours: 10 a.m.–3 p.m.
Good (View Menu)
89 Greenwich Ave., at Bank St.; 212-691-8080
One of the West Village's most popular brunch stops bakes its own biscuits and whips up a Goodegg on roll (bacon, tomato, aged Cheddar, and caramelized onions) that will make you travel beyond your local deli.
• Hours: 11 a.m.–4 p.m.
The Odeon (View Menu)
145 W. Broadway, at Thomas St.; 212-233-0507
Go for the nostalgic Art Deco–diner feel, or because even if you miss the brunch hours, you can order an omelette off the abbreviated menu served throughout the day.
• Hours: 10 a.m.–4 p.m.
88 Palace (View Menu)
88 E. Broadway, nr. Forsythe St.; 212-941-8886.
If the Times Square ball left you wanting more, trek downtown for lots of little balls—the squishy-steamed, fried, and meaty kind of dim sum, that is.
• Hours: 9 a.m.–4 p.m.
Walter Foods (View Menu)
253 Grand St., nr. Driggs Ave., Williamsburg; 718-387-8783
Clinton St. Baking Co. alum Justin Ernsberger is the chef at this newish spot from Balthazar bartender Danny Minch and Barrio Chino owner Dylan Dodd, and he just unveiled his brunch arsenal. If you want something lighter than house-made waffles, there's a full raw bar.
• Hours: 11 a.m.–4:30 p.m.
Cup (View Menu)
35-01 36th St., Astoria; 718-937-2322.
Those in a hurry to get started early will appreciate this triple threat: round-the-clock hours, big portions, and all-American comfort.
• Hours: 8 a.m. (Dec. 31)–11 p.m. (Jan. 1)