The Velvet Glove (Recipe)
Lauren Kretzer, by CHLOE
This year, vegan fast-casual restaurant By CHLOE took New York by storm, opening up two wildly popular restaurants (plus a bakery), with three more to come soon, plus an expansion planned for Los Angeles. But both meat-eaters and non- should know the mini-chain serves cocktails, too. Delicious ones. For New Year's, contributing chef Lauren Kretzer suggests a celebratory mixture of elderflower liquor topped with champagne (Veuve Clicquot is her favorite, and it also happens to be vegan) and garnished with pomegranate arils. "The pomegranate seeds in this cocktail look like little jewels floating on top, and bring a welcome juicy tartness to the floral liqueur and dry champagne." A bonus: "They're packed with heart-healthy antioxidants. Who says cocktails can't be good for you?"
Sweet Bumper (Recipe)
Fallon Seymour, Pearl's
Pearl's opened up around this time last year, bringing a slice of Trinidad and Tobago to Williamsburg. This includes the country's affection for sorrel, which they've included in this Caribbean-inflected cocktail of champagne and St. Germain. Says owner Fallon Seymour: "Sorrel is really popular during the holiday season in Trinidad but I've never seen it used like this. It pairs so well with the champagne and St. Germain that it actually reminds me of a fruit we eat called chenet." It may be cold outside, but inside it's all tropical.
Beijing Bellini (Recipe)
Rebecca Paterson, Chinese Tuxedo
Rebecca Paterson, bar manager of new Doyers Street hotspot Chinese Tuxedo, recommends an Asian twist on a classic white peach Bellini with white peach puree, Shaoxing Chinese rice wine (available at any Chinatown liquor store), and Blanc de Blanc champagne. "It's a really easy drink, great to start a party or before dinner," she says. "Good Shaoxings can have a dry-sherry-type quality not unlike Spanish Pedro Ximenez, an ideal offset to the peach Bellini's sweetness. Garnish with a white flower for a particularly Chinese aesthetic."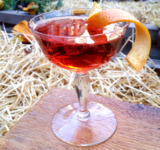 Negroni Sbagliato (Recipe)
Mike Bohn, Olmsted
Mike Bohn, head bartender of new Prospect Heights restaurant Olmsted (stop by for their cozy winter backyard), is a big fan of the Negroni Sbagliato, a champagne, Campari, and sweet vermouth cocktail derived from the classic three-ingredient Negroni. The cocktail comes with a lesson: "The story is that an Italian bartender was reaching for the gin to finish a negroni, but grabbed champagne instead, resulting in a sbaglio, Italian for 'mistake,' which is the other reason I love this drink," says Bohn. "Mistakes happen, but they shouldn't automatically be dumped or written off, because you never know what can happen and you might just end up with another beautiful sbaglio."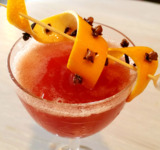 Cranberry Champagne Cocktail (Recipe)
Grapefruit Fizz (Recipe)
Bill Brooks, Cannibal Liquor House
Bill Brooks, beverage director of the Cannibal Liquor House, which opened this October, couldn't help himself. He gives two cocktail recommendations, based on childhood memories. "During the holidays, I tend to gravitate towards two things: cranberries and grapefruit. The cranberries because I spent a childhood eating canned cranberry sauce and grapefruit because I grew up with grapefruit trees in my backyard." He also offers some serving tips. "I usually serve these the day after a big meal, because I always have leftovers and I serve them in small cups so you get a little shot of booze and bubbles to help with holiday hangovers."
The Purple (Recipe)
Richard Breitkreutz, Metropolis Oyster Room & Cocktail Bar
Opened this year under Blue Water Grill, a trip to the Metropolis Oyster Room is a classic New York night out. For his cocktail, Richard Breitkreutz suggests adding Rothman & Winter crème de violette and plum bitters to your bubbly, a floral-inspired version of the classic French 75. "Crème de violette is very pretty and delicate, and, combined with bubbles, brings that light perfume right to your nose," he says. "And it is a great and festive color, which make it a great match for the holidays."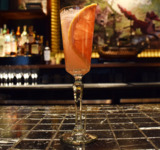 Don's Mimosa (Recipe)
Bryan Schneider, Squares
The new Squares nightclub by Quality Branded is open on New Year's for some dance-party action, but if you're making cocktails at home, head barman Bryan Schneider recommends the Don's Mimosa: fresh grapefruit juice, cinnamon syrup, and bubbly. Of his original recipe, he says: "Grapefruits are in peak season this time of year, cinnamon is the quintessential winter spice, and Champagne is essential for NYE, so Don's Mimosa is a perfect trifecta for the 'dawn' of the New Year."
Hibiscus Sparkler (Recipe)
Anastassia Troitskaia, Vandal
Early this year, the TAO group opened the massive Vandal on the Lower East Side, with food by Chris Santos (Beauty and Essex, Stanton Social). The bilevel venue is rife with aesthetics — graffiti art on the walls, one-foot sculpture of a break-dancing bunny — and the cocktails are no different. For her cocktail, bartender Anastassia recommends a Hibiscus Sparkle: white champagne fortified with a sugar cube infused with the pink flower (instead of the traditional Angostura bitters), which you can purchase at Whole Foods and certain other supermarkets. "When you drop the sugar cube in, the effervescence creates a pink color spectrum with hibiscus aromas," she says. "It's pretty and accessible."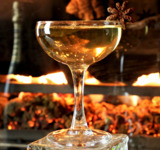 Apple a Day (Recipe)
Jason Ferris, Benjamin Prime
New midtown steakhouse Benjamin Prime is smack in the middle of hectic New York holiday traffic, so in their recommendation general manager Jason Ferris nods to self-care with the Apple a Day: apple cider, Canton ginger, and champagne. "I like this cocktail because it's full of holiday cheer and it reminds me of the best time of year in New York City. The ginger and cinnamon in this cocktail remind me of the warm feeling that the holidays always bring, and the champagne highlights the joy and celebration of the new year approaching."
Champagne Cocktail (Recipe)
Chris James , Bar Room at Fowler & Wells
Chris James, head bartender at Tom Colicchio's new downtown restaurant Fowler & Wells likes his bubbly cocktail with an Italian twist. "Our version of the champagne cocktail is unique because we use Cynar, an Italian bitter liqueur predominantly made from artichoke, as the bitter element of the drink," he says. Classic-style champagne cocktails in general are great because they can be enjoyed throughout the evening, due to the significantly lower ABV, compared to a dry martini or a Manhattan, making it the perfect New Year's Eve celebratory beverage."