Andrew WK
Irving Plaza, 17 Irving Pl., at 15th St.; 212-777-6800; 8 p.m.
What better way to ring in the New Year than with the king of party? To help get you in the spirit they're providing unlimited tap beer with the "Never Ending Party—Never Ending Beer!" ticket option. Which is kind of a misnomer because, yeah, the party's gonna end on January 1.
Punch Brothers
Bowery Ballroom, 6 Delancey St., nr. Bowery; 212-533-2111; 12/29–12/31 at 8 p.m.
The rootsy bluegrass folksters—whose bandleader won a MacArthur Genius award in 2012—recently received a boost in recognition from their inclusion on the Inside Llewyn Davis soundtrack. Which is possibly why these four shows are sold out. But where there's a folk will, there's a folk way.
Billy Joel
Barclays Center, 620 Atlantic Ave., nr. Flatbush Ave.; 917-618-6700; 8 p.m.
The Piano Man may have an upcoming open-ended residency at Madison Square Garden, but to round out 2013 he takes it to Brooklyn, his first solo arena show in NYC since 2006, with opening act Ben Folds Five. Your parents would love it if you got them tickets.
Gogol Bordello
Terminal 5, 610 W. 56th St., nr. Eleventh Ave.; 212-260-4700; 9 p.m.
In our book, rowdy is the best way to round out the year. And there's no better option than kicking up your heels with these gypsy Klezmer punks, fronted by the exuberant Eugene Hutz. Man Man opens, and you can start the party one day early, if you're so inclined—they're also playing Dec 30.
Matthew Dekay
Output, 74 Wythe Ave., nr. N. 12th St., Williamsburg; 10 p.m.
The Dutch producer knows that New Year's Eve is for lovers, which is why his house music skews romantic. It will be a full night, with sets from Avatism, Jimmy Edgar, DJ Three, Konrad Black, Taimur & Fahad, Connie, and Lauren Ritter. Get tickets early for this one: on the day of, prices double.
Mykki Blanco
Gramercy Theatre, 127 E. 23rd St., nr. Lexington Ave.; 212-614-6932; 8 p.m.
Sinister beats and exuberant, flamboyant cross-dressing—this Harlem rapper's got the formula for a good time. She's bringing a legion of friends, including Boychild and Princess Nokia.
Jill Scott
Radio City Music Hall, 1260 Sixth Ave., nr. 50th St.; 212-247-4777; 9 p.m.
Welcome the New Year with the soulful sounds of the songstress and best-selling poet, with openers Luke James and DJ Premier.
Thurston Moore
The Stone, Ave. C at 2nd St.; 8 p.m., 10 p.m., and 11:30 p.m.
The former Sonic Youth front man has a busy night, playing two shows and three sets: an early show with avant-garde composer John Zorn on sax, a later 10 p.m. set featuring Mike Watt and Raymond Pettibon, and an 11:30 performance with his new band Chelsea Light Moving. If you need more incentive, they're calling this the "hippest New Year's celebration in town."
Phish
Madison Square Garden, 4 Penn Plz., nr. 31st St.; 212-465-6741; 12/28, 12/29, 12/30, and 12/31 at 8 p.m.
The insanely popular tradition continues for its fourth year, with four days of sold-out shows. This year, the band's 30th show at MSG falls on December 30, so no doubt that show will have a little extra something.
Disco Biscuits
Theater at MSG, 4 Penn Plz., nr. 32nd St.; 212-465-6741; 11 p.m.
Didn't score tickets to Phish? Right next door, Philly favorites Disco Biscuits will be putting the daze in "holidaze" with their blend of electronic and jam-band elements. If you can't choose between the two, you can also catch the Biscuits from December 26 to 29 at the Best Buy Theater in Times Square. 'Tis the season for jammin'.
Infected Mushroom
Best Buy Theater, 1515 Broadway, at 44th St.; 212-930-1950; 9 p.m.
Gross name, but it's true that these two trance D.J.'s ooze psychedelia, complete with multimedia backdrop. So maybe the mushrooms are infected with fun?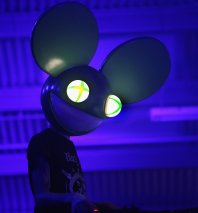 Deadmau5
Nassau Colisseum, 1255 Hempstead Tpke., Uniondale, N.Y.; 8 p.m.
Spend the night with several thousand party animals, as the progressive house producer—and the most recognizable rodent in EDM—calls his glowstick-bearing fans to arms in Long Island.
Alesso
Pier 94, 711 12th Ave., at 54th St.; 800-677-6278; 8 p.m.;
The Swedish D.J. specializes in pulling heartstrings with his emotional and uplifting EDM. Fitting then, that this show is called "Uprising." Expect pyrotechnics on the Pier, in addition to opening acts Clockwork & Deniz Koyu and Don Diablo.
Steve Tyrell
Cafe Carlyle, 981 Madison Ave., at 76th St.; 212-744-1600; 7 p.m.
In his annual holiday engagement, the Grammy-winning pop vocalist (whom you may remember from Father of the Bride) endeavors to make your season that much smoother at this cocktail affair, where he'll perform "This Time of Year."
Gov't Mule
Beacon Theater, 2124 Broadway, nr. 74th St.; 212-465-6500; 8 p.m.
A shindig for Southern rock lovers, the Allman Brothers spinoff project will play two shows. Note: These guys know a lot of talented folks, so watch for special guests.
Thomas Gold
Pacha, 618 W. 46th St., nr. Eleventh Ave.; 212-209-7500; 8 p.m.
Those looking for four stories of trance-laden, tribal house bliss will find it here. Gold is known for his onstage "drumlines," which will no doubt be making an appearance to cap off the year.
Start the year with laughter, why don't ya? Carolines will have a New Year's Spectacular starting at 7:30 p.m. and again at 10 p.m., hosted by Wil Sylvince, Vince August, Michael Che, Phil Hanley, and Matteo Lane, while over at The Comedy Cellar they'll be serving up an 8:30 p.m. show for $30 and a 10 p.m. one for $70 featuring Gregg Rogell, Modi, Ardie Fuqua, and more. The Eastville Comedy Club hosts New Year's Eve laughs with 30 Rock's Judah Friedlander and Harris Stanton (seen on SNL, Comedy Central, and opening for Tracy Morgan on tour), while the Gotham Comedy Club is offering 8 p.m. and 10:30 p.m. shows with Roy Wood Jr. (VIP packages are available, for those into flowing Champagne). In LIC, the Creek will have two shows: A 6 p.m. Two Nice Guys open mike and the 10 p.m. Legion of Skanks (quite the back-to-back), a stand-up and podcast show featuring Big Jay Oakerson, Luis J. Gomez, and Dave Smith, while the Stand will tickle your funny bone into 2014 with two shows starring Wyatt Cenac, Sherrod Small, and Joe DeRosa—with an 8:30 and a 10:30, which includes watching the ball drop. Happy New Year!