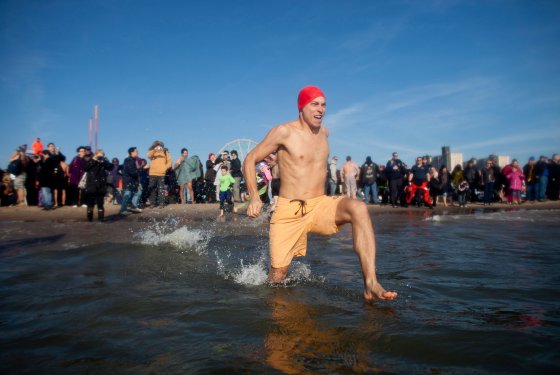 1. Brunch in Style
Sop up any excess alcohol at one of the city's extravagant New Year's Day brunches. Enjoy the soulful strains of the Harlem Gospel Choir at B.B King's all-you-can-eat brunch buffet, or take in the New York skyline while sipping unlimited mimosas and Bloody Marys on Hornblower's New Year's Day Brunch Cruise. (If those sound too ambitious, check out options for more low-key recovery brunches here.)
2. Get in Shape
Jump-start your New Year's resolutions by engaging in a day of rousing physical activity. Try one of SoulCycle's 90-minute reSOULution spin classes or, if you're not in the mood for inspirational yelling, cleanse your chakras with a vinyasa class from Pure Yoga. Fitness fanatics on a budget can swing by the JCC's free New Year's Fitness for Everybody fair, which includes health-focused classes, giveaways, and seminars.
3. Refresh Yourself
What better way to combat that hangover than a refreshing plunge into the icy waters of the Atlantic? Head out to Coney Island at 1 p.m. for the Polar Bear Club's annual New Year's Day Swim, hosted by the oldest "winter bathing club" in the country. There's no fee to swim, but a $20 donation to Camp Sunshine is suggested.
4. Put a Bird on It
If you're looking for something that's still outdoorsy but slightly less hypothermia-inducing, join the New York City Audubon Society for its annual New Year's Day Beachwalk in Breezy Point, Queens. The free hike along the beach takes place from 11 a.m. to 1 p.m., and ends with complimentary coffee, cake, and Champagne.
5. Be a Culture Vulture
A lot of the city's museums are open on the first day of the year, so hoist yourself off the couch and go check out the Hoppers and O'Keefes at MoMa's American Modern retrospective, or take the kids to learn about frogs, whales, and butterflies at the American Museum of Natural History.
6. Catch Up on Oscar Movies
For a different kind of cultural activity, how about a day at the movies? The Academy Awards take place in March, and there are a lot of prospective Best Picture nominees to tick off your list before the big day. Go see Steve McQueen's harrowing slavery melodrama, 12 Years a Slave, or take a spin through Greenwich Village in the sixties with the Coen brothers' portrait of a struggling folk singer, Inside Llewyn Davis.
7. Perfect Your Double Axel
Channel your inner Michelle Kwan at one of the city's many public skating rinks. Hit the ice at Central Park's Trump Wollman Rink ($18 for adults, $6 for kids), visit the free rink at Bryant Park, or battle the long lines of tourists for a chance to skate under Rockerfeller Center's iconic Christmas tree ($27 for adults, $15 for kids).
8. Bowl Till You Drop
For some indoor family fun, head out to Brooklyn Bowl's New Year's Day Family Bowl. The all-ages event takes place from 2 to 6 p.m. at the trendy Williamsburg bowling alley/nightclub, so there's plenty of time to work on your form after chowing down on some delicious Blue Ribbon brunch fare.
9. Explore the Past
Step amidst the remnants of New Year's Eve confetti on Big Onion Walking Tour's exploration of historic Times Square ($20 for adult non-members, $15 for members, seniors, and students). You'll learn about the Times Square of years' past while visiting sites like the New York Public Library and the Astor Hotel, and be thankful that it's less crowded than it was the night before.
10. Rhyme Time
Fan of the spoken word? Head over to St. Mark's Church for the Poetry Project's 40th annual New Year's Day poetry marathon, the organization's largest fundraiser of the year. Over 140 renowned local poets will take part in the reading marathon, an "avenging engine of resistance and eager vehicle of the nascent year." Tickets cost $20 and can be purchased here.