Sleep No More Winter Masquerade
The McKittrick Hotel; 530 W. 27th St., nr. Tenth Ave.; 212-904-1883; 6 p.m.; $100–$500
The immersive play Sleep No More encourages you to go fancy, with several combinations of entertainment to pick from. Come early for the "Royal Feast" before heading through the play, and ending at the Winter Masquerade, which includes an open bar and musical performances. Or just do SNM and the Masquerade, or just the Masquerade. It's up to you (and how much you're willing to spend). Just don't forget to adhere to the "strictly enforced" dress code of black, silver, or gold. Something tells us they're not kidding.
BangOn! NYC presents NYE 2016: "Time & Space"
Bushwick Warehouse, Exact Location TBA 24 hours in advance; 212-904-1883; 9 p.m.; $64.29–$159.24
This all-night warehouse party has 30,000 square feet of space to do whatever it pleases, and it will be used well. Attractions include two music stages, 3-D projection mapping, zip-line performances, a midnight rocket launch, and more, so it'll be hard to get bored. But if you do, just find one of the promised "art cars" and nap your way into 2016. There are worse places to do it.
New Year's Eve at Output
Output; 74 Wythe Ave., nr. N. 12th St., Williamsburg; 10 p.m.; $50–$90
Why spend January 1 hung-over when you can spend it dancing? Begin at 10 p.m. on New Year's Eve at Output, with house and electronica sets from Oscar G., Ace Alvarez, and Viviana Toscanini. Then keep going until 8 p.m. on New Year's Day with an extended set by house-music heavyweight Victor Calderone, who has worked with Madonna and Sting. Then, we recommend resting your feet.
The Brass Bash: Bourbon Street in Brooklyn
Brooklyn Winery; 213 N. 8th St., nr. Driggs Ave., Williamsburg; 347-763-1506; 9 p.m.; $175
Brooklyn Winery is channeling New Orleans with a Big Easy blowout featuring over four hours of open bar (including their own wine and a specialty cocktail), an antipasti spread, and Louisiana-style appetizers like jambalaya croquettes, oysters Rockefeller, and mini-muffalettas. Plus a DJ and a set by the Underground Horns brass band. All that's missing is the hot sauce (bring your own).
Videology Purple Rain Dance Party
Videology; 308 Bedford Ave., at S. 1st St., Williamsburg; 718-782-3468; 8 p.m.; $5
In what we hope will become an annual tradition, this party will feature the 1984 classic Purple Rain projected on a loop all night, while you dance to hits of the '70s, '80s, and '90s. And the cover is just $5, so use those extra ducats on specialized cocktails like the Apollonia. Or extra velvet for your costume. (Purple or '80s-themed attire is encouraged, but not required.)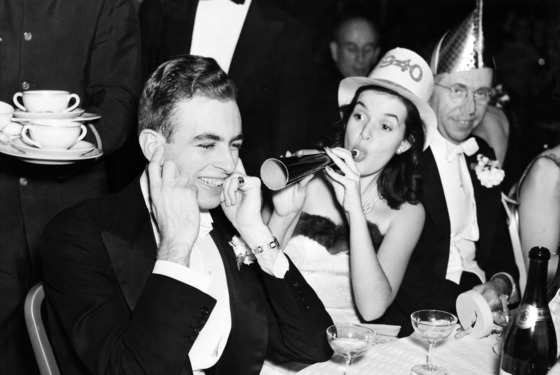 Ripley's Believe It or Not! 2016 New Year's Eve
Ripley's Believe It or Not!; 234 W. 42nd St., nr. Seventh Ave.; 212-201-0735; 7 p.m.; $89–$249 ($599 Couples VIP)
Anything's possible on New Year's Eve, and there's no place that that's truer than at that mecca of mystery, Ripley's Believe It or Not! Dance, eat, and imbibe among the 500-plus exhibits in the Odditorium, enjoy science experiments, and toast with the albino giraffe or shrunken heads. Plus, this one's kid-friendly, so no need to leave the little ones at home.
Slipper Room New Year's Eve
The Slipper Room; 167 Orchard St., nr. Stanton St.; 212-253-7246; 8 p.m.; $35–$100 ($1,000 VIP Party Playpen for up to 12 people)
Spend your evening with sexy people, without necessarily having to be one of them. The Slipper Room has a night packed with burlesque, aerialists, acrobats, hula-hooping, comedy, and more. Spring for a VIP Playpen and have 11 of your friends join you in a private area, with three bottles of Champagne and a dedicated waitress ($1,000).
New Year's Masquerade With Sleepy & Boo
Cielo; 18 Little W. 12th St., nr. Ninth Ave.; 9 p.m.; $60–$70
The electronica-leaning husband-and-wife DJ dancemasters want to provide your soundtrack into 2016. Don't like what they're playing at one moment? Just wait a minute — their repertoire spans everything from chugging bass lines to sci-fi synths. Ticket includes a free Champagne toast at midnight.
New Year's Noir 2016
Verboten; 54 N. 11th St., nr. Kent Ave., Williamsburg; 347-223-4732; January 1, 2016 at 1 a.m..; $20–$120
The party's not over when the clock strikes midnight. At Verboten, that's just when it starts. Three days of it. Hit the industrial megaclub at 1 a.m. on January 1 to dance into the New Year with Leeds-based DJ Hot Since 82 and Russian DJ Julia Govor. At 10 a.m., continue the party with Apollonia, at 11 p.m. switch to Damian Lazarus and Serge Devant, and at 11 p.m. on January 2 finish it off with a set by Sander Kleinenberg. Get tickets to the whole shebang for $120, or buy individuals starting at $20.
Santos Party House
Santos Party House; 96 Lafayette St., nr. Walker St.; 212-584-5492; 9 p.m.; $29-$159
Andrew W.K.'s bilevel party palace is offering a night of dancing to the music of Francis Mercier, Posse, Jeff Molner, Sphynx, Dean Mickoski, 1wayTKT, and MGM, plus a five-hour open bar and a midnight Champagne toast. And who knows, maybe Mr. W.K. himself will show up. He's never one to miss a good party.
New Year's Eve at the Griffin
The Griffin; 50 Gansevoort St., nr. 13th St.; 212-255-6676; 9 p.m.; $59–$199 (plus a $5,000 "Skybox VIP" package)
This gilded nightclub frequently hosts VIPs, and you'll feel like one of them with its opulent New Year's Eve experience. Check yourself out in the 50-foot ceiling mirror while enjoying a five-hour open bar, light bites, a DJ, and party favors. (We hope they're party horns.)